Truly tragic news to pass along, as former NFL quarterback Colt Brennan has passed away at the age of 37, his father Terry Brennan told Stephen Tsai of the Star Advertiser.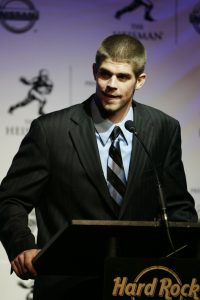 "He was doing so well, the spark was back in his eyes, and he was healthy and doing great, and it happened," the elder Brennan said, explaining his son had been in the fifth month of a program at an inpatient rehab facility. ""He had been doing really (well)," Brennan said. "These guys were no-nonsense guys. It just got away from him. I don't know how else to explain it. Maybe one day I'll be able to explain it better."
Brennan shined on the football field, becoming a superstar in college and elevating Hawaii's program to heights nobody thought possible. In his record-shattering 2007 season, he led Hawaii to a perfect 12-0 record and an appearance in the Sugar Bowl. Between the 2006 and 2007 seasons, he threw for nearly 10,000 yards and 96 touchdowns. He was a Heisman Trophy finalist in 2017.
After wrapping up his decorated college career, Brennan was drafted by Washington in the sixth-round in 2008. After a couple of years with Washington he had a brief stint with the Raiders, and then in the UFL, CFL, and AFL.
All of us here at PFR are sending our thoughts to Brennan's family.
Follow @PFRumors