Patrick Peterson joined the Vikings on a one-year, $8MM deal on the second day of this year's legal tampering period. This agreement, however, came after discussions with the Cardinals and a few other NFC teams.
The Cowboys, 49ers and Eagles each discussed deals with the former All-Pro cornerback, Dan Pompei of The Athletic reports (subscription required), noting Dallas and San Francisco made early pushes to add the veteran. This came after Peterson's talks with the Cardinals ceased.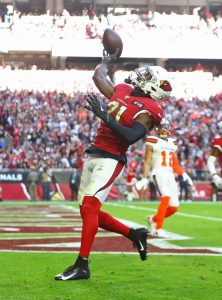 The 31-year-old corner said Cardinals GM Steve Keim communicated to him at his 2020 exit interview a desire for him to stay in Arizona, and Peterson said the Cards continued to tell him they wanted him back in February. Michael Bidwill said as much publicly at that point, but that is the last we heard on a Peterson return to the desert. That appears to be the last Peterson heard on the topic as well.
"I was just frustrated and upset at how upper management handled the situation," Peterson said, via Pompei. "You tell me one thing, then when it's time to talk, you turn your shoulder on me like it's cold shoulder. I've been in this league a long time. Thirty years old. Grown man. Talk to me like a grown man, not like a child or your side piece."
Peterson's Vikings pact came to be after he instructed his agent to call Mike Zimmer, per Pompei. The All-Decade defender, like many around the league who agreed to one-year deals, hopes to cash in when the cap spikes in 2022. Peterson said Keim did reach out after news of his Vikings agreement surfaced, but the irked cornerback did not respond to the GM's text message.
"I'm willing to bet on myself for this season knowing the salary cap is going to go back up, and I can have opportunities to come back to the table and get more than what I got this year," Peterson said.
It is unlikely the other NFC teams pursuing Peterson were offering too much, given his recent play. The Cowboys ended up drafting corners in the second and third rounds, while the 49ers did not make a notable outside hire here this year. The Eagles waited a while but signed Steven Nelson on a low-cost deal. An agreement with Titans cap casualty Malcolm Butler became the Cardinals' main post-Peterson cornerback move.
Peterson's string of Pro Bowls stopped at eight, with a six-game PED suspension in 2019 stalling his momentum. The LSU product's coverage numbers dropped noticeably from 2018 to 2019, and Pro Football Focus graded him 83rd among corners in 2020. Peterson will attempt to re-route his career in Minnesota.
Follow @PFRumors