Although contract talks between the Cowboys and Dalton Schultz picked up when he returned to the team's facility for minicamp, the veteran tight end has not been rumored to be near a deal.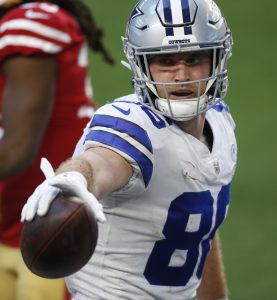 Negotiations often gain steam just ahead of the July deadline for franchise-tagged players to sign extensions, but the Cowboys may be content with a rental year with Schultz. The fifth-year tight end is likely to play the season on the tag, Todd Archer of ESPN.com notes.
Frustrations with extension talks during OTAs, Schultz made a point to let the team know by skipping the final set of voluntary offseason work. Nothing leading up to minicamp suggested the sides were close on terms.
The Cowboys seeing if a former fourth-round pick can duplicate the kind of season he had in 2021 (78 receptions, 808 yards, eight touchdowns) makes sense, especially given the potential price hike connected to David Njoku's $14.2MM-per-year Browns extension. Schultz's 2021 slate was better than any of Njoku's seasons, and the Cowboys are keeping their top tight end from cashing in ahead of his age-26 season. Schultz has signed his franchise tender and will not exactly go under-compensated in 2022, being tied to a $10.9MM tag salary.
A tagged season would bring a prime opportunity for Schultz, who may see his place in Dallas' passing-game hierarchy rise in prominence. The Amari Cooper trade bumped up CeeDee Lamb to the clear-cut No. 1 receiver role. After Lamb, a host of secondary options are present. But former 1,000-yard receiver Michael Gallup is coming off a late-season ACL tear, one expected to sideline him into the upcoming campaign. That said, Gallup might not need to begin the season on the PUP list, Archer adds. Even if Gallup regains form fairly early this year, Schultz will be a key player for the Cowboys.
Dallas' previous tight end extension — a four-year, $22MM extension for Blake Jarwin — did not work out, after the then-starter's injury issues changed his career trajectory. Schultz stepped in to bail out the franchise, producing on a Day 3 rookie salary. With a second tag costing 120% of Schultz's 2022 salary, Jarwin's successor would have a better chance to reach free agency next year. Mike Gesicki could join Schultz in that boat, if the Dolphins do not extend him by July 15. But if one of these two is extended by then, the other would have a good chance at being the top tight end available next year.
Follow @PFRumors