49ers defensive coordinator DeMeco Ryans is expected to be one of the top head coaching candidates in the 2023 hiring cycle, as Jonathan Jones of CBS Sports writes. Citing multiple league sources, Jones says it would be a surprise if Ryans does not land an HC post next year.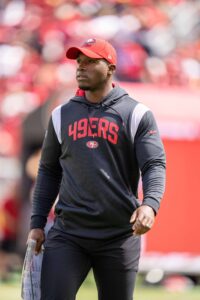 Ryans, 38, has earned plenty of recognition for his work with the Niners' defense. After his playing career ended in 2015, the Alabama product joined San Francisco as a defensive quality control coach in 2017, served as inside linebackers coach from 2018-20, and succeeded Robert Saleh as DC when Saleh left to become head coach of the Jets in 2021.
In his first year in his current role, Ryans' unit ranked third in the league in total defense — a performance that helped San Francisco reach the NFC title game — and through the first five contests of the current campaign, the 49ers are tops in the NFL in that category. The team is presently yielding a meager 12.2 PPG and has not surrendered more than 19 points in any game this season.
Said one personnel executive, "DeMeco sees it differently. There's something different when a middle linebacker is calling the defense. He has to know what's going on in front of him and behind him. The structure of the scheme was already in place, but he took some of the nuance out of it so guys could just line up and play."
Indeed, Ryans was a successful middle linebacker during his playing days, serving as a full-time starter for the Texans from 2006-11 and the Eagles from 2012-15. He posted over 100 tackles in six different seasons, earning Defensive Rookie of the Year honors in 2006 and Pro Bowl acclaim in 2007 and 2009. Per Jones, Ryans' relationship with 49ers star ILB Fred Warner and his role in Warner's development have been key to his success as DC.
Head coaching interviews will not be new territory for Ryans, who garnered notable attention in the 2022 cycle. He interviewed for the Vikings' head coaching post and had a chance for a second summit with Minnesota brass but ultimately declined the opportunity, citing his desire to "further his development in San Francisco." He was also mentioned as a candidate for the Raiders' HC gig that ultimately went to Josh McDaniels.
Assuming Ryans does get an HC opportunity in 2023, Vic Fangio would be a leading candidate to replace him as San Francisco's DC, according to Matt Barrows of The Athletic (subscription required). Barrows does not elaborate on that point, so it's unclear if he has a bead on the team's thinking or if he is merely acknowledging the fact that Fangio may well be the top defensive coordinator on the market.
Fangio's three-year tenure as the Broncos' head coach from 2019-21 did not go as planned, but he remains one of the most influential and respected defensive minds in the game. He declined multiple offers for DC positions this year, though he indicated in August he would be open to another coordinator role in the future. Of course, he previously operated as the 49ers' DC under then-head coach Jim Harbaugh from 2011-14, and it seems a reunion could be in the cards.
Follow @PFRumors