Given the changes which were made on the Panthers' sidelines yesterday, owner David Tepper was unsurprisingly asked about the job status of the team's general manager. Given his remarks, front office changes will not be forthcoming.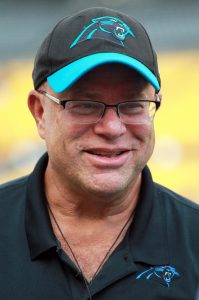 "Scott [Fitterer] is our GM," Tepper said during the post-Matt Rhule firing press conference. "There's no thought of mind right now. Right now, my focus is [on Steve] Wilks and how he can have success in his new role."
Fitterer, 48, spent the bulk of his front office career in Seattle. Beginning there in 2001, he worked his way up to the role of VP of football operations by 2020. That landed him on the GM radar, and resulted in him being hired in 2021 to lead the Panthers' front office.
That move, of course, came only one year after Rhule was hired to begin the team's rebuild. His history at Temple and Baylor led to plenty of optimism that a turnaround would be possible, but his stay in Charlotte lasted less than three years. That stretch saw a number of moves made to find stability at the quarterback position, including trading for Baker Mayfield this offseason. That investment has not yielded anywhere near the desired results so far, and contributed to Rhule's dismissal.
With the team sitting at 1-4 and lacking in draft capital, speculation abounds regarding the Panthers' willingness to part ways with some of their valued assets. While it remains to be seen if Fitterer will execute any notable trades ahead of the deadline, Tepper noted that he will seek "better balance" between Fitterer and the team's next permanent head coach with respect to roster decisions – in contrast to the substantial power Rhule was given through his seven-year, $62MM contract.
On the point of head coaches, Tepper also echoed reports from yesterday that Wilks will have the opportunity to earn the full-time role. The one-time Cardinals HC lacks the experience many believe the Panthers will seek in their search for Rhule's replacement, but things could change between now and the offseason.
"Ultimately, he's in a position to be in consideration for that position," Tepper said of Wilks. "I had a talk with Steve. No promises were made, but obviously, if he does an incredible job, he'd have to be in consideration for that."
Follow @PFRumors