The Chargers waived Jerry Tillery last week, leading to extensive interest on the wire. Had the team hung onto Tillery through Sunday night's game, he probably would have seen an increased role. The Bolts' defensive line equation changed during its loss to the 49ers.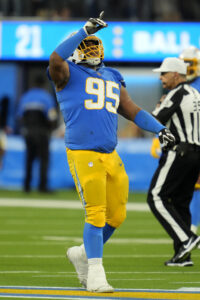 Both Christian Covington and Otito Ogbonnia are expected to miss the rest of the season, Brandon Staley said Monday. Covington suffered a torn pectoral muscle, while Ogbonnia suffered a more severe injury — a ruptured patellar tendon. The latter is most definitely done for the year.
These injuries came shortly after the Bolts lost offseason pickup Austin Johnson for the year. Johnson suffered a fractured knee and sustained MCL damage during last week's Bolts-Falcons game. Coupled with the losses the Chargers encountered against the 49ers, their post-Tillery D-line is short on staffers.
An eighth-year veteran who has seen game action with four teams, Covington is in his second season with the Chargers. He saw a 48% defensive snap share last season and has played a regular role in four games this year. The former Texans, Cowboys and Bengals contributor provided supplementary work on a retooled Bolts D-line this year. Covington, 29, is signed through the end of this season.
A fifth-round pick, Ogbonnia started his first career game Sunday night. The UCLA product has played 31% of the Bolts' defensive snaps but has a long rehab road ahead. Patellar tendon ruptures can be difficult to surmount, putting the 21-year-old defender on an uncertain NFL path.
Tillery's exit and the three season-ending injuries will obviously transform this defensive line. The team only has offseason addition Sebastian Joseph-Day, veteran pickup Morgan Fox and recent practice squad promotion Breiden Fehoko healthy at this position group going into Week 11. Roster adjustments will be made ahead of that Chiefs matchup. If free agency is considered, the likes of Ndamukong Suh, Sheldon Richardson and Brandon Williams are available. Ditto Linval Joseph, a two-year Chargers contributor who recently visited the Jets.
Follow @PFRumors