Although Brock Purdy has played better than most expected to start his QB1 run in San Francisco, this year's Mr. Irrelevant has a fairly wide margin for error thanks to the 49ers' No. 1-ranked defense. The team will enter its Week 15 game in Seattle ranked first in total defense and points allowed.
The 49ers are not anticipating the architect of this unit will be with the team much longer. The expectation among the 49ers and around the league is DeMeco Ryans will be a head coach in 2023, Adam Schefter of ESPN.com tweets. Ryans has been San Francisco's defensive coordinator for the past two seasons, taking over for Robert Saleh.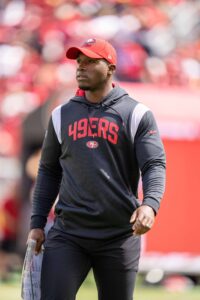 San Francisco has lost one of its coordinators to a head-coaching position in each of the past two offseasons, losing Saleh to the Jets in 2021 and Mike McDaniel to the Dolphins this year. The 49ers collected two third-round picks for each hire and would stand to do the same in the event Ryans, 38, lands a gig. The NFL updated its Rooney Rule policy stipulating any team that sees one of its minority assistant coaches or front office staffers hired as a head coach or GM, respectively, would obtain two third-round choices from the league.
This would be a rapid rise for Ryans, who only wrapped his playing career in 2016. A year later, he landed on Kyle Shanahan's first staff as a quality control coach. Shanahan was with the Texans during part of Ryans' time as a Houston linebacker, and the 49ers assistant has long been viewed as a potential future head coach. The 49ers' defensive performance this season may well make that happen before Ryans turns 40. Ryans interviewed with for the Vikings' HC job this year but turned down a second meeting; he also drew interest from the Raiders.
Despite injuries to key personnel on all three levels, the 49ers have maintained their No. 1 defensive ranking for most of this season. In allowing 15.2 points per game, they lead the second-place Bills by nearly two points. Only the 2019 Patriots (14.4) have bettered this mark over a full season since 2014. The 49ers, who ranked 17th in scoring defense during Ryans' first DC season, have only allowed 14 second-half points over the past six games.
Teams have gravitated toward offense-oriented coaches in recent years. Four DCs received bumps to head jobs this year, but three were promoted from within. Saleh, however, has helped elevate the Jets this year. That will not hurt Ryans' chances of making the jump. He could have a few options in the offseason, depending on how the 49ers' defense sticks closes out the season. If Ryans does follow Saleh and McDaniel's lead, Vic Fangio is viewed as a prime candidate to replace him. Fangio was San Francisco's DC from 2011-14, helping the team form top-tier defenses during that span. Fangio expects to return to the NFL as a coordinator.
Follow @PFRumors