JANUARY 25: Kyle Shanahan said Omenihu is on track to play against the Eagles on Sunday, noting the team will let the legal process play out. While the optics here are not great, teams do not generally make a habit of suspending players. The NFL will review the Omenihu incident, and if a suspension is to come, it likely will affect Omenihu's availability next season.
JANUARY 24: San Jose police arrested 49ers defensive end Charles Omenihu on a misdemeanor domestic violence charge Monday afternoon, according to the San Jose Mercury News' Robert Salonga.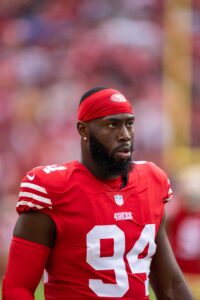 A woman told police her boyfriend, Omenihu, pushed her to the ground during an argument Monday, Police booked the 25-year-old defender into the Santa Clara County Main Jail, but he has since posted bail. The 49ers announced they are gathering further information about the incident.
Officers "did not observe any visible physical injuries," Salonga adds, and the woman, despite mentioning pain in her arm, did not seek medical attention. The woman requested an emergency protective order, Eric Branch of the San Francisco Chronicle adds, and Omenihu must stay away from her while it is in effect.
The arrest could produce a future suspension for Omenihu under the NFL's personal conduct policy, and although the 49ers are not obligated to suspend the rotational edge defender, Monday's incident clouds his availability for the NFC championship game.
The 49ers acquired Omenihu ahead of the 2021 trade deadline, sending a 2023 sixth-round pick to the Texans for the former fifth-round draftee. The former Texas Longhorn has played a steady role off the bench for San Francisco, totaling 4.5 sacks this season. Omenihu, who left the 49ers' divisional playoff game early with an oblique injury, notched two sacks in the team's wild-card win over the Seahawks and finished with 1.5 in last year's wild-card victory in Dallas. Omenihu returned to the 49ers' Sunday win over the Cowboys, and prior to the arrest report, Kyle Shanahan expected him to play against the Eagles.
Follow @PFRumors