FEBRUARY 21: The surgery will not happen Wednesday, with Tom Pelissero of NFL.com noting a slight complication will lead to a postponement. Inflammation in Purdy's elbow prompted Meister to table the operation to early March (Twitter link). Purdy still could undergo a more invasive procedure, but Pelissero notes the plan remains for him to be ready by Week 1. Given the recovery timetable here, any delay would cut that pretty close.
FEBRUARY 9: Purdy clarified he is not out of the woods regarding a reconstructive procedure. The 49ers quarterback said Thursday that Meister may determine mid-surgery elbow reconstruction — or Tommy John surgery — is necessary.
"He's done this year after year with the best of the best with MLB pitchers. So he's definitely seen this kind of thing happen, and he's going to make the best call, and not just for the heck of it," Purdy said during a KNBR interview (via 49ersWebZone.com). "It's obviously for the best call for my career moving forward. And he knows what's best, and he's going to make the best decision for us, so it'll be good."
Should Purdy only need the internal brace procedure, he said three months will be the goal for a throwing program to begin. While six months remains the goal, a more invasive surgery would almost definitely threaten his availability for the start of the 2023 season.
FEBRUARY 8: After considering options, Brock Purdy is likely to undergo surgery to repair his injured elbow soon. The 49ers quarterback is expected to go under the knife in two weeks.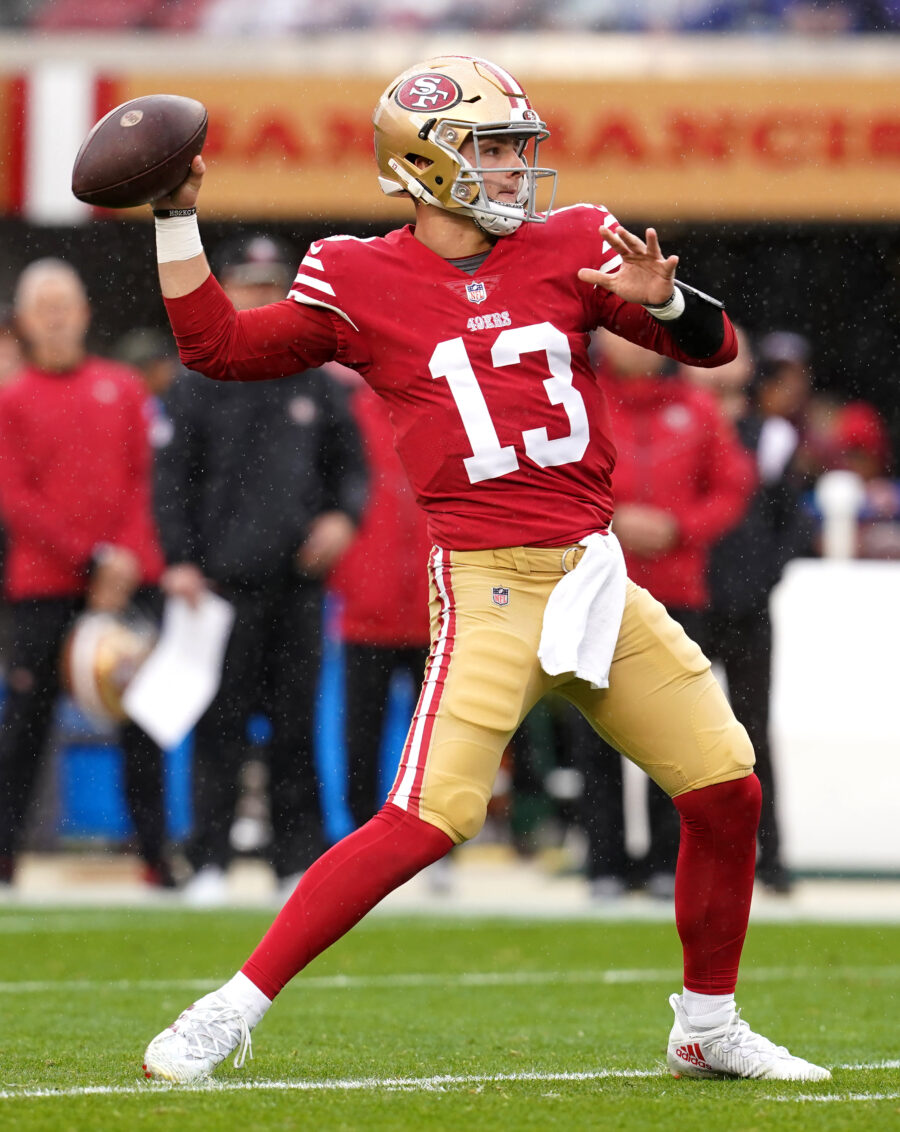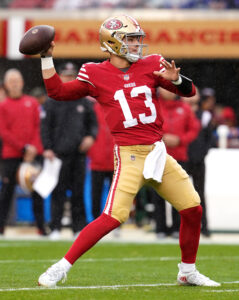 Purdy will meet with a Dallas-based doctor on Feb. 21, according to NFL.com's Ian Rapoport, who notes (via Twitter) the rookie sensation is on track to undergo UCL surgery on Feb. 22. It does not appear Tommy John surgery is on tap. Purdy is expected to recover in advance of training camp, Rapoport adds.
This stands to mean the previously rumored internal brace surgery will be the seventh-round pick's course of action. If that is the case, Purdy could be ready to throw in a few months. A Tommy John procedure would knock him out for much longer, though it would not sideline Purdy as long as it does MLB pitchers. Dr. Keith Meister, the Texas Rangers' team doctor, is on track to perform the surgery.
Purdy, however, might not be full go until the end of the preseason. He and the 49ers discussed a six-month recovery timetable, Matt Barrows of The Athletic tweets. With the surgery coming in two weeks, following that timeline extends to the close of the August slate. That will be cutting it pretty close for Purdy's regular-season availability. Though, a more accurate timetable will come to light after the operation.
Purdy's UCL tear harpooned the 49ers' Super Bowl hopes early in the NFC championship game, and his upcoming absence will cloud the team's 2023 QB situation. Trey Lance, however, expects to be 100% by OTAs in April. The former No. 3 overall pick would be in position to accumulate valuable reps while Purdy recovers, but if last year's No. 262 overall selection is healthy, the 49ers are not believed to view this as a quarterback controversy-in-waiting. Purdy is expected to be the team's 2023 starter.
Then again, Jimmy Garoppolo's 2022 shows the trouble with early predictions for 49ers quarterback situations. Garoppolo went from the 49ers' unquestioned starter to a player they openly tried to trade to Lance insurance to being needed for another QB1 run. Another 49ers-Garoppolo deal became a possibility, but the veteran's broken foot — leading to Purdy's rapid emergence — scuttled that path. Kyle Shanahan said he does not expect the team to revisit another Garoppolo deal. That will leave Purdy and Lance for 2023. If Lance — San Francisco's Week 1 starter this past season — loses the job to a former lowly regarded prospect, trade rumors will certainly come up.
The 49ers are not planning to pursue a veteran backup option, which would leave the loser of a Purdy-Lance competition as the 2023 backup. Considering the injuries both players suffered, the NFC West champions having both back to start training camp would represent a fortunate development after this malady-defined QB season.
Follow @PFRumors