The Jaguars have, as expected, had a quiet offseason so far. Retaining key members of the 2022 squad which went on a surprising playoff run has been the team's priority, something which resulted in the franchise tag being used on tight end Evan Engram.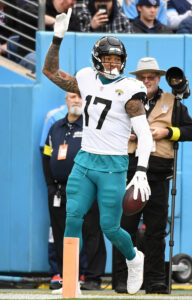 That move came as little surprise, after contract talks didn't yield a multi-year deal before the tag deadline earlier in the month. Negotiations can continue on that front until mid-July, but much progress apparently remains to be made in the coming weeks. Jonathan Jones of CBS Sports reports that the two sides "weren't particularly close" to finalizing a new contract before the deadline.
Engram, 28, came to Jacksonville last offseason on a one-year, $9MM contract. That proved to be a wise move for both parties, as the former Giant put up career-highs in catches (73) and yards (766) in the regular season. He remained productive in the playoffs, recording 124 yards and a touchdown on 12 postseason receptions. After the season, the former first-rounder confirmed that mutual interest exists for a long-term contract to result from the success of his debut season.
The tight end tag cost ($11.35MM) in 2023 made Engram a logical recipient of the one-year contract. He likely would have been able to command a sizeable pact on the open market as arguably the top option at his position, but Jacksonville will now have him for at least one more season regardless of how talks proceed. The AFC South champions have an intriguing receiver tandem in place with Christian Kirk and trade acquisition Calvin Ridley at the top of the depth chart, but little in the way of experienced tight ends aside from Engram.
The Jaguars currently have just over $10MM in cap space, a figure which places them mid-pack in the league in terms of flexibility. Part of that will need to be kept aside to sign their draft class, but it could allow them to absorb the cap hit on a new Engram contract if one can be worked out by the summer. For that to take place, though, the two sides will need to make headway compared to where things currently stand on the negotiation front.
Follow @PFRumors