The Ravens ended one of the least suspenseful (but highest-profile) tag sagas Tuesday, cuffing Lamar Jackson amid a third offseason of negotiations with the former MVP. That will turn attention to what teams are out there for Jackson.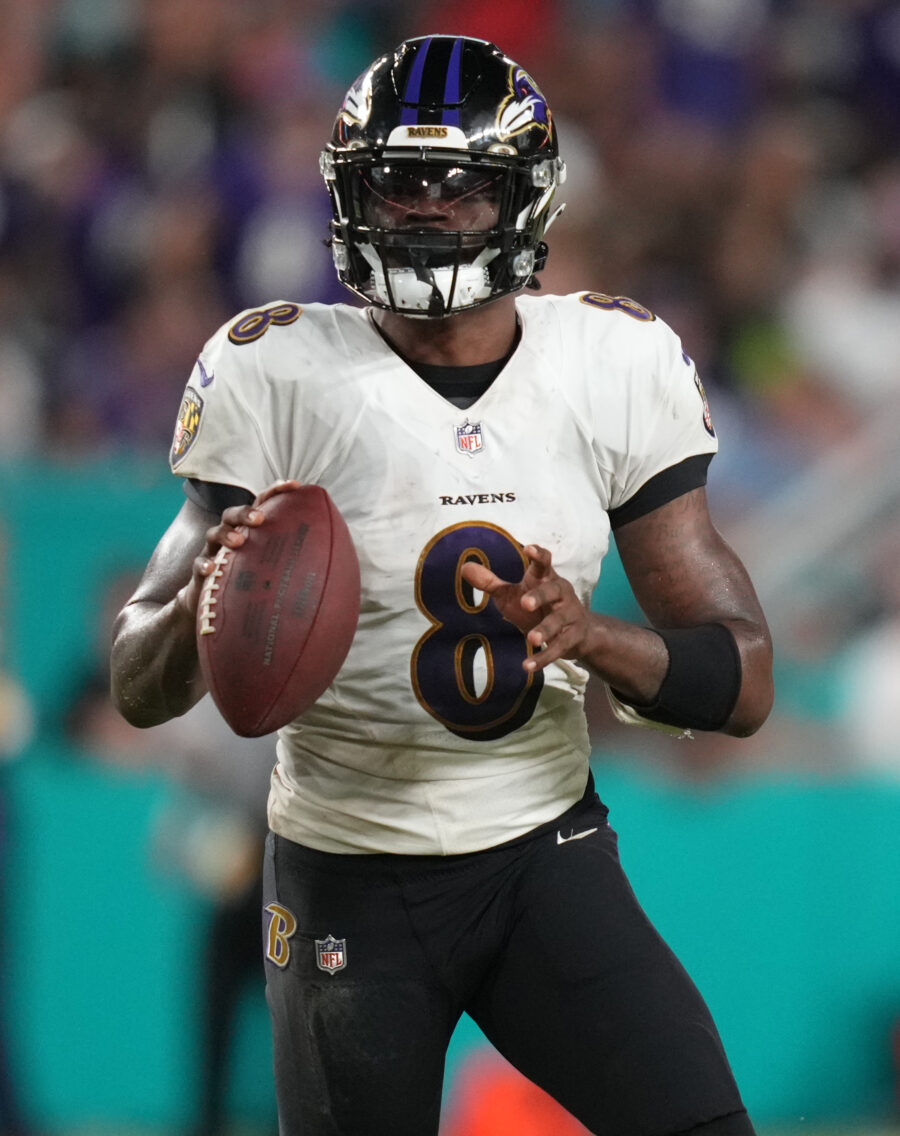 So far, teams with quarterback needs are standing down. There stands to be interest in Jackson, though it remains to be seen if any would approach his hope at a fully guaranteed contract. The Panthers pursued Deshaun Watson for two offseasons, but The Athletic's Joe Person notes (via Twitter) they are not expected to make a push for Jackson. The Commanders offered three first-round picks for Russell Wilson in 2022, but Kimberley Martin of ESPN.com adds they are considered unlikely to go after the five-year Raven (Twitter link).
The Falcons also made it pretty clear, based on the numerous reports to emerge since the Ravens slapped the non-exclusive tag on their quarterback, they will not be part of a pursuit. The Jets are currently meeting with Aaron Rodgers in California, while the Saints signed Derek Carr. As expected, the Giants and Seahawks re-signed Daniel Jones and Geno Smith. This thins the market, but other suitors will loom for a player of Jackson's talent.
Frank Reich said the Panthers, in an ideal world, would land a long-term option in the draft. The Panthers have not handed the reins to a rookie since Cam Newton in 2011, spending time on a years-long carousel after cutting the former MVP in 2020. Carolina has begun talks with Sam Darnold, presumably as a bridge option. The Commanders just released Carson Wentz and have Taylor Heinicke set to hit free agency. Despite the efforts Ron Rivera's team made to acquire a high-end veteran last year, they continue to be linked to giving fifth-round pick Sam Howell a legitimate opportunity to win the starting job. That appears a risky scenario for a team with a coach on the hot seat, but Washington was not closely connected to Carr, either.
Considering Jackson is a South Florida native, it would stand to reason he would be interested in joining his hometown team. How willing the Dolphins are to grant Jackson's contractual wishes while sending the Ravens at least two first-round picks could be a sticking point here. The Dolphins are not expected to pursue Jackson or anyone else this offseason, Jeff Darlington of ESPN.com tweets. The Dolphins, who had the inside track for Watson in 2021, committed to Tua Tagovailoa last year. While recent reports appeared to reveal that trust weakening, Darlington adds Mike McDaniel "fully believes Tua is the perfect fit for his system."
The Raiders would also seemingly loom for Jackson and hold a top-five cap-space figure ($39.1MM as of Tuesday afternoon), but while Josh McDaniels coached Newton in 2020, it would be a transition for his offense to install a player like Jackson. Still more than $40MM over the cap, the Buccaneers probably lack the funds to make a legitimate pursuit.
Teams would need to revamp their offenses to bring in a unique talent like this; it will be interesting to see which ones move into position as a legitimate suitor. However, this many quickly surfacing as uninterested parties is a bit odd given Jackson's accomplishments and the value of this position. Teams working in concert to prevent another guaranteed contract from coming to pass would represent collusion, but it is a bit too early to make such a claim. That said, there does not appear to be as many interested parties as expected here.
Follow @PFRumors