The top available tight end in this year's free agent class has found his new home. Dalton Schultz is signing a one-year, $9MM deal with the Texans, reports Tom Pelissero of NFL Network (Twitter link).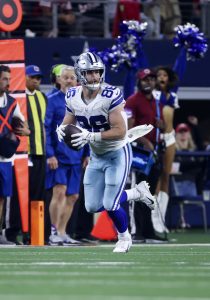 Schultz had a modest start to his career in Dallas, but in 2020 he emerged as one of quarterback Dak Prescott's top targets. He racked up 1,423 yards and 12 touchdowns between 2020-21, making himself one of the Cowboys' most productive offensive players.
Negotiations for a long-term deal fell through last offseason, so Schultz played on the franchise tag in 2022. His production took a step back this past season, one in which Prescott missed considerable time early in the year. Schultz still made 57 catches for 577 yards and five touchdowns, making him the top option in this year's free agent class. His numbers also made it likely that he would depart the Cowboys this offseason, in spite of a reported multi-year contract offer from the team.
On that point, Pelissero's colleague Jane Slater recently noted that Dallas had not, in fact, submitted an offer to the 26-year-old (Twitter link). Now, he will make an intra-state move to the Texans, a team which has been amongst the busiest this offseason. Schultz will aim to rebound from a production standpoint working with what will all-but assuredly be a rookie quarterback in 2023.
Houston has added a number of players on offense via free agency and trades, including receivers Robert Woods and Noah Brown. Schultz will join the latter in making a Cowboys-to-Texans move in the hopes of giving the rebuilding AFC South outfit a notable boost in the passing game. Houston's skill-position corps is bound to look considerably different next season, as they aim to take a sizeable step forward as a unit.
The Cowboys – who yesterday acquired receiver Brandin Cooks in a trade with the Texans further connecting the two franchises – now have a vacancy to fill at the tight end spot. While this year's draft class boasts a number of celebrated prospects, finding a seam-stretcher with the personal connection to Prescott in line with the one Schultz possessed will likely be a tall order.
Follow @PFRumors