Alan Williams' sudden resignation as Bears defensive coordinator left a major hole on Chicago's coaching staff. However, the organization isn't anticipating any major hirings following the subtraction. Matt Eberflus told reporters that the defensive coaching staff will remain intact, and the head coach will be taking over defensive play-calling duties.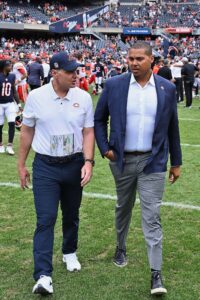 [RELATED: Bears DC Alan Williams Resigns]
"This is the best thing for right now," Eberflus said of the play-calling decision (via ESPN's Courtney Cronin). "I think that's where it is. It's the best thing for our football team and for our organization. That's where we see it, and that's where it is."
Eberflus emerged as a worthy head coach candidate thanks to his defensive acumen, with the Colts ranking as a top-10 scoring defense during three of his four years as Indy's defensive coordinator. Eberflus is the most logical contingency plan for the Bears, although the team does have 35 years of combined coaching experience in cornerbacks coach Jon Hoke and safeties coach Andre Curtis.
Despite the unexpected end to Williams' stint as defensive coordinator, Eberflus made it clear that he still supports his now-former coach. The two coached alongside each other with the Colts, where Williams served as safeties coach.
"Obviously, I was with him four years, five years," Eberflus said. "I have a lot of friendship. I have feelings for him. And again, he's resigned and it's for health and family, and we'll see where it goes from there."
While the head coach publicly supported Williams, some reporters observed that the players have been relatively quiet on the matter. This inspired someone to ask Eberflus about the lack of public support from the players, but the head coach downplayed the matter and cited Williams' privacy.
"I wouldn't read into that," Eberflus said. "It's personal. So people are respecting that and respecting space, I believe. That's what I believe it is. It's no disrespect to the question, it's none of that. That's where it is."
Follow @PFRumors