For months, rumors persisted about a potential Cowboys-Ezekiel Elliott reunion. The team did not make a significant addition behind Tony Pollard, with the Ronald Jones move preceding a PED suspension and an eventual release. But Elliott did not appear close to coming back to Dallas.
Ahead of the Patriots' Week 4 Cowboys matchup, the two-time rushing champion described the talks about a return at a reduced rate as "minimal," via The Athletic's Jon Machota. Elliott ended up in New England on a one-year, $3MM contract, one that came together during training camp.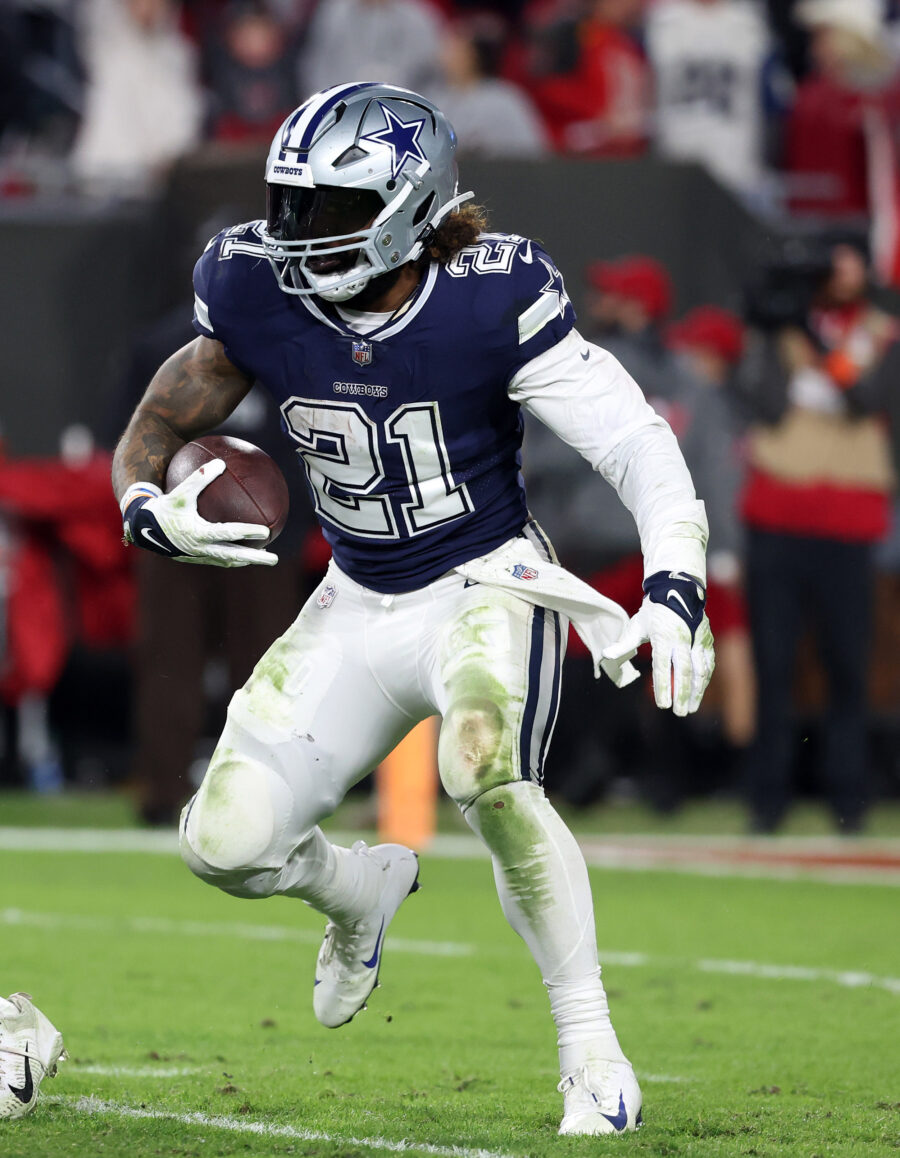 Jerry Jones still hoped Elliott would come back, Machota adds, which points to the the Cowboys making an offer. A report tying Elliott to a league-minimum-level deal surfaced in August. Rumors about an Elliott return came up in late March, late April and mid-June. By August, however, the Cowboys were moving in a different direction. Mike McCarthy said during training camp he did not want Elliott taking reps away from the Cowboys' contingent of younger backups behind Pollard. Soon after, Zeke signed an incentive-laden deal with the Patriots.
Elliott dead money will remain on Dallas' books through 2024, with the team using a post-June 1 cut designation to move on in March. The Cowboys are not believed to have submitted a specific pay-cut number to Elliott's camp prior to the release, which may have complicated a reunion. Elliott, 28, will face his former team Sunday. The new Rhamondre Stevenson backup will enter the Week 4 game with 143 scrimmage yards on 34 touches.
The Cowboys have used Rico Dowdle as Pollard's top backup. The fourth-year back, who did not log any carries in 2021 or '22, enters Week 4 with 113 scrimmage yards on 21 touches. Pollard has totaled an NFL-most 24 red zone carries — 10 more than the next-closest player — but is sitting on two rushing touchdowns. The Cowboys used Elliott as their primary goal-line back for seven years; both he and Pollard scored 12 TDs in 2022. Pollard, of course, was far more explosive than Dallas' starter last season and became the clear priority this offseason.
With Pollard on a $10.1MM franchise tag, the Cowboys were never expected to bring back Elliott at a number close to his original 2023 base salary ($10.9MM). Elliott did well for himself by signing a six-year, $90MM extension in September 2019. Running backs no longer command that kind of money, even as the salary cap has climbed since that deal came to pass. No back has even signed a $10MM-per-year pact since the Browns extended Nick Chubb (three years, $36.6MM) in July 2021.
Follow @PFRumors