SEPTEMBER 24: Saleh's comment about Becton's position switch notwithstanding, SNY's Connor Hughes reports it will be Becton taking over at left tackle. Right guard Alijah Vera-Tucker is shifting back to right tackle — a rumored move during training camp — and second-round pick Joe Tippmann is moving into the starting lineup at right guard.
The Jets had preferred to keep Vera-Tucker at guard, but the team's long-running tackle problems will bring the 2021 first-rounder back to tackle. Becton spent the offseason insisting he would return to left tackle, his position as a rookie back in 2020. Becton criticized the Jets shifting him to right tackle last year but has been back at that post since midway through camp. This will be Becton's first regular-season left tackle work since Week 1 of the 2021 season.
SEPTEMBER 23: Zach Wilson's second start in 2023 will come without the Jets' starting blindside blocker in place. Left tackle Duane Brown has been ruled out for Week 3, per a team announcement.
The Jets have since placed Brown on IR, meaning he will miss at least the next four weeks. New York's plan at the blindside will become increasingly important with Brown's replacement(s) now tasked with filling in on a medium-term basis.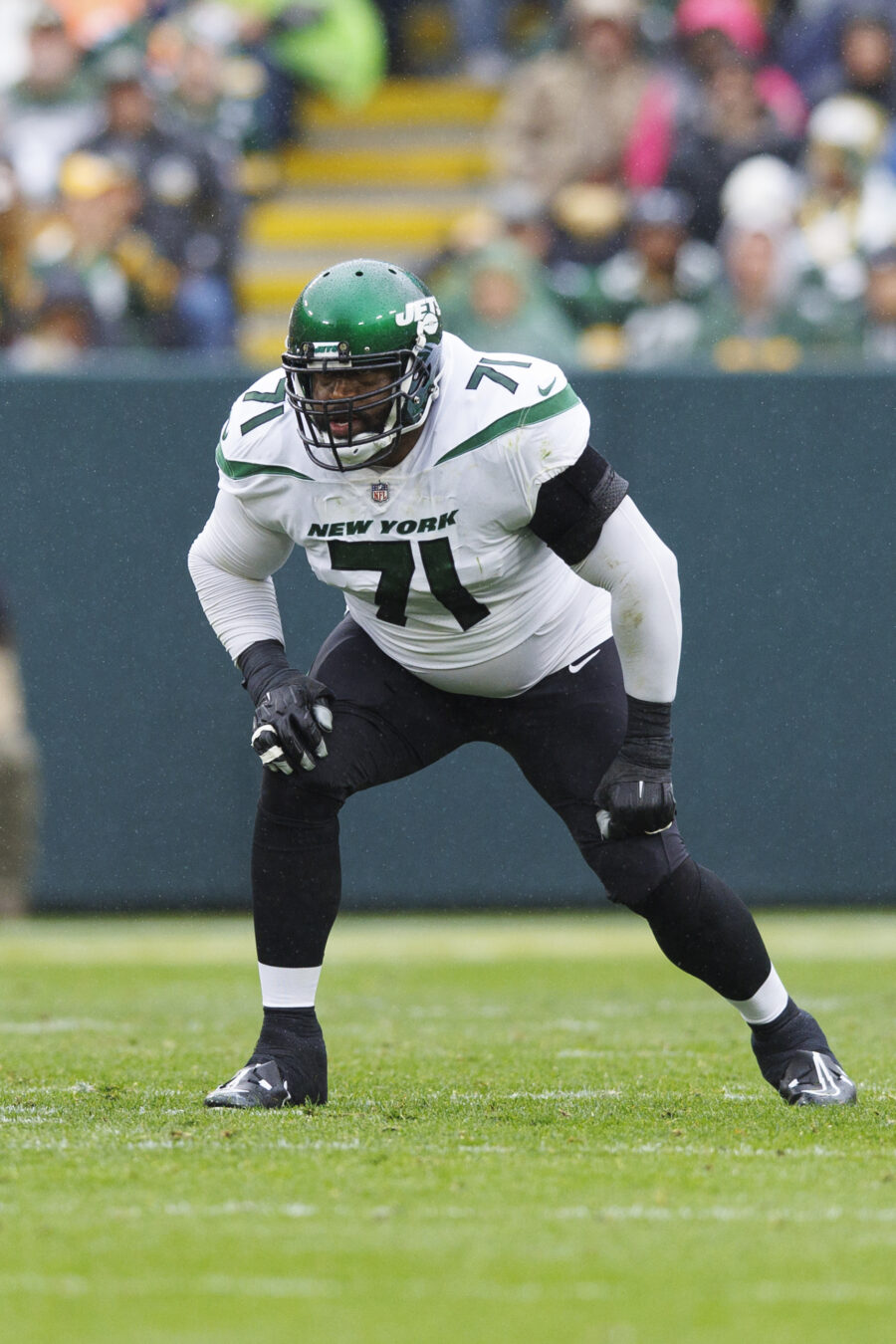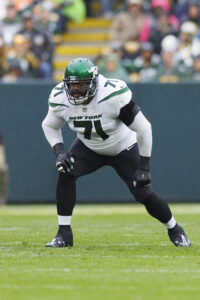 Brown has been dealing with hip a injury, and the ailment kept him out of practice this week. In spite of that, head coach Robert Saleh had expressed optimism Brown would be able to suit up on Sunday against the Patriots. Now that the team will be shorthanded up front, questions have been raised regarding who will fill in at the left tackle spot, with Mekhi Becton representing an option.
Pointing toward a right-to-left tackle switch being unlikely, however, Saleh said "[Becton's] been practicing a certain way this entire week, so to move him at the last second would be irresponsible on our part" (h/t ESPN's Rich Cimini).
Becton was moved to right tackle on a permanent basis this offseason after tensions over his usage last year came to a (rather public) head. After dealing with a litany of injury issues, the former first-rounder has been able to play every snap so far, though, an accomplishment in its own regard considering the missed time which has dominated his Jets tenure. Given Saleh's expectation Brown would play tomorrow, it would indeed come as a surprise if the team elected to shift Becton to the blindside (where he was originally drafted to play) on short notice.
Presuming the Jets keep Becton at the RT spot, Billy Turner could find himself in the starting lineup tomorrow. The latter has 75 starts to his name, including seven last year with the Broncos. One of several players with ties to quarterback Aaron Rodgers and offensive coordinator Nathaniel Hackett, Turner was brought in on a one-year deal to provide experienced tackle depth given the team's uncertainty up front.
Turner last saw time at left tackle in 2020, though, so an adjustment period would be needed if he were to be called upon to man the blindside tomorrow. Likewise, swingman Max Mitchell's only time last season came at right tackle, so using him at the LT spot would mark a new endeavor for him. In any event, it will interesting to see how the Jets proceed along the O-line as they look to protect Wilson during his time at the helm.
Follow @PFRumors