SEPTEMBER 29: Reich confirmed on Friday, via Newton, that Young will indeed be back in action this Sunday. His return will give him the chance to rebound from a pair of underwhelming performances to begin his career, and get the Panthers into the win column for the first time in 2023.
SEPTEMBER 27: Two of the three rookies given starting roles right away in 2023 – Bryce Young and Anthony Richardson – missed Week 3 due to injuries. Both appear to be on track to limit their absences to a single game.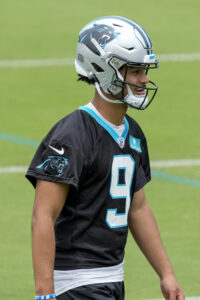 Young was a full participant in practice on Wednesday, signaling he should be available for Sunday's contest against the Vikings. His ankle injury required Andy Dalton to start last week, but such a move will not be necessary as long as the No. 1 pick's recovery proceeds as scheduled. More work is still to be done on that front, of course, but today's news is an encouraging sign.
"The big thing right now is to see how he responds [Thursday]," head coach Frank Reich said, via ESPN's David Newton. "Just have to make sure there's no major setbacks, no flare-ups. But if he stays on track, then I think things are headed in the right direction."
Originally given a one-to-two week recovery timeline, it comes as little surprise that Young has a strong chance to suit up after only missing one contest. Dalton threw for 361 yards and a pair of touchdowns in the Panthers' loss to the Seahawks, a game which dropped them to 0-3. In doing so, the veteran showcased a continued ability to produce as a spot-starter, something he has done with four teams in as many years since his Bengals tenure ended. Dalton guided Carolina to a more notable performance in the passing game than the team's two contests with Young under center.
The latter has repeatedly been tapped as the starter when available, though, so he will be in the lineup as soon as possible. To that point, Reich added that the Panthers are prepared to play Young at less than 100% – a noteworthy stance given the Alabama product's long-term importance to the franchise. Young was the target of the team's trade-up to the first overall selection, and as such he has been entrusted with providing much-needed stability at the QB spot. Risking further injury so early in his career would need to be weighed against the possibility of dropping to 0-4 on the season.
The same holds true of the Vikings, making Sunday's matchup one of importance for both teams involved. Presuming all goes well in the coming days, each squad will have their No. 1 quarterback available on Sunday.
Follow @PFRumors