Matt Russell has been with the Broncos since Josh McDaniels' run as head coach, and the team rewarded the holdover from the previous regime Friday.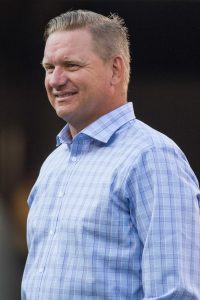 The Broncos promoted Russell to VP of player personnel, the team announced on Friday. This will be Russell's 12th year with the franchise. Previously the team's player personnel director for nearly eight years, Russell has overseen the Broncos' pro and college personnel departments during most of John Elway's tenure. Although Elway did not hire him, Denver's current GM continues to hold Russell in high regard.
The former Patriots and Eagles scout played a key role in the Broncos' drafts in the late 2010s, ones that produced better returns than the team's selection hauls immediately preceding them, and before that helped Elway transform Denver's roster in between Super Bowls XLVIII and 50.
Although Russell has not been mentioned in GM searches, his and Elway's partnership has given the Broncos rare continuity. Only the Patriots (Bill Belichick–Nick Caserio) and Cowboys (Jerry and Stephen Jones) have seen their top two personnel execs work together this long — among active staffs — according to the Broncos' website.
Denver also promoted another staffer who arrived during its previous regime. Mark Thewes, who began as assistant to McDaniels in 2009, will now serve as VP of football operations. Thewes was previously the Broncos' director of team administration. Additionally, the Broncos promoted western regional scout Darren Mougey to assistant director of college scouting.