For much of 2013, Jadeveon Clowney was widely regarded as the No. 1 pick in the 2014 draft. While that absolutely could still be the case, Central Florida's Blake Bortles might wind up being the first player to shake Commissioner Goodell's hand on May 8th.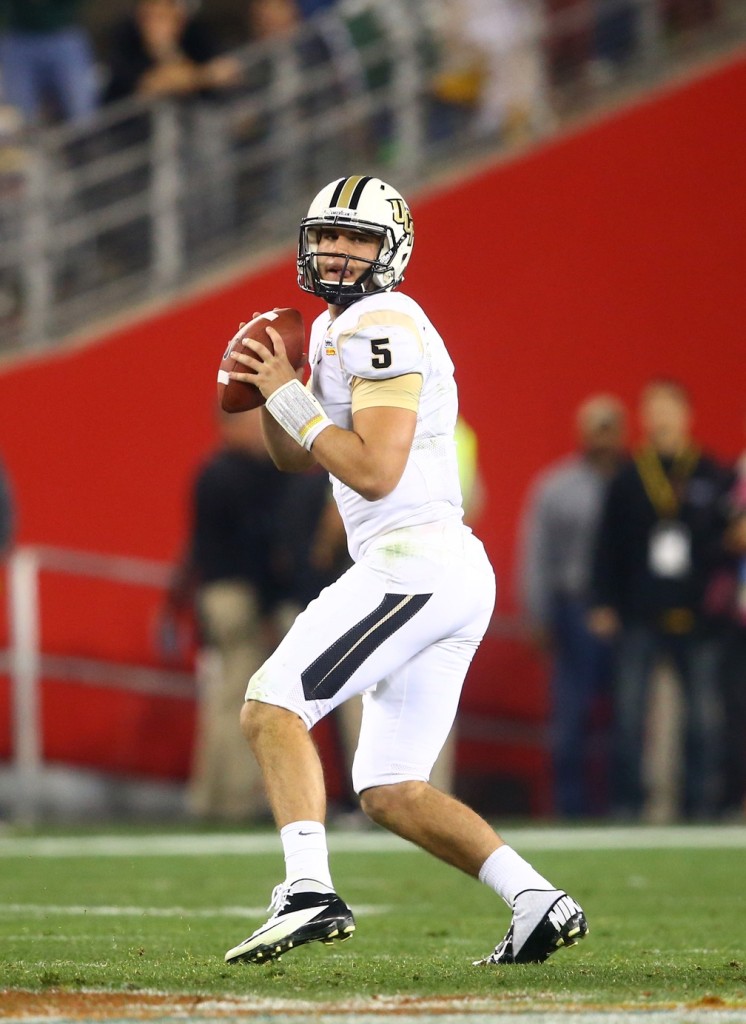 The first thing that strikes most people about the UCF product is his size. At 6'5″ and 232 pounds, Bortles has the height to see over the outstretched arms of defensive linemen and the frame to absorb repeated blows a la Ben Roethlisberger. That's not to say he's resigned to taking a sack when the pocket collapses. Bortles has pretty solid mobility – no small feat for a QB his size – and can escape pressure when he needs to. He can keep a play alive longer than most and that will be a major asset for him as he makes the leap to the next level.
Not unlike Kyle Boller heading into the 2003 draft, Bortles has scouts raving over his fastball. With major zip on his throws, Bortles is able to take advantage of tiny openings and get his ball to the receiver from short and medium distance. Bortles throws an extremely catchable ball to his receivers with solid accuracy and has the intuition to lead his receivers to open space. He's not the best at bombing the ball downfield (more on that in a bit), but his receivers tend to gain serious yards after the catch because of the opportunities he gives them.
The one thing that NFL scouts tend to drool over in a quarterback – other than size – is poise. Bortles both on and off the field, has shown that he's an even-keeled and calm personality that doesn't fold under pressure. This season, Bortles helped spearhead comeback victories against Penn State and Louisville on the road en route to leading UCF to a BCS bowl game. Off the field, Bortles has wowed coaches with his positive attitude in interviews and overall work ethic. Because he's a notorious film room geek, front offices believe that the signal caller will work hard to identify his weaknesses and either neutralize them or turn them into positives.
So, what are his weaknesses? For starters, Bortles doesn't have the kind of cannon arm that you might expect from a quarterback projected to go in the top five. His deep ball tends to float and that precision accuracy that he offers from close/medium distance has a significant dropoff. On passes thrown 16 yards or deeper, Bortles completed 49.3%, putting him in the middle of the pack for the top QBs in this class.
While Teddy Bridgewater is regarded by many as being an "NFL ready" prospect, you won't find many scouts saying the same of Bortles. He has a high ceiling, but no one should expect to get perfection out of him in 2014 if he's thrown into the fire. Bortles is also coming out of a UCF offense that didn't ask him to survey the field for multiple targets as a lot of their players were pre-designed to go to one specified receiver. The other advantage the towering QB had in college was the weather on his home turf. While he ultimately came out on top against SMU in a December showdown, he was clearly affected by the 24 degree weather and many of his throws looked wobbly.
Ultimately, even though Bortles will have a learning curve ahead of him, he stands as a very solid option and one that is regarded by most as the best quarterback prospect of them all. While Clowney would be a welcome addition to anyone's defense, the Texans know that the offense and the QB position are a higher priority. Also, this is just speculative, but Houston may be weary of a tremendously gifted defensive end prospect who has some question marks regarding motivation after their experience with Mario Williams.
If the Texans do take a pass, it's hard to see him sliding far. The Rams at No. 2 appear very willing to trade down and there are several clubs looking to come away with a QB. Of course, the Jaguars at No. 3 and the Browns at No. 4 are among those in the market for a signal caller and he'll get heavy consideration there. Some may prefer the makeup of Bridgewater or the excitement of Johnny Manziel, but I'd be genuinely surprised to see either player taken ahead of Bortles.
Photo courtesy of USA Today Sports Images.
Follow @PFRumors