At the beginning of the 2021-22 college football season, no one expected hometown Michigan defensive end Aidan Hutchinson to become a favorite for the No.1 overall pick of the 2022 NFL Draft. Months later and days away from the first round of the Draft, Hutchinson is almost certainly one of four prospects being considered by Jacksonville for the honor of No.1 draft pick.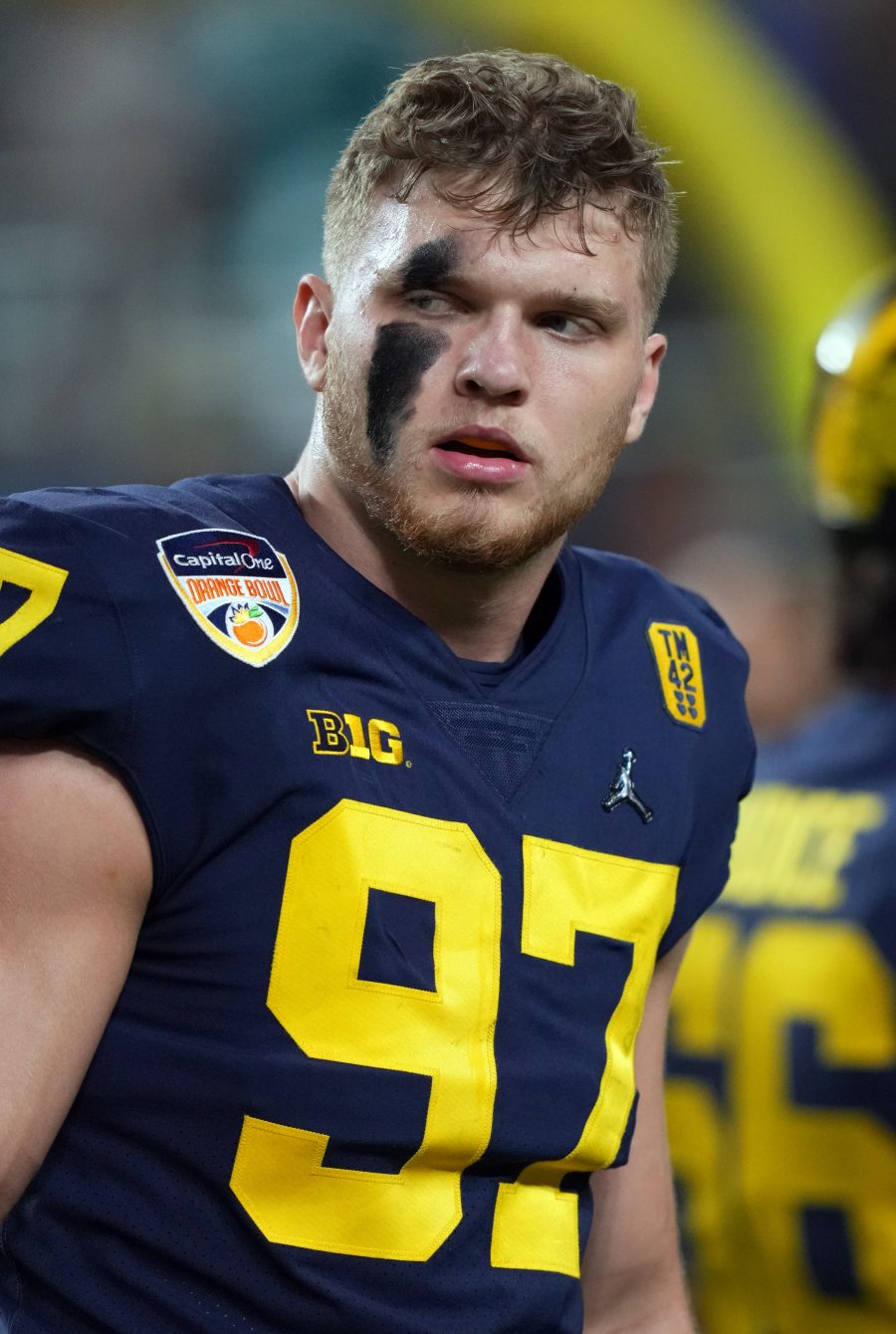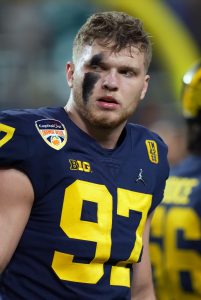 Hutchinson was a consensus four-star recruit at Divine Child HS in Dearborn, MI. His recruitment process was drama-free as he decided to attend nearby University of Michigan, the alma mater of his father, Chris Hutchinson, who played for the Wolverines back from 1989-92. Aidan appeared in every game of his freshman and sophomore year, breaking out a bit as a starter his second season with 68 tackles, 4.5 sacks, and 10.0 tackles for loss, adding four quarterback hurries and two forced fumbles. Hutchinson was set to start for the second straight year opposite Kwity Paye for the COVID-shortened season, before his year came to an early end after suffering a fracture in his leg that would require season-ending surgery.
Coming into his senior year, Hutchinson had 98 tackles, 4.5 sacks, and 11.5 tackles for loss, adding seven quarterback hurries and two forced fumbles to the stat line for his career. The numbers are nothing to scoff at, especially when you consider that most of them are solely from his sophomore year, but, still, no one really put Hutchinson in the same realm as the expected first overall pick at the time, Oregon defensive end Kayvon Thibodeaux.
Fast-forward now to the end of Hutchinson's senior season. Hutchinson set a school record with 14.0 sacks in a single season, more than tripling his output from his first three years combined. He tacked on 62 tackles and led the teams in tackles for loss and quarterback hurries with 16.5 and 12, respectively. After a dominant performance versus rival Ohio State that saw the 21-year-old tally 3.0 sacks and 3.0 tackles for loss, Hutchinson shot up draft boards, pushing what was likely a first-round selection into conversations for the No. 1 overall selection.
When it was all said and done, after the season and the Combine and the pro day, Aidan Hutchinson sat atop the Draft prospect rankings of both Daniel Jeremiah of NFL Network and Dane Brugler of The Athletic. Hutchinson is built to be a pass-rusher. He's extremely strong with quick feet and efficient hand use. He knows he can win relatively easily at the college level, so he tends to tolerate a bit more contact than is necessary, something he'll need to avoid at the next level using the multitude of pass-rushing moves at his disposal. He's a weight room warrior, but likely won't be able to add much more weight at the next level. He's probably maxed out his size. He has a high motor and quick recognition, but his instincts in the running game can hurt him occasionally. He's often posed as a slightly lesser version of the Bosa brothers with a bit less bend.
Hutchinson attended this year's Heisman ceremony, but left empty-handed. He'll be in Las Vegas this Thursday and is sure to leave this time with a brand new jersey and hat. The odds of them being teal, black, and gold are extremely high, and, if they are, he may just be on a mission to reinstitute the moniker of "Sacksonville."