Free agent cornerbacks made out awfully well for themselves back in March, with Aqib Talib securing the largest overall contract of the offseason ($57MM), while Darrelle Revis landed the biggest annual value (technically $16MM per year; realistically $12MM per year). However, as our list of the largest free agent contracts of the year shows, neither of those deals ranked among the contracts with the most guaranteed money. Vontae Davis of the Colts barely made his way onto that list, but for the most part, several other positions ranked ahead of corners when it came to overall guarantees.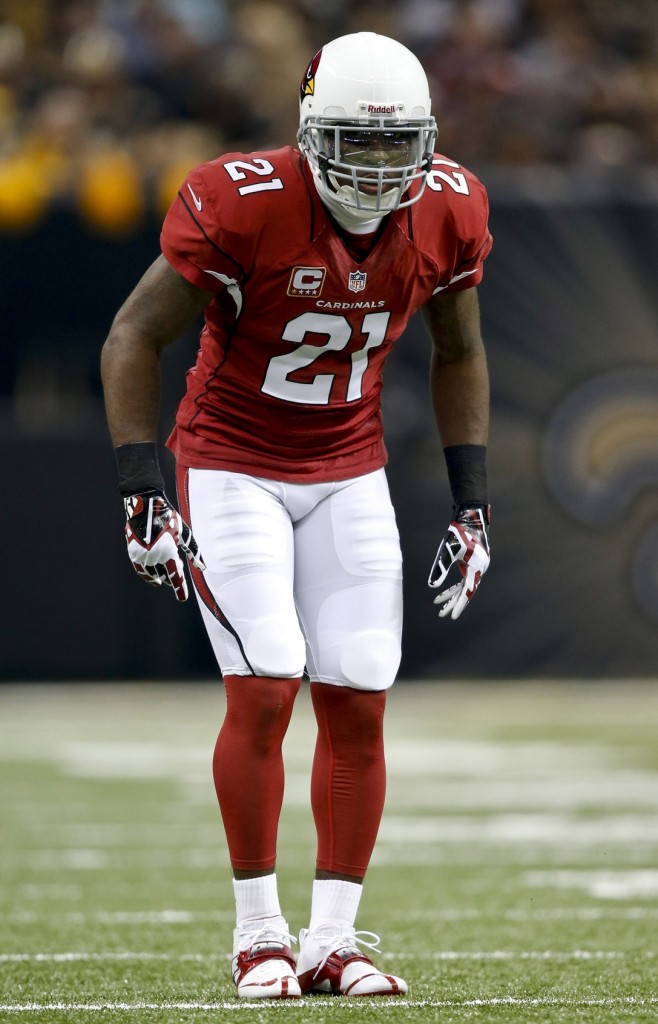 That hasn't been the case so far during contract extension season though. Two of the league's most talented cornerbacks, Richard Sherman of the Seahawks and the Browns' Joe Haden, have inked new long-term deals over the last several weeks, and both players raised the bar for the sort of paydays that the NFL's elite corners should expect. Sherman's four-year extension averaged $14MM annually, significantly exceeding the numbers achieved by Revis, Talib, and this year's other free agent corners. Haden's five-year deal, meanwhile, reportedly includes $22MM in fully guaranteed money, which would have ranked first on our list of overall guarantees for 2014 free agent contracts, topping Branden Albert's $20MM.
Players around the league are undoubtedly taking notice of contracts like Sherman's and Haden's, and few players are watching more closely than Patrick Peterson of the Cardinals, who may be the next cornerback in line for a lucrative multiyear extension. Shortly after word of Haden's new deal broke, Peterson tweeted, "45!!!!!" — a reference to the total guarantee in Haden's contract, which also is said to feature $23MM guaranteed for injury only.
The Cardinals and Peterson's reps have engaged in extension talks this offseason, and the All-Pro expressed optimism that he'll remain in Arizona "for a while." But his case is a little different than Sherman's and Haden's. Both of those players had just one year remaining on their previous contracts, which added a little urgency to negotiations for their respective teams, who didn't want to see their stars reach free agency. After having his fifth-year option exercised recently, Peterson is under contract for two more years, through the 2015 season.
Still, even if there's not necessarily a rush to get something done before the 2014 season, the two sides appear committed to trying to reach a common ground. If the team and player want to resolve the long-term contract situation sooner rather than later, tacking a few years onto Peterson's current contract at some point this summer seems likely.
So what sort of money would Peterson be looking at on a new deal? Sherman and Haden provide two easy points of comparison. Although Peterson is the youngest of the trio, the fact that he's under contract for two years means that Arizona would be locking him up for a similar portion of his career. Sherman's four new years span his age 27 to age 30 seasons, while Haden's five new years lock him up from age 26 through 30. A new contract for Peterson would begin in 2016, his age 26 season.
Of course, the fact that Peterson is still just 23 years old (24 in July) should play some part in negotiations. It's fair to assume that the young star still has some room for improvement, and if Peterson believes he can take another step forward during the 2014 season, he may be inclined to wait another year to sign a deal, when his value is even higher and the Cardinals feel a little more pressure to get something done.
More important than Peterson's age is his performance, and it's hard to argue he's not in the same class as Sherman and Haden. Pro Football Focus' advanced metrics (subscription required) ranked the former fifth overall pick among the top 20 cornerbacks in the league in each of the last two seasons, and he was a takeaway machine in those two years, snagging 10 interceptions and recovering seven fumbles.
The fact that Peterson ranked 102nd out of 109 corners during his rookie season, according to PFF's grades, is a knock against him, particularly when compared to Haden, who has never ranked outside the top 20 at his position. The Cardinals' standout has also never ranked higher than 16th on PFF, whereas Sherman has been in the top six each of the last two seasons. But Peterson makes up for that somewhat with his knack for big plays and his ability to return punts. Although his role on special teams was reduced somewhat in 2013, Peterson returned four punts for touchdowns in his rookie year, and that capacity for providing a game-changing play when he's not even on defense increases his overall value as a player.
Peterson will likely be pushing to exceed the $14MM annual salary Sherman got on his four-year extension and the $22MM in fully guaranteed money that Haden received on his five new years. I'm skeptical that he tops both figures, but I wouldn't be surprised if he at least matches one or both. If Peterson and the Cardinals were open to something similar to the five years and $68MM that Haden got from the Browns, that would bring Peterson's seven-year total to nearly $81MM, exceeding Haden's overall value.
Perhaps the Cardinals, with a roster closer to contention and a winter climate that's more appealing than Cleveland's, wouldn't have to pay quite the same premium to keep their own star cornerback off the free agent market. But based on Peterson's Twitter reaction to Haden's extension, it's clear he's keeping a close eye on what his fellow corners are earning, meaning it's unlikely he takes a real discount. If the Cardinals are willing to pony up with two years still remaining on Peterson's deal, it may just be a matter of time until we see our third huge cornerback extension of the spring.
Photo courtesy of USA Today Sports Images.
Follow @PFRumors