3:31pm: Sherman's cap number for 2014 will be $3.631MM, tweets Joel Corry of CBSSports.com. It'll jump to $12.2MM in 2015, $14.769MM in '16, $13.631MM in '17, and $13.2MM in '18.
1:48pm: Tom Pelissero of USA Today confirms (via Twitter) that Sherman's four new years are worth $56MM, meaning the overall value of his contract should be $57.431MM.
1:00pm: Just over a week after the Seahawks finalized a long-term extension with one key member of their secondary (Earl Thomas), the team has locked up another one of its top defensive backs. Richard Sherman officially signed a long-term extension with the Seahawks today, ensuring that he remains under contract for an additional four years, through the 2018 season (Twitter link).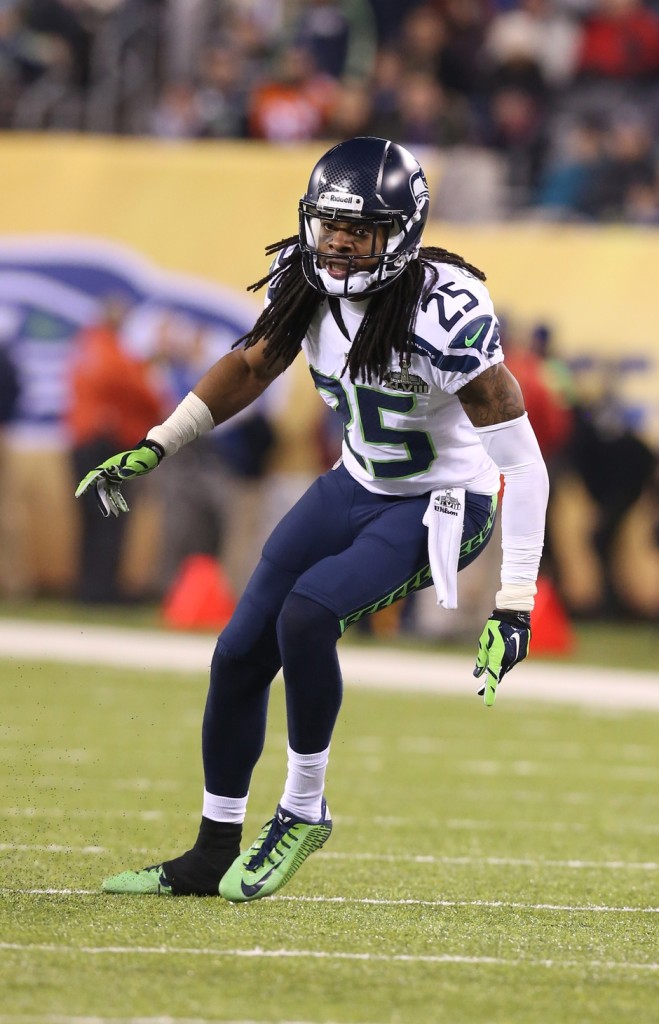 Sherman, 26, is viewed as one of the NFL's best cornerbacks, and you could make the case he deserves to be atop that list. Pro Football Focus' grades (subscription required) ranked Sherman outside the top five at the position in 2013, though quarterbacks compiled a meager 47.3 QB rating on passes into his coverage, which was the best mark in the league. The former fifth-round pick, who earned his second All-Pro spot in 2013, also grabbed a league-leading eight interceptions.
Back in April, Jason La Canfora of CBSSports.com reported that Sherman and the Seahawks had made real progress on a new contract that would make him the highest-paid cornerback in the NFL. At the time, La Canfora suggested that Seattle and Sherman hoped to finalize something in time for the draft, so the two sides ended up meeting that informal deadline.
The new contract also did indeed make Sherman the league's highest-paid corner. According to Sherman's website, the deal is worth $57.4MM, with $40MM in guaranteed money. We'll have to wait on the specifics of those figures to see just how much of that salary is fully guaranteed, as opposed to being guaranteed for injury only. It's also not entirely clear if the $57.4MM figure includes his 2014 salary ($1.431MM), or if it's all new money. Assuming it includes his '14 salary, the four new years would amount to about $56MM, good for $14MM per year.
Per OverTheCap.com's data, the largest per-year salary at cornerback previously belonged to Darrelle Revis, who is essentially under contract one year at $12MM. Brandon Carr was the runner-up in annual value, at a little over $10MM per year. La Canfora reported last month that several league sources believed the Seahawks were resisting going up to $14MM annually on Sherman's deal, but it looks like the team ultimately conceded to that asking price. Of course, if you include the 2014 season in Sherman's contract, it works out to a five-year deal worth less than $12MM per season, which is a little more palatable for the team.
Sherman's extension could have a significant impact on contract talks for other young star corners around the league, such as the Browns' Joe Haden and the Cardinals' Patrick Peterson. Both players will likely be pushing for similar annual salaries on their next deals.
Jay Glazer of Fox Sports (Twitter links) first reported that Sherman and the Seahawks had reached an agreement on a four-year extension that would make him the highest-paid cornerback in the league. Tom Pelissero of USA Today (Twitter links), Bob Condotta of the Seattle Times (Twitter link), and Sherman himself also helped break the story.
Photo courtesy of USA Today Sports Images.
Follow @PFRumors