11:45am: Graham, who has yet to decide whether or not to appeal the decision, will have 10 days to make that decision, tweets Breer. Meanwhile, Mike Freeman of Bleacher Report tweets that there are "a good half-dozen teams" ready to make a run at Graham should talks between the tight end and the Saints reach an impasse.
11:18am: The Saints have won the Jimmy Graham franchise tag positional designation hearing, according to Ian Rapoport of NFL.com, who tweets that arbitrator Stephen Burbank has ruled Graham a tight end, rather than a wide receiver. The decision means that the franchise tag value for Graham is the tight end amount of $7.035MM, rather than the wide receiver total of $12.312MM.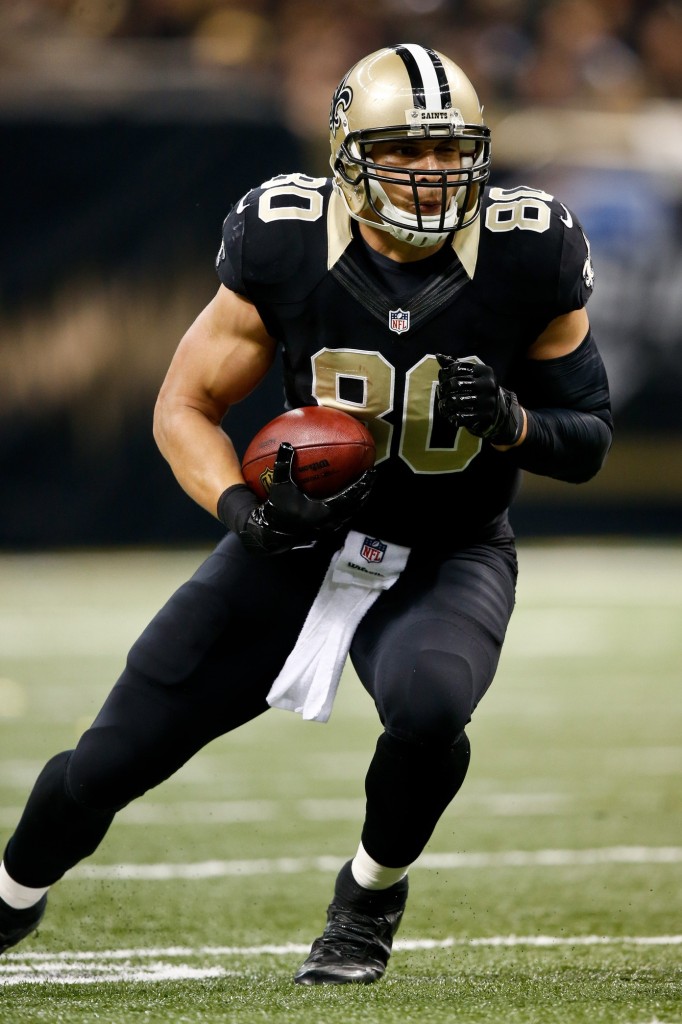 Ultimately, the one-year value on Graham's franchise tag isn't hugely significant, since he and the Saints still seem likely to work out a long-term agreement rather than having him play on a one-year contract. Still, it gives the team additional leverage, and sets an important precedent for tight ends who often line up in the slot or split out wide.
Despite the fact that Graham only lined up in a traditional tight end position on the line in about one-third of his offensive snaps, Burbank still decided the Saints star ought to be considered a tight end rather than a wideout. Had the decision instead gone in Graham's favor, it would've given teams pause going forward about where to line up their tight ends, since that positioning could have had financial ramifications down the road.
Although the NFL's CBA dictates that a franchise player's position is the one "at which the franchise player participated in the most plays during the prior league year," Burbank's ruling seems to indicate that the tight end position isn't determined solely by where the player lines up. According to Rapoport (via Twitter), Burbank's decision hinged on the fact that Graham participates in tight end meetings, was drafted as a tight end, and lists himself as a tight end on his Twitter page, among other reasons. Albert Breer of NFL Network adds (via Twitter) that Burbank considered Graham to be playing tight end when he was detached from but still close to the offensive line — specifically, Breer tweets, that verdict applied to the snaps when Graham was lined up within four yards of the o-line, which happened a majority of the time.
Graham's camp can appeal Burbank's decision to a three-person board, but that process would take a little time, and July 15 is fast approaching — that's the deadline by which the Saints and the former Miami Hurricane must reach a multiyear contract agreement. If they don't have a deal in place by that point, the 27-year-old will have little choice but to play the 2014 season on a one-year pact. As former agent Joel Corry tweets, in that scenario, Graham would likely push to include a clause in his one-year deal that would keep New Orleans from using the franchise tag on him again in 2015.
Back in February, we heard that the Saints were reportedly willing to make Graham the highest-paid tight end in football, exceeding Rob Gronkowski's $9MM annual figure. Graham, however, was seeking a deal in the range of $12MM per year. Based on this decision, that $12MM average probably isn't attainable, but it wouldn't be a surprise to see the two sides reach an agreement on something in the neighborhood of $10MM annually.
Graham, a former third-round pick, has been the league's most consistent and productive tight end over the last three years, averaging 90 receptions, 1,169 yards, and 12 touchdowns per season during that span.
Photo courtesy of USA Today Sports Images.
Follow @PFRumors