The Vikings announced (via Twitter) that they have released wide receiver Jerome Simpson. Simpson was slated to return in Week 4 after the completion of his suspension, but Minnesota wasn't interested in welcoming the veteran back.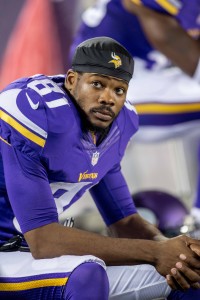 Simpson was suspended for the first three games of the 2014 season after he was arrested for a DUI in November of last year and he apparently still has more legal trouble ahead of him. It was reported earlier today that Simpson has a November arraignment scheduled for misdemeanor charges of marijuana possession, driving with an open bottle, and violating limited license restrictions, related to a July incident in Minnesota.
The 28-year-old set a career high last season for receiving yards and was two catches shy of his best season ever in that category, but his off-the-field troubles hurt his negotiating leverage and his checkbook this offseason. Ultimately, he saw his salary chopped from $2.1MM in 2013 to $1MM in 2014 and he said in June that he was surprised by that.
"I can't lie. I was definitely surprised that I get paid less than what I got last year," Simpson said. "I had my best numbers. But I guess when you got that negative thing on you, they kind of got you behind the eight-ball."
The 28-year-old hauled in 48 catches for 726 yards and one touchdown in 2013. While the Vikings can't afford to lose offensive talent from a football perspective in the wake of the Adrian Peterson situation, they also couldn't afford another public relations hit given the events of the past week. Also, as far as their receivers go, they can still lean heavily on the likes of wide receiver Cordarrelle Patterson and tight end Kyle Rudolph.
Photo courtesy of USA Today Sports Images.
Follow @PFRumors