4:37pm: The NFLPA has released the following statement in response to the Peterson decision:
"The NFLPA expected this outcome, given the hearing officer's relationship and financial ties to the NFL. The decision itself ignores the facts, the evidence and the collective bargaining agreement. This decision also represents the NFL's repeated failure to adhere to due process and confirms its inconsistent treatment of players. Our union is considering immediate legal remedies."
4:16pm: Arbitrator Harold Henderson has denied the appeal of Vikings running back Adrian Peterson, according to league spokesman Greg Aiello (via Twitter). As such, Peterson will have to serve his original suspension, meaning he won't be back on an NFL field until at least 2015, and he will forfeit six 2014 game checks.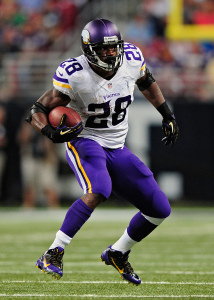 "I conclude that the player has not demonstrated that the process and procedures surrounding his discipline were not fair and consistent," Henderson said in a statement, per Aiello (Twitter links). "He was afforded all the protections and rights to which he is entitled, and I find no basis to vacate or reduce the discipline."
Peterson, who was indicted in a child abuse case earlier this year and ultimately accepted a no-contest plea, was placed on the commissioner's exempt list while his legal proceedings played out. When his plea deal was agreed upon, the league kept Peterson on that exempt list for a little extra time before eventually announcing that the running back had been suspended for the remainder of the 2014 season, and wouldn't be considered for reinstatement until at least April 15.
The affirmation of the NFL's penalty for Peterson doesn't come as a surprise, considering Henderson is considered a strict arbitrator — earlier in the year, he upheld Josh Gordon's season-long suspension, though a modified drug policy eventually reduced that ban to 10 games. Still, Henderson's decision doesn't mean the case can be put to rest. As Mike Garafolo of FOX Sports tweets, Peterson and the NFL Players Association are now expected to pursue a lawsuit in federal court. There's virtually no chance Peterson plays again this season, but the NFLPA's goal will be to push for potential reinstatement for the Pro Bowler prior to April 15, tweets Jason La Canfora of CBSSports.com.
Peterson's argument in his appeal hinged in part on an assertion that NFL executive Troy Vincent told him he would be credited for "time served" for his paid leave on the exempt list. However, given the lack of precedent for the case, and the open-ended nature of the league's personal conduct policy – which allows commissioner Roger Goodell to suspend players for longer than six games for domestic violence incidents if there are "aggravating circumstances" – it was a tricky argument for Peterson and the union to make. Henderson ultimately determined that Peterson's time on the exempt list didn't constitute "discipline," tweets Ian Rapoport of NFL.com.
Regardless of how the upcoming lawsuit plays out, it's reasonably fair to assume that Peterson's suspension will be lifted in time for the 2015 season. In fact, a source tells Rapoport (Twitter link) that if the running back "does what he's supposed to do" between now and April 15, he'll be on the field for the start of 2015. Still, it's not clear if Peterson will be back in a Vikings uniform.
A report yesterday indicated that the Vikings would welcome back the 29-year-old, though the team would almost certainly want to rework his contract to reduce an exorbitant 2015 cap hit. If the two sides can't work something out, Peterson could find himself on the free agent market, well after most teams have made their major free agent expenditures for the year. So Peterson's reinstatement will be an interesting case to keep an eye on over the next several months.
Photo courtesy of USA Today Sports.
Follow @PFRumors