After winning just 29 games in the six seasons prior to head coach Andy Reid's arrival, the Chiefs have won 20 games in the past two seasons alone, earning a postseason berth in 2013. Reid's first season in Kansas City was a massive success, as the club went from owning the No. 1 overall draft pick after posting a 2-14 record to finishing 11-5. Many correctly predicted 2014 would be a year of regression for the Chiefs, but the team didn't fall off a cliff — it still managed to win nine games, and nearly made the playoffs for the second year in a row.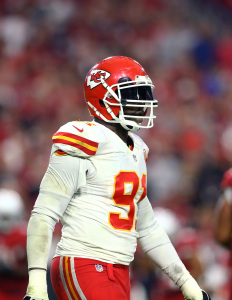 Tamba Hali" width="232″ height="300″ />
Reid and general manager John Dorsey surely believe their club is a year-in, year-out contender, and with quarterback Alex Smith now signed through the 2018 season, the Chiefs have their most important piece locked up. Continuity is an important factor in building a championship-caliber team, something Dorsey acknowledges. "We're not in the game to blow things up," Dorsey told Terez A. Paylor of the Kansas City Star earlier this month. "I don't think you can do that, but these guys understand that, in order to achieve a high level of success, you're going to be in this thing together."
Still, fiscal decisions will have to be made in the coming months — assuming a $140MM cap for 2014, Over the Cap's data shows the Chiefs to be more than $2MM in the red. Small restructures can be finagled to move money around, ensuring that the team can sign its draft class and make modest free agent additions. But unless Kansas City does something drastic, it won't be able to do much to upgrade this offseason. That's why the notion of cutting longtime pass-rusher Tamba Hali isn't so crazy.
The Chiefs selected Hali, now 31, in the first round of the 2006 draft. The Penn State alum entered the league as a 4-3 defensive end in former Kansas City coach Herm Edwards' scheme and struggled to find success, accruing -11.5 and +0.1 grades in '06 and '07, respectively, according to Pro Football Focus (subscription required). Todd Haley took over as KC's head coach in 2008, and the team installed a 3-4 look, the scheme they've employed ever since. After moving to outside linebacker, Hali has excelled, registering a positive PFF grade every season (including 2010, when he was ranked as the league's top 3-4 OLB); since the position switch in '08, he ranks eighth in the league with 64 sacks.
Hali's play has declined with age, to be sure — he posted just six sacks last season, and while his +11.2 PFF grade still ranked him among the top-15 3-4 OLBs, his production clearly isn't where it was a few years ago. Even more pressing is Hali's salary as he enters the final year of his contact. He's set to earn a base salary of $6.75MM, and is due a $2MM roster bonus and a $250K workout bonus — combined with his signing bonus proration, Hali will count roughly $11.965MM against the cap in 2015, the third-highest figure at his position in the league. That roster bonus is due on March 19, so the Chiefs have just under two months to make a decision on Hali.
As I noted, Kansas City is projected to be roughly $2MM over the cap in 2015 — however, that number doesn't account for pass-rusher Justin Houston, a free-agent-to-be who seems destined for the franchise tag (at a value of around $13MM). Additionally, the club is not without needs, as upgrades could be used at positions like receiver, offensive line, and the secondary. By releasing Hali, the Chiefs would save $9MM in cap space (they'd only be on the hook for his a portion of his signing bonus, roughly $2.965MM), enabling them to pursue improvements in other areas.
Of course, Hali isn't the only Chief who could be cut in order to save the club money. Receiver Dwayne Bowe was ineffective in 2013, is set to have the second-highest cap number on the team next year; Kansas City would save $5MM by releasing him. Fellow WR Donnie Avery will be almost certainly be cut, a move that would save KC more than $3.5MM. Releasing Mike DeVito ($4MM), Joe Mays ($3MM), and A.J. Jenkins (~$1.34MM) could also clear out cap space for the Chiefs, so there are definitely other options to create financial breathing room. But if Kansas City is aiming to either franchise tag or re-sign Houston and make additions in other areas, it might not make sense to allow an aging (albeit still effective) pass-rusher like Hali to take up more than eight percent of its cap.
For his part, Hali seems amenable to taking a pay cut, or at least he's paying lip service to that effect (via Paylor):
"At this stage of my career, it isn't about money. The Kansas City Chiefs have taken care of me, financially. I have some good people in my corner that have positioned me to be able to live a lifestyle a lot of people won't be able to live. So I'm not one of those guys who gets all bent out of shape over money. I love playing the game, I want to win a championship in Kansas City. If money is going to be a hindrance in doing that, we'll find a way … we've got to get Justin (Houston) paid and get our guys, Dee Ford, ready to be playing at a higher level … but we've got to get Houston paid, I'm optimistic about that … that's something we've got to get done."
If Hali is released (if pressed, I'd say he's about 75% likely to be cut, though a pay reduction scenario would render that estimation moot), he'd likely find a strong market for his services. Pass-rushers are always rewarded in free agency, and luckily for Hali, there are a number of teams who run a 3-4 front who will have ample cap space to use in the coming months. The Colts present the most intriguing scenario in my mind — the team will be three seasons into playing a 3-4 look, are open to spending in free agency, need pass-rush help, and will have more than $37MM of cap space to use. The Titans, with more than $40MM in space, and the Raiders (if they continue to mix in 3-4 looks) could also be interested in signing Hali, as could the Falcons (again, pending scheme changes) and the Eagles in the NFC.
At 31, Hali probably wouldn't garner a deal in excess of four years or so, but as cap expert Joel Corry notes in the Paylor article linked above, he'd probably come out ahead by entering the market. He wouldn't face much in the way of positional competition — with Houston likely to be franchised, the other top 3-4 OLBs include Jason Worilds, Brandon Graham, and Brian Orakpo. Hali would probably be looking at a deal in the neighborhood of DeMarcus Ware (three years, $10MM AAV, $16.5MM guaranteed) or Julius Peppers (three years, $8.67MM AAV, $7.5MM guaranteed). He's younger than both of those comparables, so it's conceivable he could get a four-year contract, but his AAV would probably sit in that $8.5MM range, with perhaps 40% of his total guaranteed.
Photo courtesy of USA Today Sports.
Follow @PFRumors