Pending free agents:
Top 10 2015 cap hits:
Notable coaching changes:
Draft:
No. 16 overall pick
No traded picks
Other:
Overview
After inheriting a 2-14 team, Bill O'Brien took over the Texans and brought them right back to respectability in just one season. Most of the attention went to J.J. Watt, and deservedly so, after an astounding season that saw him receive 13 MVP votes, the most for a defensive player since Lawrence Taylor in 1986.
However, Watt didn't lead the team to nine wins – and one Week 17 Ravens' loss to the Connor Shaw-led Browns from a playoff spot – all by himself. Defensive coordinator Romeo Crennel patched together a strong defensive season without much notable star-power on that side of the ball. The team finished seventh in scoring defense, according to ESPN, and also graded out as a top-10 defense according to Pro Football Focus (subscription required). Just a year ago, the unit were 24th in scoring defense and 16th per PFF. The big addition this offseason was first overall pick Jadeveon Clowney, who played in only four games and accumulated five tackles.
The offense is what really held the team back, specifically the quarterback position. The Texans had to turn Ryan Fitzpatrick, Ryan Mallett, Tom Savage, and Case Keenum at different points during the year, which proved inconsistent at best. If the team can get an equal or better effort from the defense in 2015, consistent offense should be enough to put Houston back in the playoffs.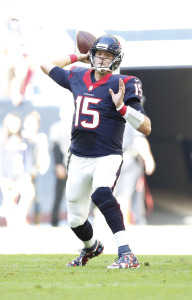 Key Free Agents
With the quarterback position in flux, Mallett turns into one of the more intriguing free agents on the market for the Texans. Most teams will view Mallett as an afterthought at worst, and a question mark at best, but the Texans coaching staff has a full season of practice reps to judge him on. An unfortunate injury robbed the team of more game film, but no other suitor will be more familiar with what he has to offer. O'Brien knows him particularly well, going back to his time coaching him in New England. It is difficult to project the Texans' interest in Mallett, but what they do with him will be telling. If they don't make a concerted effort to sign him, even to a small backup-level deal, he might have trouble finding work anywhere in the league.
Kendrick Lewis played a huge role in a surprisingly good defense in 2014, playing 1097 snaps, most on the defense. I imagine if the Texans thought they had a better option, they would have used him. While Lewis graded out positively in 2014 (subscription), he was far from a revelation. The market for his services should be diminished enough for the Texans to bring him back at a reasonable rate, but in a weak free agent class for safeties, a 26-year old talent who has proven to be durable could wind up being overpaid. Danieal Manning played about half the snaps that Lewis did, but graded out slightly better over that sample. He could stay or go on a small contract, depending on how the rest of free agency and the draft go.
Staying in the secondary, Kareem Jackson was the team's best cornerback in 2014, surpassing Johnathan Joseph as the number one guy in the secondary. His breakout season came at the wrong time for the team, as he will be sought after heavily in what could be a weak cornerback class in both the draft and free agency. It would be difficult to justify signing Jackson to a big extension with Joseph still on the books.
Offensive tackle Derek Newton and outside linebacker Brooks Reed are both players with good track records in Houston that the team would like to have back in the fold. Both would draw interest on the open market, but the Texans would likely have an edge in bringing them back.
Akeem Dent, Jerrell Powe, and Ryan Pickett could all be back next season due to scheme familiarity, depending on what the team accomplishes in free agency and the draft.
Possible Cap Casualties
Andre Johnson is the best player in Texans history, and it isn't even close. Drafted in the first round of Houston's second draft, he has spent his whole career with the franchise. During that time, he put together a pretty good Hall of Fame case, currently placing himself ninth all time in receptions and 12th in receiving yards.
However, Johnson slipped dramatically in 2014, failing to reach the 1,000-yard mark for the first time since his rookie year, in a season that he was healthy and played at least 14 games. He also posted his fewest receptions in a healthy season since his second year in the league. Johnson has struggled with injuries throughout his career, missing large portions of the 2007 and 2011 seasons, as well as missing three games in 2005. The scariest part of the 2014 campaign is the tremendous dip in his yards per catch over the last two seasons. From 2007 to 2012 he averaged between 13.7 and 15.5 yards per catch, but in the last two years, he has averaged 12.9 (2013) and just 11.0 (2014). That last number tied him for 83rd in the league among qualified players.
A drop in yards per catch often signifies a loss of explosiveness, and could pose trouble for the star receiver going forward. If these two numbers prove to be anomalies, like his low averages in 2005 and 2006, that's fine, but if they become a trend it will be hard to justify his large cap number. Set to make $21.5MM in base salary over the next two years, with cap numbers totaling over $30MM, Johson is one of the highest paid receivers in the league, according to OverTheCap.com. The team could save nearly $21MM by cutting the veteran wideout, although asking him to take a pay cut could be a more ideal option for the team.
An extension for Johnson could be another option, but the emergence of DeAndre Hopkins as the team's number one option cuts Johnson's leverage in contract talks.
Johnathan Joseph hasn't been with the team nearly as long, but he was a huge part of an excellent Texans' defense that made back-to-back playoff appearances in the 2011 and 2012 NFL seasons. Joseph signed a five-year contract as the top corner available during the 2011 offseason, and with rookie J.J. Watt, was part of a massive defensive improvement on way to the first playoff appearance and the first playoff victory in Texans' franchise history. Joseph made the Pro Bowl during each of his first two seasons. The Texans would be in a tough spot if they lost both Jackson and Joseph, but if they can manage to bring back Jackson, they could save $8.5MM by releasing Joseph. Brian Cushing is in a similar situation as Joseph, having dealt with injuries and a decline in performance, but his guaranteed base salary would make it difficult to justify cutting him.
Texans center Chris Myers has been among the better players at his position over the last five years, and the Texans have had effective running games during the best stretch in franchise history largely because of the efforts of Myers and offensive tackle Duane Brown. Myers, like Joseph, made the Pro Bowl in 2011 and 2012. However, if the team feels comfortable it can withstand the drop in production that could come with going to a younger player, the $6MM the team would save could go a long way towards re-signing other players this offseason.
Two more interesting possibilities are Arian Foster and Ryan Fitzpatrick. Foster continues to be highly productive and effective as both a runner and receiver, but with the devaluation of running backs, a back with such a high cap number and Foster's injury history should be on alert. Cap savings this year would be less than $4MM, unless he is designated a post-June 1st cut, but more likely it will be interesting to see what the Texans do with him next offseason as he enters the final year of his contract. For Fitzpatrick, it depends on what the Texans do at the quarterback position with the rest of the offseason. Right now, he might still be the best option for the team. However, his $3.25MM salary would make him a very highly-paid backup. If the team can find another option in the draft or free agency, it might make sense to spend that money elsewhere on the roster.
Positions Of Need
As is the case for all teams with question marks at the quarterback position, that QB spot immediately becomes the most pressing need on the team. Using four quarterbacks in a season is never a good thing, especially when the best option of the four is Fitzpatrick — even Fitzpatrick's 17:8 touchdown-to-interception ratio was buoyed by a six-touchdown, zero-interception game against a Titans team that will be drafting second overall this season. Houston's current options aren't great. After Fitzpatrick, the only in-house options are the unproven Mallett and the unrefined Savage. Neither player would inspire confidence.
Of course, the options in free agency aren't much better. Brian Hoyer and Mark Sanchez are probably the top options on the market, and if that's the case, the team's best option may just be to roll with Fitzpatrick again. Texans' fans may have thought the team had a chance at Teddy Bridgewater with the top pick in the second round last spring, but the Vikings wisely traded back into the end of the first round to select him. Picking 16th this year, the Texans only options at quarterback figure to be Brett Hundley of UCLA and Bryce Petty, unless Marcus Mariota continues to tumble down big boards across the NFL. Hundley and Petty are both flawed prospects and neither represents an immediate improvement at the position. Both might go on to have full and impressive NFL careers, but if the team plans to compete in 2015 it needs a more polished and more dynamic player leading the offense.
Depending on whether or not the team is able to keep Johnson, receiver will be another position of need this offseason. Even if the team moves on from Johnson, the Texans will have trouble targeting a receiver off the top of the market such as Randall Cobb or Jeremy Maclin, but a player like Eddie Royal, Cecil Shorts, or Leonard Hankerson could be brought in on a modest contract as a second or third wide receiver. Tight end might be an even more pressing need, especially if the team decides that Garrett Graham isn't the long-term answer at the position. The Texans would have trouble going after a very top-of-the-market veteran, but if they could make a move for a player like Jermaine Gresham or Jordan Cameron, that would constitute a huge upgrade.
The Texans got adequate performances from their interior linemen on both sides of the ball, but could stand to improve if a reasonable option presents itself. That also depends on what they decide to do with some of their current veterans, who may represent good enough options to remain with the team. The team faces the same dilemma at inside linebacker and cornerback, where the status quo might be just enough if they decide to bring those units back.
Extension Candidates/Contract Decisions
The top extension candidate for the Texans must be right guard Brandon Brooks. Brooks graded out as the eighth-best guard according to Pro Football Focus (subscription required), and at a minimal salary the team would want to lock him up long term. Brooks has proven himself over two years, and with only a year left on his rookie deal, this offseason would be the best time for the Texans to extend him with leverage.
The more exciting names are the ones who already showed up in the cap casualties section. Both Johnson and Joseph could be seen as extension candidates due to their high cap numbers. Ideally, the Texans would want both to take a pay cut to stay with the team, but there could be some compromise to lower their current cap number and keep them with the team for a few more years. This applies especially to Johnson, where there would be some added value in having him retire in a Texans uniform.
The Texans also have a decision to make on the future of former first-round pick Whitney Mercilus, and with Reed and Clowney in the fold, Mercilus seems expendable. If they do want to keep him long-term, they could hang it over his head as leverage to signing an extension. If they keep Reed, they could get by even if Clowney misses additional time after an injury plagued rookie season. On the other hand, if Reed leaves in free agency, the leverage returns to Mercilus as the only experienced outside linebacker on the team.
Overall Outlook
Had the Ravens lost to the Browns in Week 17, we might be looking much differently at this Texans' team and the job O'Brien did with it. Houston would have made it into the playoffs, and would have had a decent shot at beating a Steelers' squad that was missing All-Pro running back Le'Veon Bell. We would have gotten to see another game or two from Watt, and perhaps a Texans playoff berth would have earned the star defender enough votes to challenge Aaron Rodgers for the MVP.
Jumping from a two-win 2013 to a nine-win 2014 would seem to make the Texans a prime candidate for regression in 2015. The best way to fight regression is always by building on a roster and by getting consistent quarterback play. The Texans can look at the division-rival Colts for proof of that — for those who dismiss that comparison because they think Andrew Luck is a superhuman, the Chiefs are a more reasonable representation. That team was able to withstand losing players such as Brandon Flowers and Eric Berry, and was able to continue winning despite serious roster flaws and obvious red flags for regression. A lot of the credit for that goes to a sound coaching job by Andy Reid, and consistent and efficient quarterback play from Alex Smith. Far from spectacular, he was good enough to keep the team in every game, and allowed a strong running game and dominant defense to shine.
If the Texans are able to bring back the best parts of their team and make a few nominal improvements, all they will need is consistent quarterback play to stay in the playoff hunt in 2015. The only question is whether or not they can find that consistency from one of the quarterbacks on the roster, in the draft, or in free agency.
Information from Over The Cap was used in the creation of this post. Photo courtesy of USA Today Sports Images.
Follow @PFRumors