Pending free agents:
Top 15 cap hits for 2016:
Notable coaching/front office moves:
Draft:
Other:
Overview:
Enjoying one of the stranger routes to a Super Bowl title, the Broncos capitalized on the collection of talent they managed to fit under their salary cap. Despite teetering on the brink of potentially missing the playoffs after amassing a healthy early-season AFC West lead, the Broncos strung together three dominant defensive performances in the postseason once granted their fourth straight first-round bye. The 2010s Broncos are only the fourth team to do earn four straight byes in the double-bye era that began in 1990.
Oddly, this may have been the Broncos' least complete roster since Peyton Manning arrived in Denver due to the 39-year-old quarterback's steep decline and a makeshift offensive line. But the league's top-ranked defense, which improved from a top-five-ranked unit to one in the conversation for best defense ever, compensated for the offense's issues.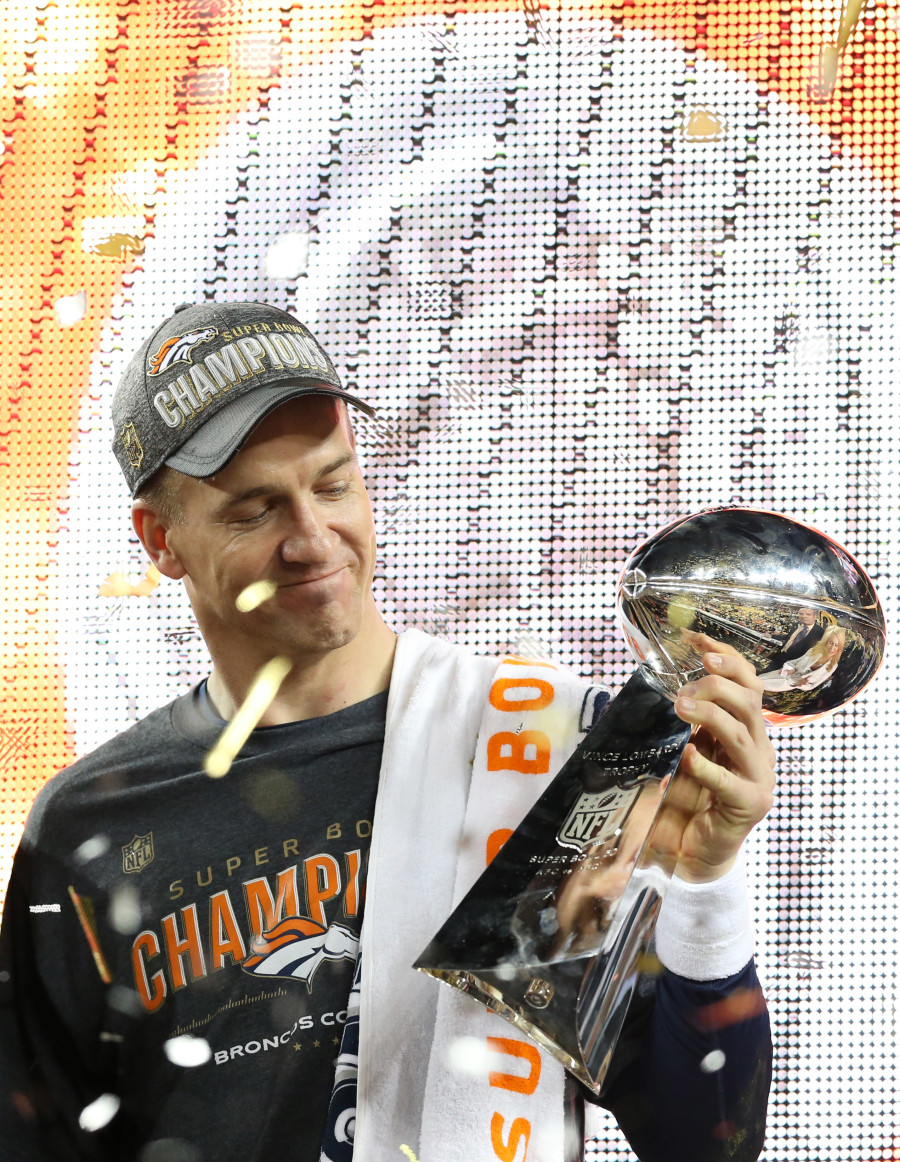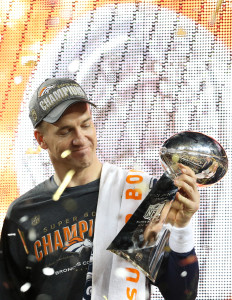 Residing alongside the 2000 Ravens, 2002 Buccaneers and 2013 Seahawks among the top Super Bowl-winning defenses from this century, the Broncos featured a similar outfit from the 2014 group that fell to the Colts in the divisional round. Only Darian Stewart was a new starter on the '15 team, but Wade Phillips' arrival doubled as John Elway's best offseason hire once it unleashed the talent the GM acquired on defense. Ranking No. 1 against the pass and No. 3 against the run, the Broncos made ball-advancement difficult throughout the season. Timely turnovers secured victories against the Ravens, Chiefs, Vikings, Raiders, Browns and Bengals, and the defense helped give an often-stagnant offense a wide safety net. The Broncos went 12-3 overall in games decided by seven points or less.
While his 3-4 scheme helped unleash Malik Jackson and Derek Wolfe as 5-technique ends, and moved Von Miller into the highest-paid defender discussion, Phillips proved malleable in key spots. The Broncos deviated from their blitz-heavy tendencies against the Patriots, yet still posted a staggering 23 quarterback hits to prevent New England from taking advantage of Denver's conservative offense in the AFC championship game. Using more of a base defense in Super Bowl 50, the Broncos quickly stifled the Panthers' vaunted zone-read attack and illuminated some weaknesses in Cam Newton's game that hadn't surfaced much during the season.
Denver looks to return the bulk of this defense, one that saw five players — Miller, DeMarcus Ware, Shaquil Barrett, Jackson and Wolfe — register at least 5.5 sacks. The defense's transition from Jack Del Rio's read-and-react approach forced quarterbacks into difficult decisions while managing to be a stout force against the run despite Terrance Knighton's departure.
The defense's performance gave the Broncos' offense plenty of time to work out issues, but ultimately, the unit settled into a game-managerial style that managed to score enough points while limiting turnovers. The Broncos finished plus-4 in the playoffs, but Manning's and Brock Osweiler's 23 combined regular-season interceptions were the most in the league.
Denver's offense shifted through several phases during its 19 games. An awkward Manning trying out Gary Kubiak's system soon gave way to a pistol-modified version, before Manning's injury brought back Kubiak's under-center play-action concepts during Osweiler's starts. Upon return, Manning's ball-control-based postseason approach proved reasonably effective, but it obviously looked foreign to those who followed the Hall-of-Fame passer's career.
Denver finished with two 1,000-yard+ receivers for the fourth straight season, with Demaryius Thomas and Emmanuel Sanders repeating that feat. The departures of Julius Thomas and Wes Welker showed, however, with the Broncos' auxiliary cast failing to make a steady impact. Denver's run game also didn't resemble Kubiak's usual upper-echelon editions, ranking 17th at 107.4 yards per game. C.J. Anderson's early struggles burned fantasy owners and forced Ronnie Hillman into the starting role. Hillman dashed for a career-high 863 yards and seven scores before running out of steam and ceding work to Anderson down the stretch. Although Evan Mathis ranked as Pro Football Focus' best run-blocking guard, Denver's offense line took a step back, giving up 39 sacks. The Broncos yielded just 35 combined in 2013 and 2014.
Manning turned out to be worth the five-year, $96MM contract he signed in 2012, guiding the Broncos to 50 total wins and two Super Bowl appearances. His first two and a half seasons in Denver produced historic numbers and turned the Broncos into instant contenders after years of middling play in the Mile High City. Manning seemed to hit a wall midway through the 2014 season, causing the Broncos to become more reliant on their defense and ground game. But becoming the first quarterback to win Super Bowls with two different teams, lifting Denver to six home playoff games and breaking numerous passing records will make the Broncos nearly as relevant as the Colts as part of Manning's legacy.
Manning transforming the Broncos into an instant powerhouse, and improving on his QB-record 11 12-win seasons, should rank alongside the work he did in Indianapolis in terms of the signal-caller's stamp on the game.
Now that the Manning era is over, it will be interesting to see how the Broncos attempt to extend what's been their most consistent period of dominance in team history. Should Miller sign a mega-extension, the defensive pieces are still largely in place. But the luxury of a quarterback providing coach-level knowledge and elite-level on-field work Denver enjoyed for the most part during this stretch won't be there. Whether the Broncos can maintain will depend on what happens at quarterback.
Key Free Agents:
Obscured partially by odd off-field incidents and other players' rises over the past few years, Von Miller re-emerged as the most feared outside pass rusher in football. Miller's 11 sacks were actually the second-worst total of his career, but he maintained his lofty standing with the advanced-metrics community. Pro Football Focus rated Miller as its second-best edge defender behind Khalil Mack, but bestowed its best run-defending grade for edge-rushers on Miller.
Miller long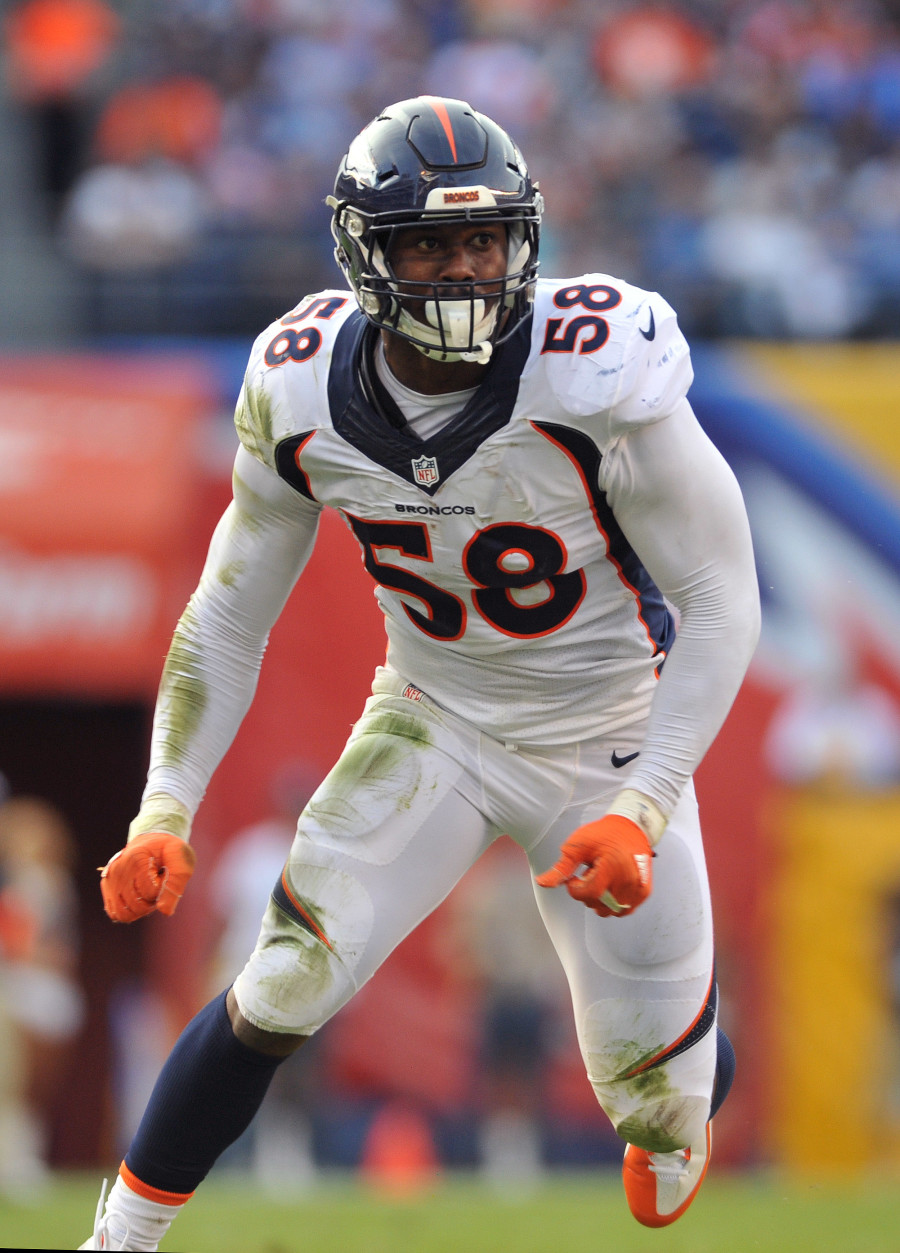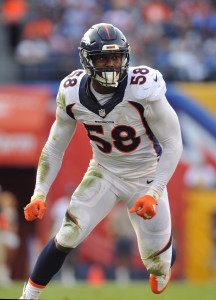 ago displayed his dominance in NFL circles but broke out on a national level during these playoffs.
Not factoring in much in the Broncos' one-and-done postseason forays in 2012 or '14, and not playing during Denver's run to Super Bowl XLVIII due to a torn ACL, Miller turned in one of the league's greatest playoff showings for a defender. His five sacks, two forced fumbles and an interception over the course of the Broncos' final two wins illustrated his value. Predictably receiving the franchise tag, the soon-to-be 27-year-old Miller is the first player since Drew Brees to receive the exclusive tag for an impending free agent and the first non-quarterback to be protected in this manner since Richard Seymour in 2007.
Miller's Broncos talks may be more complicated than the ones that resulted in franchise players Ryan Clady, Matt Prater and Demaryius Thomas being signed in July of 2012, 2013 and 2015, respectively. The star pass rusher appears to be campaigning for Ndamukong Suh-type money (six years, $114MM, $59MM guaranteed), but the Dolphins were paying Suh in comparison to what he could make on the open market after the Lions didn't tag him. With Miller being tagged for $14.13MM, the Broncos can use that as leverage in an effort to keep Miller's price under those marks. Still, Miller will surpass Justin Houston's league-high linebacker contract of six years and $101MM and be a part of the Broncos' title defense this season. John Elway's track record for signing his top players points to Miller being back on a long-term accord, even though the negotiations could be tricky.
Elway's talks with Osweiler may have progressed to the point where the ball's in the court of Peyton Manning's longtime apprentice. The Broncos have reportedly offered the 6-foot-8 quarterback a $45MM deal over three years, which surpasses Nick Foles' prove-it-type pact with the Rams but falls just shy of the $16MM AAV threshold that poses a figurative line of demarcation for franchise quarterbacks. Sam Bradford's deal and Kirk Cousins' franchise tag may have increased Osweiler's value. The 25-year-old comes in No. 1 on PFR's list of available signal-callers, and it would behoove Osweiler to see what his market is before re-signing in Denver.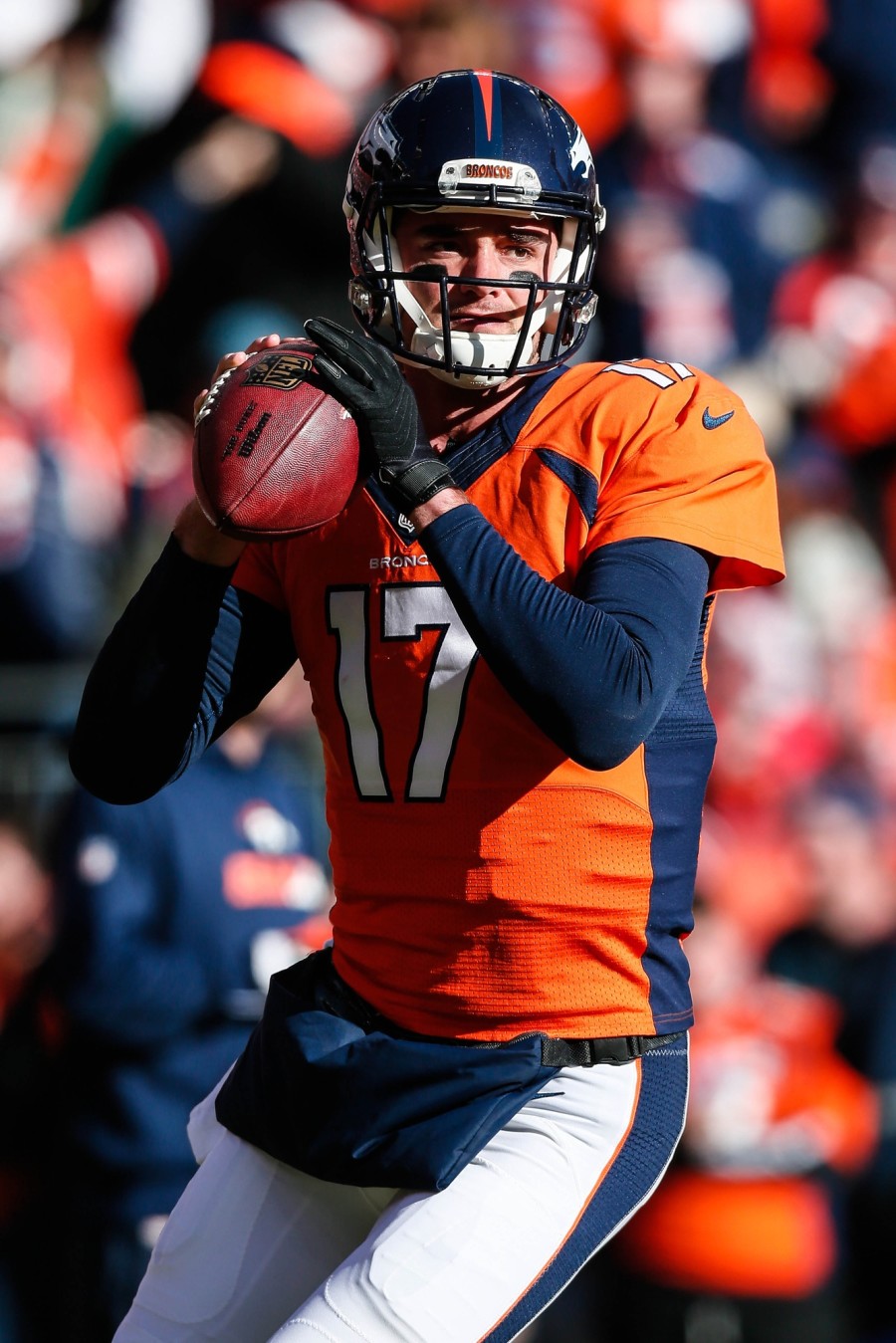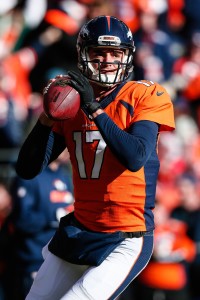 Osweiler may be able to earn more money with a team like the Texans, who aren't in position to draft Jared Goff or Carson Wentz. But his odds of playing out a contract and staying on track to earn an accord in line with top-flight quarterbacks may be best with the Broncos. After going 5-2 as a starter in a strong late-season audition, Osweiler re-signing with Denver would place him back in a system he seems to fit and give him the luxury of operating with a top-tier defense. Should Osweiler sign elsewhere, he wouldn't necessarily have these amenities and would have to go about learning a new offense. Osweiler may prove not to be worth the money in an environment that forces him to be more of a gunslinger and less of a game manager.
We don't yet know what kind of guarantees the Broncos are offering, and that could be the delay in Osweiler re-signing. The former second-round pick surveying the market could induce Denver to up the price. Even though Elway has been one of the best GMs in the game in signing players to team-friendly deals, he might cave at the thought of Osweiler leaving and the Broncos having to turn to a journeyman or a rookie to guide his defending champion roster.
Signing Osweiler to a deal that either nears or exceeds $15MM annually, however, based on seven starts would qualify as Elway's biggest risk as a GM. Osweiler's 61.8% completion rate and 10-to-6 TD/INT ratio were positive marks based on his limited work in previous low-stakes situations, and the Broncos don't win a title without his contributions. But Denver's offense struggled to get first downs during several entire halves under Osweiler, whose ceiling is certainly in question.
A deal for Osweiler that's only a few million per year shy of Manning's lucrative salaries will make it difficult to keep Malik Jackson. The burgeoning-star defender has reportedly rebuffed eight-figure-per-season offers from the Broncos and seems likely to hit the market, where teams with more money and in greater need of pass-rushing help await. The reported deal close to $11MM AAV the Broncos offered Jackson would place the fifth-year player in close proximity to the highest-paid 3-4 ends who are not named J.J. Watt.
Jackson, however, has thrived at three different positions over the past three years – 4-3 defensive tackle in 2013, 4-3 end in '14 and (most notably) 3-4 end under Wade Phillips – and could push for interior pass-rushing money in line with the 4-3 tackles that aren't Ndamukong Suh. Although the 26-year-old Jackson outworked Gerald McCoy ($15.9MM AAV) and Marcell Dareus ($16.1MM per year) in terms of combined sacks, hits and hurries last year, he probably won't receive an offer quite that lucrative. Anything in that realm and the Broncos — who already signed Jackson's 2012 draft classmate, Derek Wolfe, to a four-year, $36.7MM deal — may have to let someone else pay Jackson's second contract.
Danny Trevathan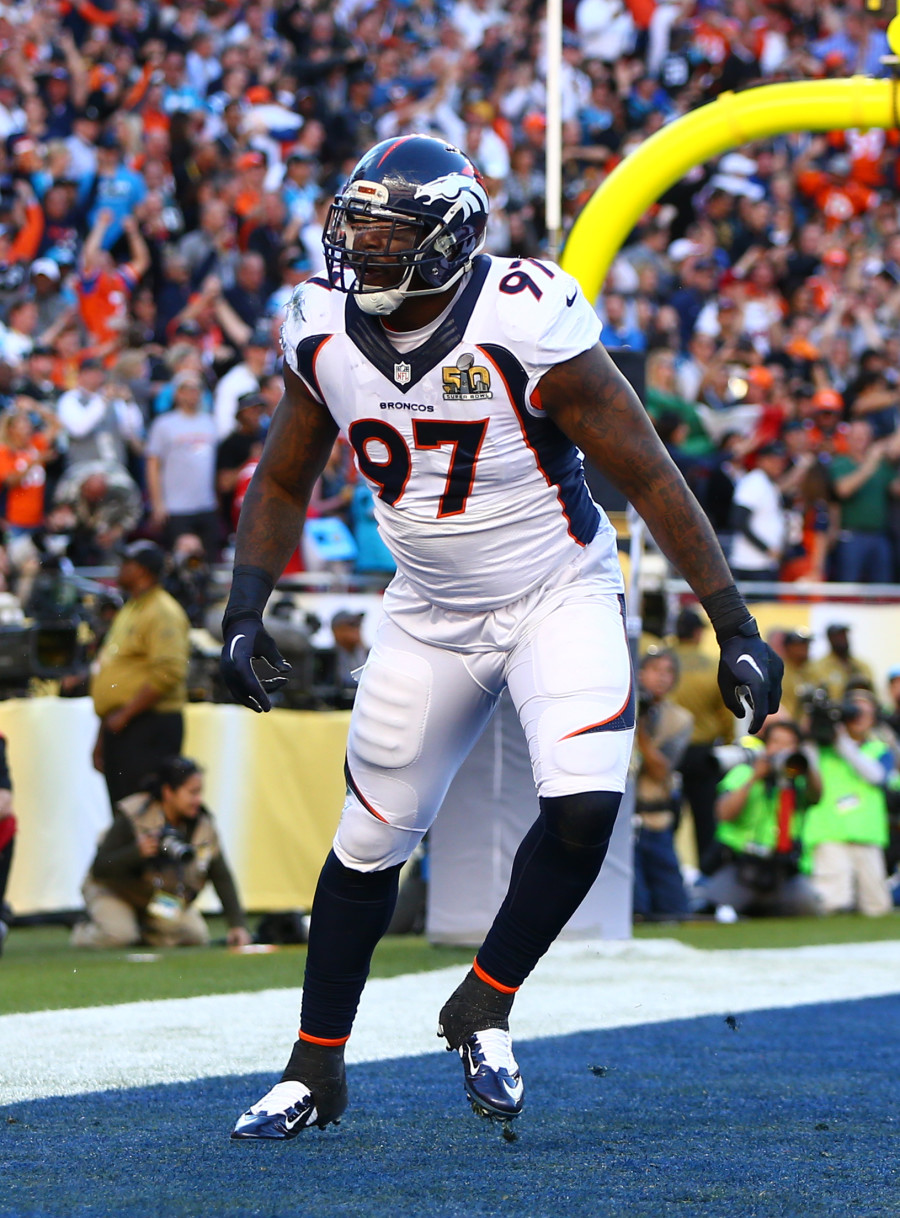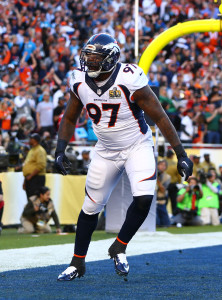 , however, profiles as the kind of player Elway has let leave. He allowed Wesley Woodyard to exit after 2013 and hasn't paid the kind of money Trevathan is probably seeking to non-rush linebackers. The only deal of consequence the Broncos have given to an inside backer under Elway's watch came when the team extended Joe Mays for $4MM per year in 2012, and John Fox benched Mays less than halfway into that season.
Trevathan looks to have a higher ceiling than Woodyard, who signed for four years and $16MM with the Titans in 2014. Despite playing his first season as an inside 'backer, Trevathan led the Broncos in tackles for the second time and showed teams he has sufficiently recovered from the leg injuries that derailed his 2014 campaign. The former sixth-round pick could conceivably fetch more than $7MM from a linebacker-needy team. Twelve inside 'backers earn that on average, and Trevathan is younger than most of them. Entering only his age-26 season, Trevathan ranks as PFR's top inside linebacker UFA and, unlike Jackson, the Broncos haven't made much of an attempt to keep him off the market.
Ronnie Hillman is a more intriguing case. He stood out for the Broncos in his fourth year and is only 24. Entering the draft after his sophomore season at San Diego State, Hillman is younger than his free agent ball-carrying brethren, but he clearly ranks among the second tier of UFA backs – behind the likes of Doug Martin, Lamar Miller, Matt Forte and possibly a few others – and may not command too much more than the $770K he earned in 2015. Should Hillman's market dry out, a return to Denver looms plausible.
Hillman did not show well in the playoffs, rushing for just 54 yards compared to C.J. Anderson's 234. And despite his profile as a change-of-pace ball-carrier, Hillman didn't factor into the Broncos' passing game — the former third-round pick caught just 24 passes for just 111 yards. It's more likely that the Broncos let someone else give Hillman a slight raise and either team Anderson with Juwan Thompson and a mid-round rookie next season, or select Anderson's potential successor in the early rounds.
The Broncos' free agent gridlock includes two starting linemen, Evan Mathis and Ryan Harris. Neither figures to rank too high on the club's offseason itinerary.
Mathis graded as the best offensive lineman in the Super Bowl for either team, per Pro Football Focus, and proved to be another pivotal signing by the Broncos. Coming to Denver for one year and $4MM, Mathis battled multiple maladies to lead Denver's three-guard rotation. He's hinted at retirement and will turn 35 in November. It's possible Mathis will continue his career and sign a new contract, but with Max Garcia likely to step in at one of Denver's guard spots, the veteran likely won't get that new contract from the Broncos.
An emergency signing once Ryan Clady tore his ACL during OTAs, Harris was thrust into the role of left tackle after Ty Sambrailo also was lost for the season. Harris and Michael Schofield doubled as one of the worst tackle tandems in football, according to PFF, however. The 30-year-old Harris could have a route back to Denver, where he has had two stints, but only as a swing tackle on a veteran-minimum-type contract.
Possible Cap Casualties:
The Broncos' tightrope walk in an effort to keep Brock Osweiler and Malik Jackson could result in some high-profile names being cut.
Ryan Clady has already agreed to discuss a pay reduction, and the Broncos are in talks with their longtime left tackle about doing so. But how much of a salary slash the 29-year-old Clady will accept is uncertain, and so is his future performance level after missing 30 regular-season games — and both Super Bowls in which the team appeared — the past two years. A former two-time first-team All-Pro and a player drafted to block in a zone system identical to the one Gary Kubiak utilizes, Clady is probably a better option than most tackles available. But the Broncos could save $8.9MM by releasing him, a route John Elway likely will consider despite the Broncos' issues at the position. Clady has two years remaining on the five-year, $52.5MM extension he signed four years ago.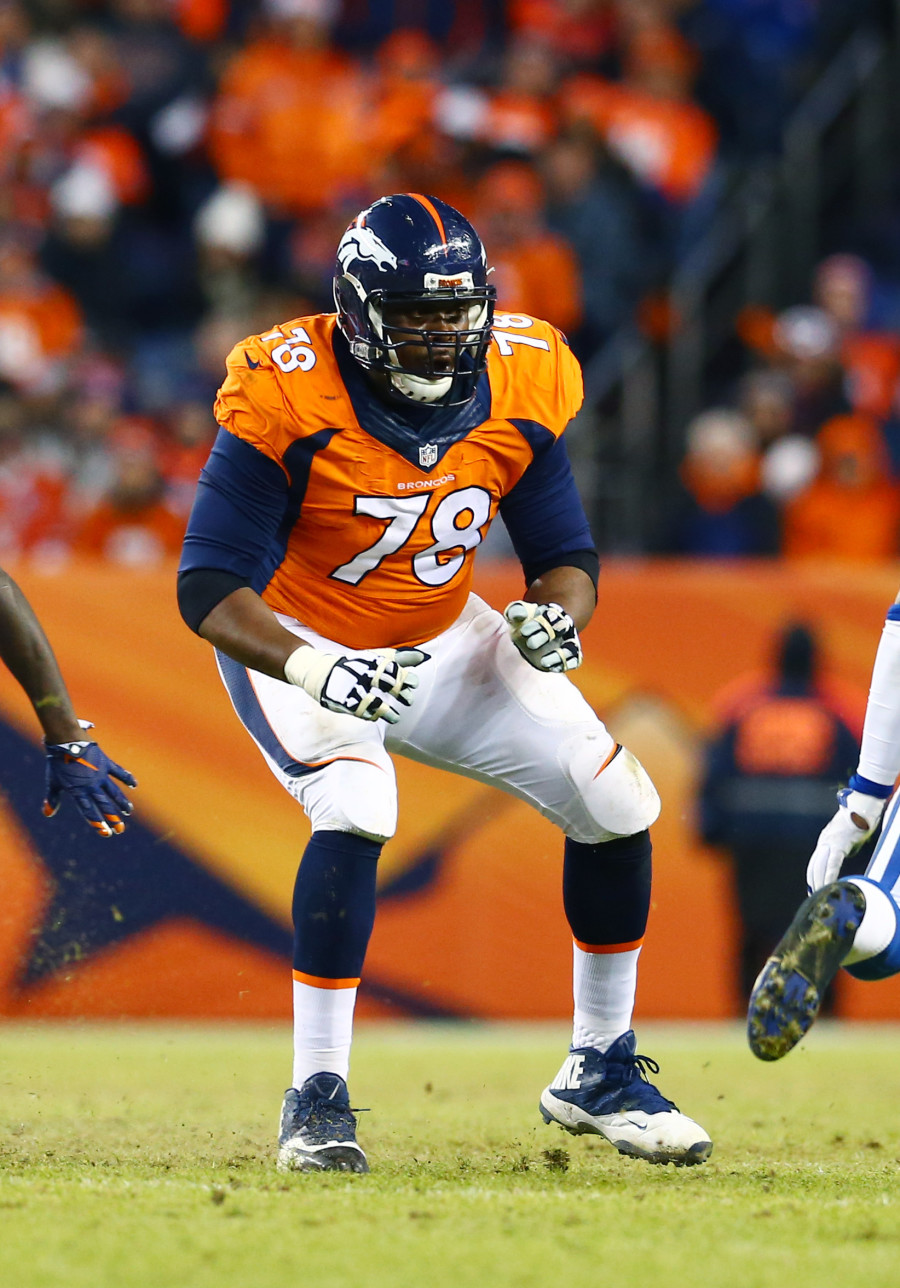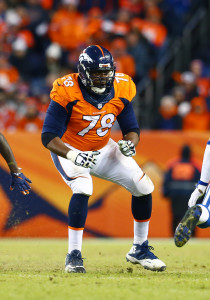 Louis Vasquez resides in a similar place. Injuries nagged the former first-team All-Pro, and he lost snaps to Max Garcia in the Broncos' guard shuffle. Although Vasquez played most of the snaps in the playoffs, he's entering the final saeson of his four-year contract. The Broncos can save $5.5MM by cutting their right guard. As is the case with Clady though, they don't have an in-house replacement.
One of these performers could well receive the ax, with DeMarcus Ware's lofty cap figure ($11.67MM) looming as one the Broncos would probably like to reduce but only ditch as a last-resort measure. Ware delivered more quarterback hits in the playoffs than Miller despite recording 3.5 sacks to Miller's five. The Broncos may not have qualified for the Super Bowl had Ware not torched Sebastian Vollmer in the AFC title game, showing no ill-effects from the back injury that forced him to miss a career-most five games during the regular season.
Ware, however, will be 34 and the Broncos sport pass-rushing depth. Shaquil Barrett stood out as Ware's primary replacement, collecting 7.5 sacks. The ex-UDFA could team with 2015 first-rounder Shane Ray to help the Broncos compensate for a Ware release. However, neither can match Ware's explosiveness, and a scenario where the Broncos lose Ware and Manning in one week may be a lot to digest for a defending champion whose roster reveres those presences. The Broncos can save $10MM by jettisoning Ware.
Positions Of Need:
If the Broncos can't reach an agreement with Brock Osweiler this week, their options dwindle fast, especially if the Jets retain Ryan Fitzpatrick. Chase Daniel and Matt Moore are the proven backup options, with potentially available higher-risk players like Colin Kaepernick and Robert Griffin III not yet officially available. The latter duo at their respective peaks would represent upgrades over Osweiler, but both come with significant baggage and aren't the offensive caretakers Osweiler and the postseason version of Peyton Manning proved to be. Kaepernick may require the Broncos to surrender as much as a second-round pick as well.
Rookie prospects like Connor Cook or Dak Prescott may be contingency plans in case Osweiler does receive a monster offer and the Broncos need to sign a veteran backup. Manning's workmanlike playoff outings proved the Broncos didn't need stellar quarterback play to win, but their defense might not be quite as good if certain UFAs bolt. And having to go with a rookie learning from a veteran like Moore or even Tarvaris Jackson would potentially be a steep downgrade from Osweiler.
The Broncos' overtures to Osweiler make it likely he returns, but if John Elway believes preserving this defense supersedes employing a highly-paid quarterback, it will be a very interesting offseason for the defending champions. Only one eventual Super Bowl champion in the free agency era has allowed its starting quarterback to defect via free agency – the Ravens upon replacing Trent Dilfer with Elvis Grbac – so there's not a lot of precedent for what could transpire in Denver if its Manning succession plan backfires.
Denver's offensive line will need reinforcements regardless of how Elway handles Louis Vasquez and Ryan Clady. Pro Football Focus ranked the Broncos' front 20th last season, and the group's top-rated performer, Evan Mathis, isn't expected to be back. The Broncos probably turn to Matt Paradis and Max Garcia at two spots, with likely one of Clady and Vasquez occupying a third and Ty Sambrailo expected back at one of the tackle positions. But Sambrailo didn't perform well in his brief debut, so adding a tackle should be a priority. Clady is a short-term solution at this point.
The bulk of the UFA tackles are power-blocking players, and with the salary crunch in which the Broncos find themselves, a high-priced player is presumably off the table. Texas Tech's Le'Raven Clark or Indiana's Jason Spriggs may be available when the Broncos pick at No. 31, and this figures to be an early-round need. Elway, however, hasn't been big on drafting for need, exemplified first by his bypassing Patrick Peterson and Marcell Dareus for Von Miller, then the best-player-available tendencies surfacing again the past two years. In 2014, the Broncos drafted Bradley Roby after already having Aqib Talib and Chris Harris in the fold, and last year traded up to pick Shane Ray to play behind Miller and DeMarcus Ware.
Guard is also a need, and there are some UFA candidates. Former Gary Kubiak charges in Houston, Brandon Brooks and Ben Jones, make sense. Both Kubiak-drafted players began their careers as zone-blockers and possess extensive seasoning as starters. Brooks and Jones started at least 10 games in a season under Kubiak during his Texans tenure, and each has been a Houston starter the past two years. Before moving to center, Jones played guard under Kubiak.
Pro Football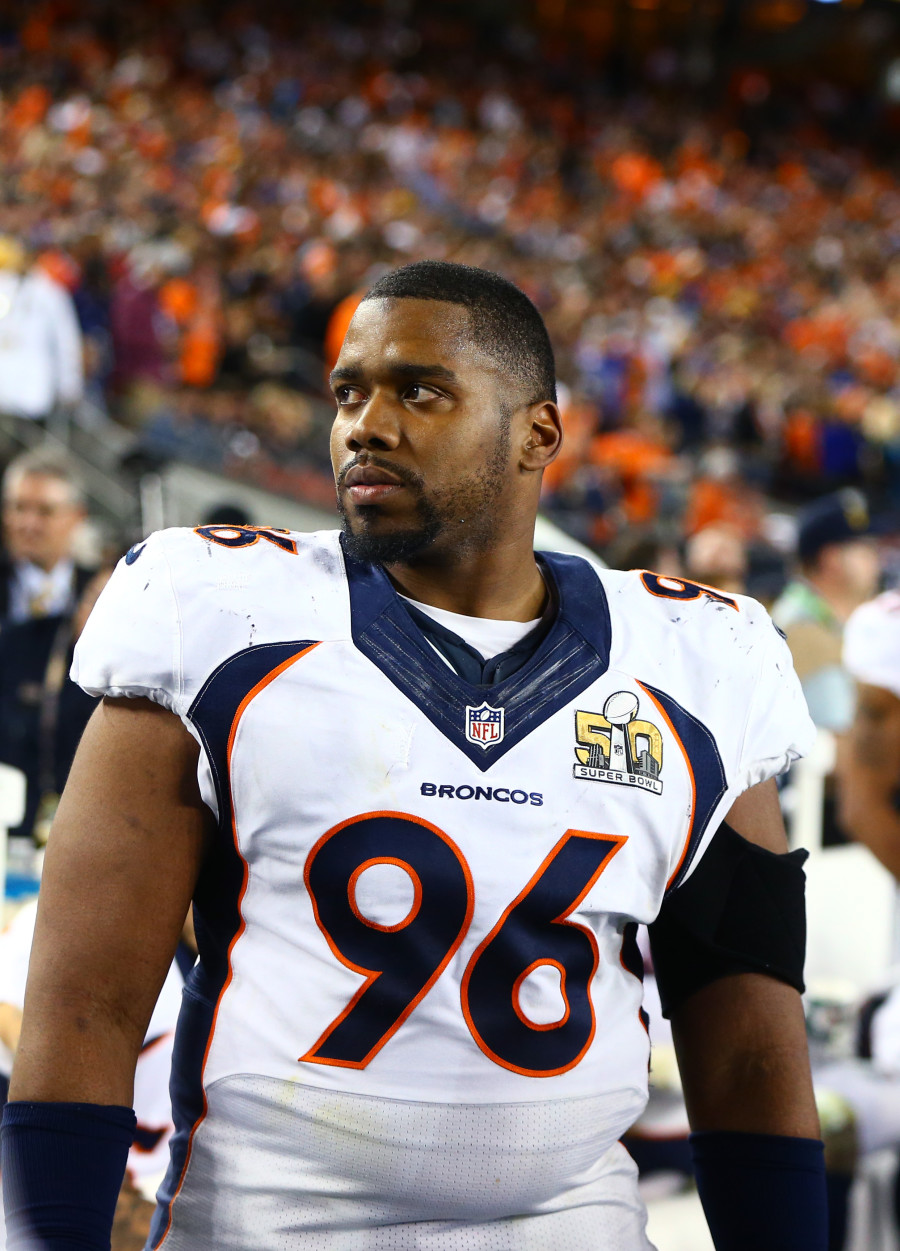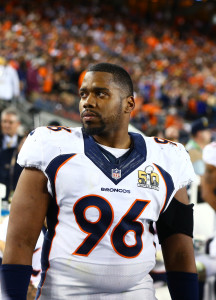 Focus hasn't enjoyed Zane Beadles' work in Denver or Jacksonville, but the recently released guard has proven durable in being healthy for every game of his six-year career. Denver would be able to sign him for less than what the Jaguars paid to bring in the now-29-year-old interior man. Guard is a position the Broncos will also likely address in the draft. They haven't taken a guard or tackle in the draft's first two rounds since using a second-rounder on Orlando Franklin in 2011.
Should Jackson depart, the Broncos could save money by shifting Vance Walker to end and acquiring depth. Walker played end with the Chiefs and functioned well as a reserve tackle/end last season in Denver. PFF ranked Walker as its No. 27 interior defender, and he's due back with the Broncos on a $1.5MM salary in 2016. Mike DeVito is one of the many UFAs that could depart Kansas City and won't cost as much as Jaye Howard. DeVito had a decent season, but the Chiefs' well-fortified front didn't have room for him. Cedric Thornton did well for himself in his contract year, but possibly too well. There aren't a lot of players who fit Jackson's description; his replacement will be cheaper and almost certainly inferior.
Running back and inside linebacker qualify as needs, but the Broncos are unlikely to allocate much capital toward filling them, even though some mock drafts have the team going for Derrick Henry in Round 1. With C.J. Anderson's postseason work sample showing he's a starting-caliber back, the Broncos need a player who can complement him by being a receiving threat instead of someone who has a similar skill set. Utah's Devontae Booker (622 receiving yards in two seasons) or Louisiana Tech's Kenneth Dixon (464 air yards, seven touchdown receptions in 2015) make more sense as a second- or third-round pick to supplement Anderson and potentially take over once Denver's current starter's contract expires after 2016.
Todd Davis looms as the top in-house option to succeed Trevathan. The Broncos, in all likelihood, won't spend much more than a mid- or late-round pick here and almost certainly won't bring in a pricey veteran.
Extension Candidates/Contract Issues:
Signed to what turned out to be a steal at three years and $15MM, Emmanuel Sanders enters a contract year in 2016. Gary Kubiak's offense traditionally funnels through its No. 1 receiver, as Rod Smith and Andre Johnson have shown, but Sanders has arguably been better than Demaryius Thomas the past two seasons at a fraction of the cost. This proved true in the playoffs, when Sanders served as Peyton Manning's top weapon in hauling in 16 passes for 230 yards compared to Thomas' 7/60 line.
Entering his age-29 season this fall, Sanders could see his worth escalate a year from now. Assuming Alshon Jeffery and the Bears come to an agreement, Sanders could be the top receiver on the 2017 market prior to cuts being made, especially if the Texans extend DeAndre Hopkins or exercise his fifth-year option. Doug Baldwin and Michael Floyd are the other prominent 2017 UFAs as of now. Sanders' versatility to line up outside and in the slot should put him in line for a final big payday.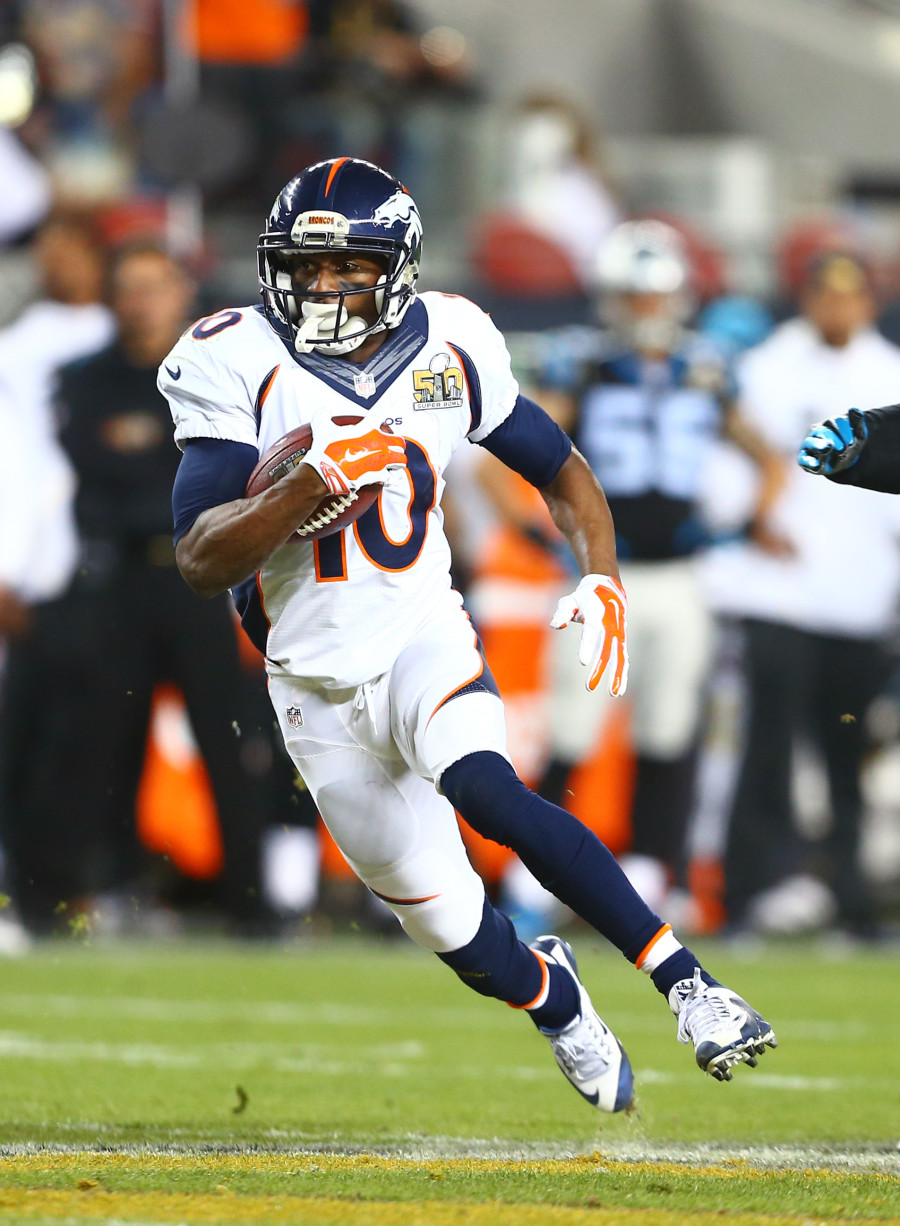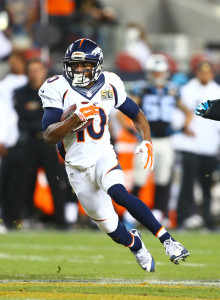 To sign Sanders, the Broncos will need to up his price somewhat. If their now-conservative offense looks a lot like what it displayed in 2015, securing Sanders' early-30s services might not be a high priority at the price he could command. After all, Thomas currently represents the team's largest cap hold at $15.2MM in '16. However, unlike this year, the Broncos don't look to have a deep crop of departing UFAs, which could spark interest in retaining their No. 2 target.
Sylvester Williams' third season was largely overlooked due to the abundance of talent around him. The Broncos' nose tackle proved serviceable in his first year without Terrance Knighton but came off the field on most passing downs due to Malik Jackson and Derek Wolfe's abilities at creating inside rushes. With Jackson perhaps on his way out of Denver, the Broncos may opt for some security on its front without much depth behind Wolfe and Williams.
The Broncos could keep Williams around for two more seasons, with his 2017 option costing them at least $6.15MM, and move on after his first contract expires. Williams entered the league in time for his age-25 season, and if the Broncos pick up his option, he'll turn 30 during the first season of his next contract. The 27-year-old provides stability now, but barring an uptick in play, Williams may see age affect his earnings down the road.
Denver's 2013 draft class wasn't strong. Only Williams and third-rounder Kayvon Webster remain on the team, but Brandon Marshall looms as a de facto '13 pick due to his rookie-year practice squad time delaying his NFL clock. Marshall, a restricted free agent due to receive a second-round tender from the Broncos, is on track to be a UFA next year and could have a similar market to Trevathan. A former Jaguars fifth-round pick, Marshall being back this season will make it easier for the Broncos to cut ties with Trevathan. But losing both of their No. 1 defense's starting inside linebackers in two years would put an emphasis on adding at this spot in the draft.
If the Broncos don't address the ILB position in the draft this year, they could attempt to lock up Marshall early for around $5MM-$6MM per season. The 26-year-old Marshall's eventual asking price may depend on what Trevathan receives this week. With players like DeMarcus Ware, Louis Vasquez and possibly Ryan Clady and Aqib Talib (the latter due $32MM in non-guaranteed money for his age-31, 32 and 33 seasons) coming off the books, extending someone like Marshall may prove to be important.
Overall Outlook:
While it will be difficult to duplicate what the Peyton Manning years brought, the Broncos are well-positioned in the short-term. John Elway's ability to sign outside talent, keep his top players and unearth gems in the late rounds and via UDFA signings have his team looking like the favorite to win the AFC West for a sixth straight season.
Their defensive capabilities notwithstanding, the Broncos' viability as a long-term contender will come down to Brock Osweiler's development if he re-signs. If Osweiler builds on his late-season work, the Broncos' title window can potentially extend longer than expected. If the league adjusts to the thus-far middling talent, it's hard to place the defending champions among the favorites to challenge teams like the Patriots or Steelers for conference supremacy.
Information from Over The Cap was used in the creation of this post. Photos courtesy of USA Today Sports Images.