Pending free agents:
Top 15 cap hits for 2016:
Notable coaching/front office moves:
Draft:
No. 27 overall pick
No traded draft picks
Other:
Overview:
Another season, another disappointing finish for the Green Bay Packers. Since winning the Super Bowl in 2011, the team has only made one conference championship appearance, despite employing arguably the world's best quarterback in Aaron Rodgers. The Packers' demise this past season could certainly be attributed to injuries up and down the roster, and the club still deserves praise for willing its way to 10 victories in a difficult NFC.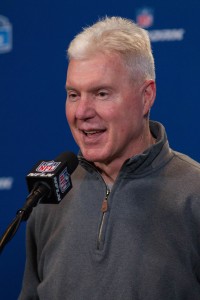 For those looking to point fingers, the majority of the blame could be placed at the top. General manager Ted Thompson has received criticism for his lack of moves in free agency, even reportedly drawing the ire of head coach Mike McCarthy. According to a January report from Bob McGinn of the Milwaukee Journal Sentinel – one that was dismissed by Thompson and McCarthy – the coach "is fed up with his boss' unwillingness to take a chance and reinforce the roster with veteran players that might be unknown to the Packers but have the talent to contribute."
Thompson has consistently put together winning rosters, but he has done so with his own players. The Packers have brought in a handful of outside free agents in recent years (including Julius Peppers), but you rarely see the team mentioned as a probable suitor in discussions of destinations for some of the league's top free agents.
Why is this significant? The Packers' current crop of free agents certainly played an important role for the team this past season, but none of the players are essential to maintaining the team's success. Green Bay has depth up and down its roster, making talented players like Casey Hayward, B.J. Raji, and James Starks expendable. Armed with more than $22MM in cap space, Thompson has an opportunity to add some reinforcements to his roster, and there are several holes that could use upgrades (including inside linebacker and tight end).
Thompson could ultimately take his usual route, which would mean extending his 2017 free agents and relying on his previously-drafted players. However, with an abundance of available cash, this offseason represents an opportunity for the Packers GM to drastically improve his roster.
Key Free Agents:
The majority of the Packers' core should remain intact for next season, and the team retained one of its most important free agents earlier this past week, inking Mason Crosby to a four-year extension. The nine-year veteran has spent his entire career with the Packers, providing the sort of consistency and stability at the position that many teams would envy. Since a dreadful 2012 campaign, Crosby has re-established himself as one of the top kickers in the league, and Green Bay's offseason becomes a whole lot easier now that the 31-year-old is sticking around.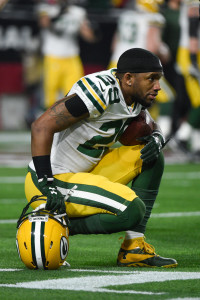 Outside of Crosby, the Packers certainly wouldn't be sweating if any of their free agents left town. Many teams would make retaining a young talented defensive back like Casey Hayward a priority, after the 26-year-old established himself as a solid starting cornerback last season, ranking 16th among the 111 qualified players at the position graded by Pro Football Focus. However, the Packers have the luxury of having both Quinten Rollins (20th) and Sam Shields (25th) on their roster, and the team also drafted Damarious Randall in last year's first round. Shields and Randall project to be the outside options, and Rollins can easily replace Hayward on the inside. Considering the contract he's expected to demand, it would be a surprise if Hayward is wearing green and yellow next season.
James Starks, a longtime Packer, had arguably the best season of his career in 2015, finishing with close to 1,000 yards from scrimmage. The 30-year-old ended up bailing out Eddie Lacy, who struggled with inconsistency throughout the season. Coming off a career year, Starks has set himself up nicely for a payday — while he played his 2015 role as a backup and insurance policy to Lacy perfectly, the veteran could decide to seek a starting opportunity elsewhere.
The Packers' defense has some depth on the edge (especially if Clay Matthews makes his long-awaited switch), but their linebacker core does have two major free agents in Mike Neal and Nick Perry. Neal started 15 games last season, finishing with 36 tackles and four sacks. That wasn't near the production of his breakout 2013 campaign, but the 28-year-old has proven to be a consistent presence on the field. With Julius Peppers and Matthews already under contract, Neal may be able to find more playing time elsewhere. Perry, meanwhile, is arguably one of the best backup linebackers in the league, and the 25-year-old has averaged more than 16 tackles and three sacks over his four seasons in Green Bay. Perry has experience within the system, and he's solid insurance in case the Peppers/Matthews duo misses time.
Say what you will about B.J. Raji's production on the field, but the veteran has been a consistent presence in the middle of the Packers defense for years. Re-signing Letroy Guion to a new contract eases the urgency to retain the older defensive tackle, though the team might lack a bit of depth at the position as Mike Pennel sits out the first four games of next season due to a suspension. Still, Raji could probably command a larger contract elsewhere, and the Packers could find a replacement for the 29-year-old via free agency or the draft.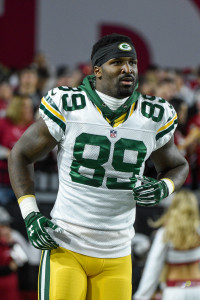 The same could be said for veteran fullback John Kuhn and wideout James Jones. Kuhn is a fan favorite in Green Bay, and he has consistently ranked among the best fullbacks in the game. If Kuhn did leave town, it wouldn't be impossible to replace his production, but the 33-year-old won't command a huge contract on the open market, so the Packers should be optimistic about retaining him.
Jones, meanwhile, is a bit of a different story. The 31-year-old returned to the Packers following a single season in Oakland, and he managed to put together one of the strongest years of his career. Jones would seem to be in line for a payday, but teams may be wary of his lack of production outside of Green Bay. The Packers won't have any reason to overspend to retain his services, considering Jordy Nelson is returning from injury and there are several young wideouts standing in the wings. If the veteran receiver wants a bigger role or more money, he won't be staying in Green Bay.
"I was hoping it would go be back to Green Bay, but I don't know what's going to happen," Jones recently said on SiriusXM NFL Radio, per Henry Buggy of HNGN.com. "Like I said before, I would love to finish my career as a Green Bay Packer, but we all know this business is extremely crazy so it looks like I'm going to hit the open market again so we'll see what's going to happen and hopefully I get a little more action this time."
Offensive tackle Don Barclay was part of the Packers' four-man rotation at offensive tackle, but the team has plenty of depth with Bryan Bulaga, J.C. Tretter, and David Bakhtiari still in the mix. The same logic applies to tight ends Andrew Quarless and Justin Perillo. The duo combined for only 251 snaps, barely more than a quarter of Richard Rodgers' 940 snaps. The team could easily replace their depth, or they could opt to improve at the position. Finally, Scott Tolzien's tenure in Green Bay seems to be over, and the team could either bring in a veteran quarterback or rely on Brett Hundley.
Possible Cap Casualties:
When Julius Peppers signed a team-friendly three-year deal with the Packers in 2014, there was some skepticism about whether the veteran linebacker would ever see the end of his contract. This sentiment was logical: the 36-year-old has a 2016 cap hit up $10.5MM, and the organization could free up $8MM by letting go of the nine-time Pro Bowler. Since signing, however, Peppers has had two solid seasons in Green Bay, averaging 40 tackles and more than eight sacks per year.
Although there was some speculation immediately following the season that Peppers may decide to retire, the veteran was adamant that he intends to play next season, and it doesn't appear as if he's going anywhere.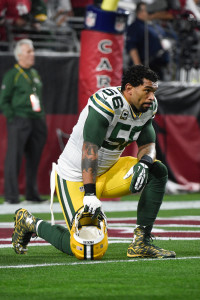 "I think somebody kind of took (my comments after the season) out of context," Peppers told Dave Birkett of the Detroit Free Press. "They asked me after the game what did I think about next year, and I was just saying that pretty much everybody has decisions to make and that type of thing. But as far as I know, I think I'm going to be playing next year, unless something happens that I don't know about. And that's possible."
With Mike Neal and Nick Perry set to hit free agency, the Packers will need Peppers to help solidify their linebacking corps.
Since Peppers will presumably be sticking around, there aren't other clear cap casualties on the Packers roster. Green Bay could decide to move on from punter Tim Masthay, who despite setting several franchise records last year actually rated as below-average. However, cutting the longtime Packer wouldn't open up much cap room ($1.3MM), and they'd have to find a replacement.
If the Packers ink James Starks to a lucrative contract, they could decide to cut Eddie Lacy, but the modest savings ($850K) probably aren't enough incentive to give up on the 25-year-old. In both these situations, the player's release wouldn't necessarily be influenced by the cap savings.
Positions Of Need:
Packers fans have consistently been calling for Clay Matthews to return to his natural outside linebacker position, and it certainly sounds like the team is open to the idea. However, that kind of move would open up the hole inside that necessitated the change in the first place. For what it's worth, Mike McCarthy recently hinted to Ryan Wood of PackersNews.com that he'd like to see it happen.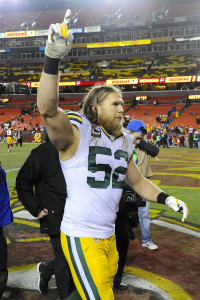 "Frankly, my goal with Clay is for him to play outside linebacker," the coach said in January. "That's always been the case. I've never really made any bones about it. I think it shows the type of player Clay is, just as far as the type of teammate he is, to go inside and to play as much as he did really full time there."
The Packers have some depth among their other inside linebackers, but none of the players have proven that they can be relied on full-time. Following a solid 2014 campaign, Sam Barrington sat out the majority of the 2015 season due to injury. Nate Palmer, his original replacement, compiled 64 tackles last season, but he was eventually replaced by rookie Jake Ryan.
While the Packers can perhaps count on one of those players to run with a starting role, a Matthews transition to outside linebacker would require two of them to start. Plus, depending on what happens with Mike Neal and Nick Perry, the team may also need to add multiple edge rushers to its roster.
The Packers already locked up Letroy Guion, who established career-highs in several categories last season. Their other starter, B.J. Raji, is an unrestricted free agent, and it sounds like the two sides have had some talks regarding an extension. However, Raji barely cracked Pro Football Focus' top 100 among inside defenders, so we'll see how far the team is willing to go to retain his services.
Eddie Lacy was disappointing last season, finishing with career-lows in attempts (187), yards (758), and touchdowns (three). The third-year running back was criticized by McCarthy for not being in shape, and recent photos have shown a slimmed-down Lacy. Still, there's only a year left on the 25-year-old's contract, and there have to be some questions within the organization about whether the team can commit to him long term.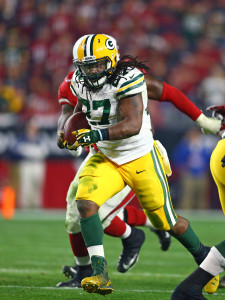 "He's got a lot of work to do," McCarthy said of Lacy (via Dan Hanzus of NFL.com). "His offseason last year was not good enough and he never recovered from it. He cannot play at the weight he played at this year."
Meanwhile, James Starks, Lacy's backup, had one of the most productive seasons of his career, but the lifelong Packer is set to be an unrestricted free agent. Starks may attempt to find a starting job elsewhere, which would presumably price the Packers out of negotiations. Green Bay could attempt to keep Starks and move forward with the solid duo, or the team could look to blow-up its backfield altogether. Plus, beloved fullback John Kuhn is set to be a free agent, meaning we could see Rodgers handing off to multiple new backfield mates in 2016.
Speaking of Rodgers, the team should consider adding some targets to the quarterback's arsenal, particularly at tight end. Richard Rodgers had something of a breakout year in 2015, but the 24-year-old is a far cry from Jermichael Finley. McCarthy appeared dissatisfied with the position's production, evident by the firing of tight ends coach Jerry Fontenot. Andrew Quarless is hitting free agency, so the team could look to add a veteran to pair with Rodgers.
The Packers will hold onto most of their offensive line depth, but the front office should consider improving the entire unit. The club allowed the eighth-most QB hits last season, and Aaron Rodgers was sacked 46 times, his highest total since 2012. Rodgers will be turning 33 years old in December, and the organization's championship window closes a bit each year. The team wouldn't want to compromise that short timeline and see Rodgers get hurt.
Extension Candidates/Contract Issues: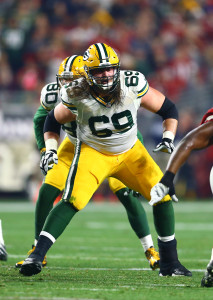 The Packers' offseason has the potential to be pretty subdued in terms of player acquisitions, so the front office could look to extend several of the team's 2017 free agents. The club will have a trio of expiring contracts on its offensive line: David Bakhtiari, Josh Sitton, and T.J. Lang. Bakhtiari is the youngest of the bunch, and the former fourth-rounder could be eyeing a contract north of $10MM annually. Thompson and the Packers organization have prioritized retaining their own players, and the general manager has a tendency to ink his young players to contracts during the final year of their rookie pacts. Don't be surprised if the two sides come to an agreement on a long-term deal, especially since Bakhtiari wants to stay in Green Bay long term.
"I think it's mutual," Bakhtiari told Ryan Wood of PackerNews.com. "I like it here, and they like me. I have another year. So I think if they want to do it early, awesome. If not, then we have one more year to work together. So we can talk about it then. I do think it's too early though."
Sitton and Lang are both wrapping up their first extensions, and each of them will be in line for another sizable contract next offseason. It would be difficult for the Packers retain both of those guards, especially since the team invested in lineman Bryan Bulaga last year. Bakhtiari should be an extension priority, but the front office will likely be more willing to let Sitton and Lang hit free agency.
Overall Outlook:
If the Packers follow their usual blueprint and have a relatively silent offseason, the focus may be unfairly shifted to Mike McCarthy. The coach regained his offensive play-calling duties during the regular season, and he seemed to repair his relationship with Aaron Rodgers as the year progressed. Even if the coach did want to partially attribute the team's failures to lack of veteran reinforcement, someone's going to have to eventually take the blame for the Packers' inability to reach the Super Bowl. Considering Ted Thompson's track records of drafting and developing successful squads, it may end up being McCarthy on the hot seat if the team fails in the playoffs once again.
There's little reason for pessimism in Green Bay, however. The Packers have set themselves up nicely for the 2016 season. As is, the team should certainly be considered a contender in the NFC, and with more than $20MM in cap space, Green Bay has an opportunity to make itself bona fide Super Bowl favorites.
Information from Over The Cap was used in the creation of this post. Photos courtesy of USA Today Sports Images.
Follow @PFRumors