Pending free agents:
Top 15 cap hits for 2016:
Notable coaching/front office moves:
Draft:
Lost first-round pick due to Deflategate discipline (would have been No. 29 overall).
Owe fifth-round pick to Texans in deal for WR Keshawn Martin.
Acquired sixth-round pick from Texans in deal for WR Keshawn Martin.
Owe sixth-round pick to Bears in deal for LB Jon Bostic.
Acquired seventh-round pick from Texans in deal for QB Ryan Mallett.
Other:
Overview:
The Patriots stormed out of the gates furiously last season en route to a 10-0 start, but an unsustainable level of success in one-score games helped fuel that winning streak. After going 6-0 in one-score affairs during their first 10 games, the Patriots regressed to 0-3 in such outcomes during their final six regular-season matchups. Of course, a laundry list of injuries to salient members of the Patriots' roster contributed to both that 0-3 skid and the 2-4 conclusion to their campaign. Nevertheless, the Pats went 12-4 for the fourth straight season, earned their seventh consecutive AFC East title, and played in the conference championship game for an astounding fifth time in a row.
However, arch-nemesis Denver's buzzsaw of a defense denied New England a chance at defending its Super Bowl championship from the previous season. The Patriots' downfall was their inability to protect quarterback Tom Brady, who sustained one of 
the worst poundings of his storied career in absorbing 20-plus hits from Von Miller and friends. Still, the Patriots had an opportunity to tie the game with a two-point conversion in the waning seconds. Brady tried to thread the needle between two defenders and find receiver Julian Edelman in the end zone, but cornerback Bradley Roby intercepted the deflected pass to seal a 20-18 win and send the Pats home. The Broncos went on to collect their third Lombardi Trophy two weeks later.
It wasn't the storybook ending Brady wanted after enduring a nightmarish offseason. The Roger Goodell-led NFL suspended Brady the first four games of the season for his supposed involvement in the Deflategate scandal, but Brady appealed and Judge Richard Berman overturned the ruling. Brady proceeded to play all 18 of the Patriots' games, including playoffs, though the league docked the team its first-round pick this year.
Despite Berman's verdict, the league hasn't conceded in its quest to punish Brady. It filed an appeal of Berman's finding in October, and a three-judge panel for the 2nd Circuit Court of U.S. Appeals is now deciding the case. If two of the three judges rule in favor of the league, Brady will face a four-game suspension to begin next season. He could then file an appeal for the second straight year in hopes of having the judgment overturned. In the event the judges side with Brady, that should finally put the saga to rest.
Whether Brady misses the first four games of 2016 or not, the four-time Super Bowl champion isn't going away anytime soon. Earlier this week, Brady reportedly agreed to a two-year extension to stay a Patriot through 2019. Assuming that deal is finalized, it'll give the 11-time Pro Bowler a chance to play through his age-42 season and spend 20 years with the franchise that selected him 199th overall in the 2000 draft.
Key Free Agents:
Fortunately for New England, its pending free agent class is largely bereft of consequential contributors. The prime exception is defensive tackle Akiem Hicks, whom the Patriots acquired from the Saints last September in exchange for reserve tight end Michael Hoomanawanui. Hicks proved to be a terrific buy-low pickup in his 13 games with the Pats, totaling three sacks and earning positive marks for his performance from Pro Football Focus. The site (subscription required) ranked Hicks as its 14th-best D-tackle and awarded him high grades for the pass-rushing and run-stopping abilities he displayed.
Thanks to his showing in New England, Hicks is primed for a sizable raise over the $1.53MM he raked in last season. Whether it will come from the Pats remains up in the air. As of last week, Hicks and the team were "in the strategy phase of the process," according to ESPN's Mike Reiss, who doesn't expect a resolution to come until the legal tampering period (starting March 7) at the earliest. That means the Pats will have to compete against other clubs if they wish to re-sign Hicks. Therefore, he could price himself out of their range and cash in elsewhere when free agency opens March 9.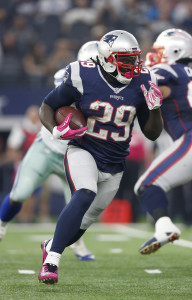 In terms of name recognition, the Patriots' most significant unsigned players are a pair of running backs, LeGarrette Blount and Steven Jackson.
Despite succumbing to a season-ending hip injury in December, the 250-pound Blount easily paced the Pats in three major rushing categories – attempts (165), yards (703) and touchdowns (six). Now, the two sides are interested in renewing their relationship, Jeff Howe of the Boston Herald reported last week.
While Blount has been an effective rusher on a rate basis throughout his six-year career (4.6 yards per carry), he hasn't surpassed 200 attempts or 1,000 yards since 2010, doesn't offer anything as a pass catcher, isn't young for a running back (30 next December), and doesn't play a premium position. With all that in mind, odds are he'll have difficulty topping his previous pact (two years, $3.85MM).
Blount's injury created an opportunity for Jackson, who signed with the running back-needy Patriots at the tail end of December. Jackson didn't look like his younger self, however, as the eight-time 1,000-yard rusher added a mere 74 yards on 31 carries (playoffs included). It'll be a surprise if anyone, let alone New England, signs the soon-to-be 33-year-old again.
Conversely, the Patriots are interested in retaining defensive back Nate Ebner and fullback James Develin, a restricted free agent.
In Ebner's case, the team is playing "hardball" and hoping to re-sign him for the veteran minimum ($760K), Reiss reported last week. Ebner has never been a factor on defense in his four-year career, but he did play a personal-best 75.1% of special teams snaps last season.
After missing the entire 2015-16 campaign with a broken tibia, Develin could re-up at either the lowest-level RFA tender ($1.67MM) or sign a multiyear deal as a way to occupy less cap space next season, according to Reiss.
The rest of the Patriots' RFAs – Sealver Siliga, Brian Tyms and LaAdrian Waddle, to name a few – won't receive tenders, Ben Volin of the Boston Globe reported in January. Tyms confirmed Wednesday that he's done in New England. As for the remainder of the team's UFAs (offensive linemen Ryan Wendell and cornerback Tarell Brown, among others), none are good bets to return on anything other than short-term, low-cost deals.
Possible Cap Casualties:
The Patriots identified two cap casualties on Wednesday when they cut receiver Brandon LaFell and tight end Scott Chandler, saving over $4.6MM in the process. LaFell posed a legitimate threat during the Pats' Super Bowl-winning 2014 campaign (74 catches, 953 yards, seven touchdowns), but injuries and drops contributed to a decline in production in 2015. The 29-year-old averaged 3.36 catches per contest (down from 4.63 the prior year) and failed to find the end zone in 11 games. While Chandler (11.3 YPC, four TDs) wasn't a bad option behind Rob Gronkowski, New England didn't think he was worth a cap number over $3MM next season.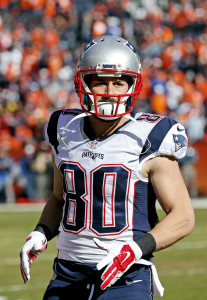 LaFell and Chandler might not be the last players the Pats get rid of for financial reasons. Receiver Danny Amendola and two offensive tackles, Sebastian Vollmer and Marcus Cannon, could end up on the chopping block. If those three get their walking papers, the Pats would open up more than $10.8MM.
Amendola's departure would bring the most cap relief ($4.07MM if done before June 1, $5.44MM after). However, he has an important ally in Tom Brady and is fresh off the best of his three seasons as a Patriot, having finished second on the team in catches (65) and third in receiving yards (648).
Instead of releasing the 30-year-old, New England could restructure his contract for the second consecutive offseason. Amendola was scheduled to count $5.7MM against the Patriots' cap in 2015 before the club adjusted his deal and reduced the total to ~$3.12MM. The Patriots also decreased Amendola's base salary from $4MM to $1.25MM and upped the incentives in his contract as a way to make up for it. A repeat this year would chip away at his ~$6.8MM cap hit and $5MM salary.
Vollmer has made 80 starts for the Pats since 2009, but he's not a lock to return because of his age (32 in July), potential health problems, and the savings ($3.13MM) that would accompany his release. Vollmer missed some time last season with an ankle injury, which is a long-term concern, according to Howe. The Boston Herald scribe added that the 315-pounder initiated contract extension talks in November with the Patriots, who weren't receptive to lengthening his deal (it expires after next season). Vollmer appeared in 14 games last season, made 13 starts, and ranked as PFF's 42nd-best tackle (77 qualifiers).
PFF thought far less of Cannon, whom it designated 61st among tackles and gave a horrid mark as a pass blocker for his 12-game showing (eight starts). The 27-year-old also took a beating from the aforementioned Von Miller in the conference title game, although Cannon's hardly unique in that sense. If New England closes the book on Cannon's five-year tenure with the team, it would free up nearly $3.68MM of spending room. Of course, the Pats could first try to restructure Cannon's deal to make his base salary ($3.4MM) and cap charge ($4.75MM) more palatable.
Positions Of Need:
Even though the Patriots had the AFC's most prolific scoring offense last season (29.1 points per game), the expectation is that most of their offseason focus will lie on that side of the ball.
No pending free agent has been connected to the Patriots in the rumor mill as often as running back Matt Forte, who is set to join his second team after spending his first eight years in Chicago. The five-time 1,000-yard rusher turned 30 last season, but he didn't show his age in piling up 1,287 total yards (898 rushing, 389 receiving) and seven touchdowns in 13 games. Forte made over $7MM in base salary and took up $9.2MM in cap for the Bears last season, but Brad Biggs of the Chicago Tribune reported last week that he'll have trouble surpassing $3MM per year on his next deal. That would seem to play into the Patriots' hands as they look to improve a ground attack that was a paltry 29th in yards per carry last season.
In addition to Forte, the Patriots are doing their homework on veterans Chris Ivory, Alfred Morris and Joique Bell, as well as draft prospect Daniel Lasco (California), per Volin. None of Ivory, Morris or Bell will cost a bank-breaking amount on the market, while Lasco is considered a mid- or late-rounder.
The Pats are keenly familiar with Ivory, who has been a Jet the past three years. Ivory eclipsed the 200-carry mark and 1,000-yard barrier for the first time last season at the age of 27 (he'll turn 28 this month).
Morris had three straight years of at least 265 carries, 1,000 yards and seven TDs in Washington before plummeting to all-time lows in those categories and YPC (3.7) last season.
Unlike Forte, Ivory and Morris, Bell has never been a true No. 1 back. The soon-to-be 30-year-old averaged only 3.5 yards per rush last season on 90 attempts and amassed a career-worst 22 catches. As a result, the Lions cut him last month. Bell has been eligible to sign anywhere since then, though he hasn't logged any reported visits.
Though he wasn't a major producer at Cal, Lasco turned heads last week when he set a combine record for running backs with an 11-foot-3 broad jump. The 209-pounder also led this year's class of tailbacks with a 41.5-inch vertical leap, came in second in the 60-yard shuttle (11.31 seconds), and finished sixth in the 40-yard dash (4.46).
With Brandon LaFell and Scott Chandler gone and Danny Amendola's future uncertain, the Patriots might try to add more aerial weaponry. The problem is that the free agent class isn't deep at receiver or tight end. Any of the top wideouts available – Marvin Jones, Mohamed Sanu, Rishard Matthews, Jermaine Kearse and Rueben Randle – would help the Patriots' offense, but all are likely to land bigger deals elsewhere. The same is probably true for free agent TEs like Ladarius Green and ex-Pat Ben Watson, though either would serve as a great complement to Gronkowski.
If New England turns to the draft, Ohio State receiver Braxton Miller is a potential second-round target. The Patriots are fans of the 6-2, 215-pounder, according to Tony Pauline of DraftInsider.net (Twitter link). They could instead grab fellow Buckeye wideout Michael Thomas or TCU's Joch Doctson, as NFL Network's Mike Mayock told WEEI earlier this week. Kansas State's Glenn Gronkowski, brother of Rob Gronkowski, is also on the team's radar. The Patriots like the tight end/fullback/H-back, The Buffalo News' Tyler Dunne reported in January (Twitter link).
Up front, the Patriots hope their decision to bring longtime offensive line coach Dante Scarnecchia out of retirement helps improve the unit. Scarnecchia coached their O-line from 2000-13 and is taking over again after the firing of Dave DeGuglielmo.
The return of left tackle Nate Solder – who missed most of last season with a torn bicep – will provide a significant boost. Further, the Patriots seem unlikely to do anything drastic along the interior with Bryan Stork at center and some combo of Josh Kline and two fourth-rounders from last year – Tre' Jackson and Shaq Mason – at guard.
The Patriots won't necessarily have to add right tackle help if Sebastian Vollmer and Marcus Cannon come back. In the event they do look for an upgrade in free agency, Joe Barksdale would be an intriguing, reasonably priced possibility. Barksdale has made 45 starts over the last three years for the Rams and Chargers, respectively, and he totaled the second-most snaps in the league among tackles (1,150) last season. His play earned him a No. 21 overall ranking among 77 qualifying OTs from PFF.
In terms of the draft, the Patriots have had discussions with Kyle Murphy (Stanford), according to Kevin Duffy of MassLive.com. Murphy, a projected mid-round pick, showed versatility at Stanford by starting all of its games at right tackle in 2014 and then doing the same at left tackle last season.
Aside from potentially adding depth across the board, which is something all teams want to accomplish, the Patriots don't have anything pressing to deal with defensively. That could change if Hicks leaves, but the Pats aren't exactly devoid of talent at D-tackle with their last two first-rounders – Malcom Brown (2015) and Dominique Easley (2014) – and steady veteran Alan Branch in the fold.
Extension Candidates/Contract Issues:
The Patriots aren't at risk of losing premier talent in free agency this offseason, but winter 2017 is coming. Seven (!) of their most valuable defenders – ends Chandler Jones, Rob Ninkovich and Jabaal Sheard, linebackers Jamie Collins and Dont'a Hightower, and cornerbacks Malcolm Butler and Logan Ryan – are presently scheduled for free agency next March. Hightower will likely ride out his fifth-year option season (in which he's set to make $7.751MM), according to Volin, but extensions could be on the table for at least some of the others.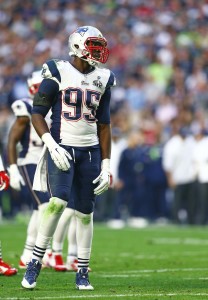 Jones has been a pass-rushing force throughout his four years in the league – twice stockpiling double-digit sacks in a season – and could end up with the most expensive deal of the septet. Jones accrued new career highs last season in both sacks (12.5) and forced fumbles (four), but things took an odd turn for him when he was hospitalized in January because of a bad reaction to synthetic marijuana. Nothing came of that from a legal standpoint, and it doesn't appear Jones will face discipline from the league, but it's something the Patriots could keep in mind when weighing whether to commit substantial money to the 26-year-old over the long haul.
Regardless of whether it's from the Pats or someone else, in a league that greatly values rushing the passer, Jones has set himself up for an enormous contract – one sure to pay more per annum than the ~$7.8MM he's scheduled to rack up next season. He'll undoubtedly keep an eye on the deal Dolphins defensive end Olivier Vernon signs this offseason – if he signs one, that is. The Dolphins applied the transition tag to Vernon, so he could play next season under that tag and make $12.734MM, but there's a good chance a team will try to poach him via an offer sheet worth that type of money over several years. With that in mind, Jones – who has seven more sacks than Vernon in nine fewer games (which is a plus in demonstrating Jones' pass-rushing skills, but a minus with respect to durability) – looks like a strong candidate to exceed eight figures per year on his next accord.
Despite missing five games in the last two years (four in 2015 because of an illness), Collins established himself as a high-end defensive playmaker, combining for 215 tackles, 9.5 sacks, nine forced fumbles and three interceptions. He played almost 200 more snaps than the second-closest Patriots linebacker, Hightower, and ranked as PFF's fifth-best LB last season. Only two ILBs, the Panthers' Luke Kuechly and the Seahawks' Bobby Wagner, average better than $10MM in annual worth. Collins is likely to join them soon, though Kuechly's $12.36MM yearly mean might be out of reach. Wagner's $10.75MM per-year salary should be a realistic benchmark, however, especially with the cap having risen by roughly $12MM since Wagner signed his extension last summer.
Butler escaped anonymity in February 2015 when he made one of the most famous interceptions in the history of the sport to seal a 28-24 Super Bowl XLIX victory over Wagner's Seahawks, and he carried that momentum into last season. After Darrelle Revis, Brandon Browner and Kyle Arrington exited, Butler became the Patriots' No. 1 corner, started all 16 regular-season games and picked off two passes. He also ranked 24th among 111 qualifying corners at PFF, finishing six spots above Revis.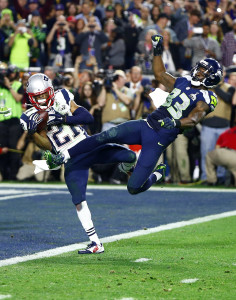 Since he's a restricted free agent next year, the Patriots don't necessarily need to rush into a lucrative deal for Butler. That's particularly true when considering Butler's minimal 2016 cap hit ($600K), which an extension would raise. If the Pats don't lock up Butler this year and he performs well again next season, the worst-case scenario is that they could apply a first-round RFA tender to him. That tender currently carries a $3.635MM price – certainly a reasonable amount for a standout corner. Odds are nobody will offer sheet Butler if the Patriots give him the highest tender, but if it happens, New England would have the option of either matching it or letting him go and getting a first-rounder as compensation.
Ninkovich, 32, has flown under the radar during his seven years in New England while playing six straight 16-game regular-season games and accumulating 37 sacks over the last half-decade. The nine-year veteran collected 6.5 of those sacks last season, finished second on New England in quarterback hurries (17, one more than Jones) and led its defensive linemen in snaps (891). Despite that, PFF didn't think much of his output, rating him the league's No. 81 edge rusher (110 qualifiers). Ninkovich is 25th among 4-3 DEs in annual salary ($3.5MM) at the moment, and given that he's on the wrong end of the aging curve, he'll probably struggle to eclipse that on his next contract.
The soon-to-be 27-year-old Sheard is much younger than Ninkovich, on the other hand, and although he missed three games last season, he was first on the Patriots in hurries (24), second to Jones in sacks (eight), and tied for second with Jones in forced fumbles (four). He was also the league's seventh-best edge rusher by PFF's standards.
After showing off his pass-rushing prowess for four seasons in Cleveland, Sheard joined the Patriots last winter on a two-year, $11MM agreement. An increase in both term and annual value should be attainable for Sheard on his next deal. An obvious comparable he could use if the Patriots approach him about an extension this offseason is the Vikings' Everson Griffen, who inked a five-year pact at the age of 26 in 2014. Griffen parlayed 17 sacks from 2011-13 into $42MM, including $19.8MM in guarantees. Griffen is now comfortably in the top 10 among 4-3 DEs in total contract value, guarantees and per-year average ($8.5MM), and Sheard wouldn't be out of line in requesting to join his company.
Having turned 25 last month, Ryan is the youngest player of the group. The 5-11, 191-pounder has been a durable ballhawk throughout his three-year career, appearing in all 48 regular-season games and amassing 11 interceptions. Four of those picks came last season, as did new highs for Ryan in starts (14), tackles (74) and passes defensed (14). Further, as PFF's 22nd-ranked corner, Ryan slightly outdid Butler in that regard. Ryan is the same age as Chris Harris Jr. was when Harris got five years and $42MM from the Broncos in December 2014, but the latter had already become a borderline elite cornerback and recorded 45 starts by then. While Ryan – who has totaled 18 fewer starts (27) – isn't in that class, both the cap and the cost of a quality corner continue to soar, so perhaps his next pact won't be that far away from Harris' in value.
Not to be forgotten, special teams whiz Matt Slater is also on the last year of his contract. The eight-year vet has quietly made five consecutive Pro Bowls, one shy of the record for a special teams gunner (Steve Tasker holds that honor). Slater, 30, played 63.7% of the Pats' special teams snaps last season and tied for the fourth-most ST tackles in the league (15). Whether Slater receives a new contract this offseason or sometime before next March, it's unlikely to leave the neighborhood of the two-year, $4MM accord he signed in November 2014.
Overall Outlook:
Realistically, there's nothing that could happen this offseason that would knock the Patriots from the top of the AFC East in 2016 and elevate the Jets, Bills or Dolphins into the No. 1 spot. Even if Tom Brady misses the first quarter of the season, the Jimmy Garoppolo-led Patriots would still have enough talent to at least tread water in Brady's absence and then separate themselves from the pack after his return. Meanwhile, the division's other teams – all of which currently lag well behind the Patriots – have numerous issues to address and little cap space with which to work.
For their part, the Patriots are stacked enough that they don't need to make headline-grabbing acquisitions in free agency or the draft to continue as Super Bowl contenders next season. While some roster-fortifying moves are in order, the Pats aren't going to lose sight of the fact that several of their defensive cornerstones will require considerable long-term commitments by March 2017. Thus, the club must navigate this offseason with restraint – something that has never been a problem in the Bill Belichick era.
Information from Over The Cap was used in the creation of this post. Photos courtesy of USA Today Sports Images.
Follow @PFRumors