Pending free agents:
Top 15 cap hits for 2016:
Notable coaching/front office moves:
Draft:
No. 30 overall pick
Owe seventh-round pick to Eagles in deal for QB Matt Barkley.
Other:
Overview:
The 2015 Cardinals came just shy of reaching Super Bowl 50, losing the NFC Championship Game in a 49-15 drubbing at the hands of the Panthers. But, as might be expected for a team that finished the regular season with a 13-3 record and that earned a first-round bye in the playoffs, Arizona's short-term future is fairly promising.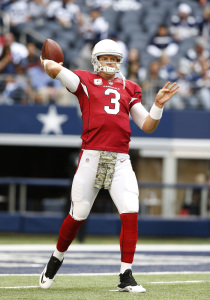 After all, the Cardinals boasted one of the league's best defenses for the fourth year in a row – per Football Outsiders' DVOA metric – and because quarterback Carson Palmer was (mostly) able to stay healthy in 2015 en route to this third Pro Bowl nod, the team's offense was equally strong, grading out as the fourth most-efficient unit in the NFL. The club is not flush with cap space, but it certainly has enough to retain at least some of its key free agents – none of which will come with a prohibitive price tag – while also exploring a lucrative, long-term extension for do-it-all defensive back Tyrann Mathieu.
On the other hand, Palmer is 36 and has an extensive injury history, and there is no one currently on the roster than looks capable of replacing him on a permanent basis. Future Hall-of-Famer Larry Fitzgerald enjoyed a rebirth in 2015, but he's entering the last year of his contract and probably doesn't have many effective seasons left in the tank – if he even continues his playing career beyond 2016 – and Michael Floyd is also eligible for unrestricted free agency after the 2016 season. Plus, as effective as the defense was, there are some question marks, particularly at pass rusher and in the secondary's depth, and the future of the offensive line is up in the air.
Assuming Palmer can stay healthy, the Cardinals should again compete for one of the NFC's top seeds. But if the club want to keep its window of contention open in the long-term, there are some issues to address.
Key Free Agents:
Dwight Freeney was a godsend for the Cardinals in 2015, joining the team on a one-year deal in October after Alex Okafor was sidelined with a calf injury and providing Arizona with a much-needed jolt to its pass rush. He racked up eight sacks in 11 games, but he was close to retiring before signing with the Cardinals, and he is still undecided about whether or not he will play in 2016. Arizona would surely like to have him back on a one-year pact, especially since LaMarr Woodley is unlikely to be re-signed, but Freeney's status is highly uncertain at the moment.
Okafor was a key component of the Cardinals' defense last season, but he didn't have the same impact in 2015 that he had in 2014, and although 2015 second-round draft choice Markus Golden played well after being thrust into the lineup, there is no depth behind him and Okafor. Bringing Freeney back into the fold would help the team stabilize its pass rush as it seeks a dominant edge rusher.
Despite having decent depth on paper, the Cardinals' secondary saw a noticeable drop in performance when Mathieu landed on the IR late in the regular season. Arizona will probably look to re-sign Jerraud Powers, who provides solid-if-unspectacular play at the cornerback position, and while the Cardinals could bring back safety Tony Jefferson, the fact that they only extended a low-end tender to the restricted free agent suggests that they aren't totally sold on him (despite his grading out as he 18th-best safety out of 88 eligible players per Pro Football Focus' advanced metrics). Jefferson could be one of those rare restricted free agents that finds himself switching teams this offseason, and there's some question as to whether the team will be able to retain fellow safety Rashad Johnson.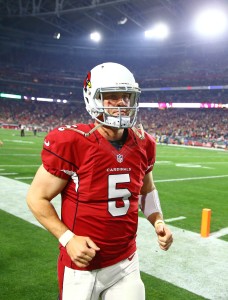 On offense, the Cardinals would probably like to re-sign Drew Stanton, but the going rate for solid backup quarterbacks is about $4MM per year, as Chad Henne's new contract with the Jaguars suggests. It's unclear if Arizona will be able to pony up that type of cash considering the team has more pressing needs on the defensive side of the ball and perhaps along the offensive line.
On the other hand, Arizona's offense has been a mess when neither Palmer nor Stanton have been available to play, so the club may have no other choice. The free agent market for quarterbacks is predictably barren – at least the part of the market the Cardinals would be exploring – and although many pundits expect the Cards to consider drafting a quarterback they could groom behind Palmer, a mid-round rookie is unlikely to immediately provide the stability that Stanton offers.
Chris Johnson was a pleasant surprise for Arizona after he signed a one-year, $870K contract with the club last season. Although a fractured tibia suffered in the second half of the season sidelined him for the stretch run, Johnson did manage a 4.2 yards per carry average while racking up 814 rushing yards in just 11 games, serving as a nice change-of-pace back for David Johnson. CJ2K recently expressed his desire to return to the Cardinals, and Arizona would probably like to bring him back. The two sides should be able to reach an agreement on a relatively modest contract.
The left side of the Cardinals' offensive line is pretty set with Jared Veldheer and Mike Iupati at left tackle and left guard, respectively, but on the rest of the line, questions abound. Lyle Sendlein, last year's starting center, Ted Larsen, last year's starting right guard, and Bobby Massie, last year's starting right tackle, are all eligible for unrestricted free agency and could all be playing elsewhere next season. None of those players are particularly inspiring, and the Cardinals have reason to hope they have viable in-house replacements for all of them.
Last year's first-round pick, tackle D.J. Humphries, did not play a down in 2015 after performing poorly in training camp and the preseason, and head coach Bruce Arians openly commented on Humphries' lack of motivation. 2013 first-round pick, guard Jonathan Cooper, was benched halfway through the season in favor of Larsen, and he has largely failed to live up to expectations as well. However, because of the draft pedigrees of Humphries and Cooper, they could enter 2016 as starters, though Arizona would likely want to at least bring in some competition for both — especially Humphries (whose work ethic reportedly improved as the 2015 season went on).
If Sendlein leaves, the team could turn to A.Q. Shipley, who is average at best, or, given that the Cardinals have already invested high draft picks and a great deal of money at the guard and tackle positions in recent years, perhaps this offseason they'll use a top draft choice or significant free agent dollars on a center (although the top center on the market, Alex Mack, is out of their price range). Alternatively, the Cards have considered shifting Cooper to center, which would allow them to re-sign Larsen on a modest contract to continue serving as the right guard. The team is also said to be high on some of its practice squad players like John Wetzel and Rob Crisp, who was a priority undrafted free agent last season.
Jermaine Gresham, who underwent surgery on a herniated disc last March, was not a major part of the Cardinals' offense in 2015 after signing a one-year deal with the club in July. He caught 18 passes for 223 yards and one score, and became the latest in a string of Cardinals tight ends who have simply been unable to find much footing in the team's offensive game plans. Troy Niklas is entering the third season of his career, and still has a small amount of upside, and Darren Fells – who surprisingly led the club's tight end corps with 21 catches for 311 yards and three touchdowns – recently re-signed with the team.
The Cardinals also liked what they saw out of Ifeanyi Momah last preseason, but the converted wideout was placed on season-ending IR in September after injuring his knee. Momah, an exclusive rights free agent, figures to be back now that he has been tendered a contract, but it wouldn't be surprising to see the team target a tight end in free agency and/or the draft. Unfortunately for the Cardinals, however, both options offer slim pickings at the position.
Possible Cap Casualties:
The most obvious potential cap casualty this offseason is linebacker Daryl Washington, who has all the talent in the world but who has been suspended for each of the past two seasons and who remains indefinitely banned. The Cardinals could save $2.5MM by cutting him prior to June 1, or $3.5MM by designating him as a post-June 1 cut, though as long as he's not reinstated, there's no rush for the team to make a move. The most recent report concerning Washington indicated that he was continuing to violate the terms of the league's substance-abuse policy and that his career may be over.
Defensive linemen Cory Redding and Frostee Rucker have enjoyed long and productive careers in the NFL, but the Cardinals will need to get younger along their defensive front sooner rather than later, and Arizona could save $3MM by releasing Redding and about $1.2MM by cutting Rucker. It's unclear whether the team will let go of both veterans, but one or the other will surely be seeking his fortune elsewhere this offseason. Corey Peters, who signed a three-year deal with the Cardinals last March but who missed the entirety of the 2015 campaign with a torn ACL that he suffered in August, will be relied upon to pick up some of the slack, as will Rodney Gunter.
Theoretically, Alex Okafor could be a release candidate given his disappointing 2015 season – the Cardinals could save nearly $1.7MM by cutting him – but the team needs all the pass rush help it can get, and it is not unreasonable to expect Okafor to bounce back to his 2014 form.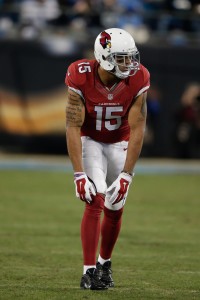 Likewise, although Michael Floyd has been mentioned as a possible cap casualty – after all, the team could save over $7MM by letting him go – it seems much more likely that he would be in line for an extension, which could also reduce his cap charge a fair amount. Floyd, Larry Fitzgerald and John Brown might represent the best trio of wideouts in the league, and a team with Super Bowl aspirations would be foolish to cut Floyd at this point. He may be inconsistent, and he may be banged up more frequently than the Cardinals might like, but he was excellent down the stretch in 2015, racking up over 100 receiving yards five times in his final eight games of the regular season, and the team is much better with him than without him.
All in all, then, the Cardinals do not have any easy fixes to buy themselves a great deal of cap space, but, like most teams, they could shed a couple of contracts that would create enough breathing room to effectively transact their offseason business without doing much damage on their on-field product.
Positions Of Need:
Arguably the Cardinals' biggest need is at pass rusher. However, we heard at the end of January that the team didn't expect to target an impact pass rusher in free agency. That seemed to indicate that the Cardinals would strongly consider using an early draft pick to nab a prospect capable of getting to the quarterback, but there aren't a great deal of top flight pass rushers in this year's draft class, which is said to be deeper in interior line prospects than in edge defenders, so the team may be forced to pursue an upgrade in free agency.
I would expect the Cardinals to try and convince Dwight Freeney to return, and Tamba Hali, although he is not the same player he used to be, could be a target as well. Schematically, recently-released players like Mario Williams and Charles Johnson don't really fit, and the same is true of Olivier Vernon, who has been hit with the transition tag, and Jason Pierre-Paul (although Williams and Vernon could theoretically play 3-4 outside linebacker in Arizona's system). Most of the other free agent outside linebackers are either uninspiring or are better edge-setters than pass rushers, which could make Georgia's Leonard Floyd, who is widely regarded as one of the biggest "boom-or-bust" prospects in this year's draft, a potential target for the Cardinals if he falls to the bottom of the first round.
Assuming one or both of the pair of Tony Jefferson and Rashad Johnson depart, the Cardinals will need a safety. The free agent market is deep in potential replacements there, with players like Eric Weddle, George Iloka, Tashaun Gipson, and Reggie Nelson headlining the class. It would take a fairly significant contract to land one of those players, and Arizona probably has enough cap space to land just one premium talent in free agency this offseason.
Since there aren't many pass rushers deserving of such a deal, Arizona could sign a safety, or they could seek their much-needed cover help at the cornerback position, which also has a lot of free agent talent. Players like Janoris Jenkins, Prince Amukamara, and Casey Hayward are available, and even lesser players like Shareece Wright could make sense even if the team is able to retain Jerraud Powers. The draft's top safety prospects like Miles Killebrew and Jeremy Cash aren't especially strong in coverage, and top cornerback prospects like Vernon Hargreaves, Eli Apple, and Mackensie Alexander will probably be off the board by the time Arizona makes its first selection. However, a player like Houston corner William Jackson III could make a great deal of sense.
Along the offensive line, there aren't many free agent options at the center position if the Cardinals are unable or unwilling to bring back Lyle Sendlein, with Manny Ramirez and Stefen Wisniewski as possible exceptions. If Arizona shifts Jonathan Cooper over to center and doesn't bring back Ted Larsen, the team could target a player like guard Geoff Schwartz. Depending on the Cards' comfort level with Humphries – and assuming they don't re-sign Bobby Massie and/or Bradley Sowell – a player like Mitchell Schwartz or Will Beatty could be an option as well.
Extension Candidates/Contract Issues:
As noted above, working out an extension with Michael Floyd would allow the Cardinals to reduce his cap charge in 2016 and keep him under club control for the foreseeable future. It's difficult to predict what a long-term deal would look like, as Floyd has not exactly lived up to his status as the No. 13 overall selection in the 2012 draft. Nonetheless, he has shown flashes of brilliance, and those flashes, combined with his size, athletic ability, and still-considerable upside, would have his camp looking for a payday befitting a No. 1 wideout — the Cardinals, conversely, would want to give him a contract more in line with his performance to date.
I would think the five-year, $55MM contract Jeremy Maclin signed with the Chiefs last season would be a reasonable benchmark, but the eventual contracts for this year's crop of free agent wide receivers like Marvin Jones, Rishard Matthews, and Travis Benjamin will also help bring some clarity to Floyd's market.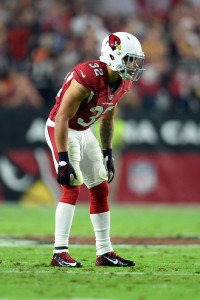 Tyrann Mathieu, meanwhile, will be in line for a lucrative deal of his own, and Arizona brass has made it clear that an extension for the defensive back is one of the team's top priorities this offseason. A report from two weeks ago indicated that the two parties are, in fact, at the negotiating table, and it will be interesting to see how those negotiations play out. Despite missing the last two games of the 2015 regular season – and all of the playoffs – due to a torn right ACL, the Honey Badger earned first-team All-Pro honors for the first time in his career. He tallied 17 pass breakups, 80 tackles, and a forced fumble this year to go along with five interceptions – one of which he returned for a touchdown – and he ranked as the league's best cornerback per Pro Football Focus' advanced metrics (subscription required).
Of course, the Cardinals would rather pay Mathieu like a top safety than like a top cornerback, as Mathieu plays safety in Arizona's 3-4 base defense. However, the Cardinals run their base defense on only 33% of their defensive snaps. In all other sub-packages, Mathieu plays cornerback, usually serving as the slot corner, and he actually played all seven positions in the back seven at some point in 2015. It could be that the two sides simply split the difference between the average annual values earned by the top corners in the league ($14MM) and the top safeties ($10MM), but in any event, it appears as though Mathieu will reap the rewards for his excellent performance in short order.
The Cardinals would also do well to address Calais Campbell's massive $15.2MM cap hit. Campbell was named to the Pro Bowl for the second consecutive season, and he graded out as the 14th-best interior defender out of 123 eligible players per PFF. He is entering the final year of the five-year, $55MM pact he signed with Arizona prior to the 2012 season, and even though he'll be 30 when the regular season begins, another extension could do wonders for the team's cap outlook in 2016 and would also keep the anchor of the Cardinals' defensive front under club control for the remainder of his most productive seasons.
It is unlikely the Cardinals will address Larry Fitzgerald's contract this offseason, since he already has cap hits in 2017 and 2018 even though he's only under contract through the 2016 season (that undesirable outcome is a result of the Cardinals' restructuring of Fitzgerald's contract last year, which made his 2015 cap charge much more manageable). Restructuring Patrick Peterson's mega-deal would lead to similar problems, and the Cardinals are not desperate enough for 2016 cap space that they should consider such a restructure.
Overall Outlook:
The Cardinals should again be a powerhouse in the NFC in 2016. There are some concerns about the roster beyond 2016, as it lacks a long-term solution at quarterback and has some significant question marks on the offensive line. Additionally, many of its major contributors on the defensive line are either at the end of their careers, are release candidates, or are largely unproven. That's not to mention, of course, that Fitzgerald may be playing his last season, and the Cardinals are still without a major pass rushing threat.
Still, the Cardinals have thrived under Bruce Arians, and GM Steve Keim is more than capable of keeping his club competitive. The contract issues that the team needs to address this offseason are relatively straightforward, and although the Cards will probably be relying on some fairly inexperienced talent at crucial positions this year – like right tackle, for instance – there's no reason they cannot continue to thrive, as long as they begin preparing for life after Carson Palmer.
Information from Over The Cap was used in the creation of this post. Photos courtesy of USA Today Sports Images.
Follow @PFRumors