Pending free agents:
Top 15 cap hits for 2016:
Notable coaching/front office moves:
Draft:
No. 31 overall pick
Owe sixth-round pick to Bears in deal for DE Jared Allen.
Other:
Overview:
After a 2014 season that saw the Panthers reach the postseason despite a sub-.500 record, many expected Carolina to regress even further, and a lack of faith in the club's 2015 prospects wasn't uncommon. Not a single PFR writer projected that the Panthers would earn a playoff berth in 2015 (in my own personal predictions, I estimated Carolina would finish last in the NFC South), as the Falcons and Saints generated much more positive outlooks.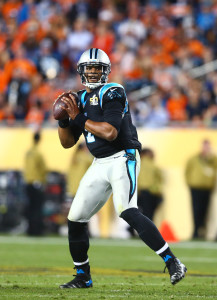 So for Carolina to finish with a 15-1 record and advance all the way to the Super Bowl was, in a massive understatement, unexpected. But finish nearly perfect they did, with the only blemish on the club's regular season record coming in a tight Week 16 loss to the Falcons. Carolina bludgeoned its way through the NFC tournament, only to run into a stifling Broncos defense in the title game, ultimately losing 24-10.
The superlatives can be tossed in nearly any direction on the Panthers' roster, but it all started with 2015 MVP Cam Newton, who posted the best season of his career and, with the help of a complex running scheme, led Carolina's excellent offense. And as good as the offense was, the defense was perhaps even better, as Luke Kuechly and Thomas Davis — aided by breakout stars Josh Norman and Kawann Short — headlined a unit that finished second in DVOA.
Credit is also due to head coach Ron Rivera and general manager Dave Gettleman — the Panthers have been hamstrung by salary cap problems for years, but the two decision-makers have found a way to cobble together a roster that works. The club still won't have much cap space this offseason, and while Carolina won't have to shop at the "dollar store" — Gettleman's phrase — anymore, it still can't afford to bring in too many high end options.
Key Free Agents:
Some clubs have a group of players who might compete for the moniker of "No. 1 internal free agent," but in the Panthers' case, there's no such debate — cornerback Josh Norman's expiring contract is far and away the most pressing item on Carolina's offseason docket. After reports indicated that little progress had been made in extension talks, the club placed the franchise tag on Norman, locking him in Carolina for one more season (unless another team is willing to part with two first-round picks). The Panthers are reportedly hopeful that they'll be able to work out a long-term agreement with Norman before the July 15 deadline for extending franchise players.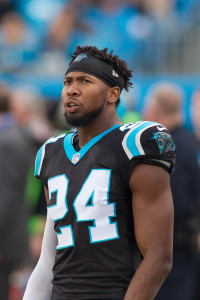 When I examined Norman's case for an extension back in November, I argued that he should be in line for the prototypical shutdown corner contract: $14MM per year, with more than $20MM in guarantees. Norman, at 28, is a bit older than a standard first-time free agent, and while the franchise tag will limit his ability to market himself to the league, I think that projection is still firmly within his reach.
The franchise tag will pay Norman $13.952MM in 2016 — if the Panthers were to franchise him in 2017, Norman would earn another $16.742MM (120% of his cap charge from the previous year). The total of those two figures — $30.694MM — should be Norman's target in terms of guaranteed money in negotiations with Carolina. It may seem like a high number, but having reached the end of his contract without having agreed to a long-term deal, Norman holds a great deal of leverage.
Elsewhere in the secondary, veteran corners Charles Tillman and Cortland Finnegan are also headed for free agency. He just turned 35 years old, but Tillman started 12 games (and played decently) in 2016, and has made it clear he'll only continue his NFL career with Carolina. A one-year – possibly minimum salary benefit – contract could make sense, but I'll predict that Tillman ultimately retires. Finnegan, meanwhile, was brought in as more of a stopgap, and I don't expect him to be retained.
At safety, Roman Harper has started all 32 games for Carolina over the past two seasons after joining the club on a low-cost deal prior to the 2014 season. He's 33 now, and Pro Football Focus didn't rate Harper's play very highly in 2015, grading him as the No. 53 safety among 88 qualifiers. Harper will cost $900K against the Panthers' 2016 salary cap thanks to a void provision in his contract, but I think the team will move on and possibly try to find a superior option through free agency or the draft.
Defensive tackle Kyle Love, something of an inspirational story given that he's battled diabetes throughout his NFL career, seems to have finally found a home in Carolina after bouncing around the league for a few seasons. He played about 30% of the the club's defensive snaps, teaming with Dwan Edwards to form nice backup rotation behind starters Kawann Short and Star Lotulelei. Those latter two players are about to get expensive, so retaining a key depth option like Love could be smart.
Let's move to the offensive side of the ball, where wide receiver Jerricho Cotchery's numbers have been falling for three consecutive years. Even with Kelvin Benjamin lost for the season, Cotchery saw his role in the offense decrease, as he hauled in only 39 receptions for less than 500 yards. Benjamin will return in 2016, and with further development expected from Devin Funchess and Corey Brown, the Panthers can probably move from Cotchery as he enters his age-34 season.
2015 Pro Bowl fullback/running back Mike Tolbert is also a free agent, but it's highly likely that he'll return to Carolina, where he has spent the past four years of his career. Coming off a four-year contract during which he averaged $2.5MM annually, Tolbert could see a nice pay raise, albeit over a shorter term. The 30-year-old Tolbert recently said that he'd love to stay with the Panthers, but did allow that he would consider moving on.
Of the Panthers' free agent offensive linemen, the only one who played more than 10% of the club's snaps was Amini Silatolu, who did so while filling in at left guard for the injured Andrew Norwell. A second-round pick in 2012, Silatolu started 15 games during his rookie year, but has logged just 13 starts in the three years since. He's still only 27, so Silatolu might look to latch on with a team where he has a better shot at returning to a starting role.
Possible Cap Casualties:
The elephant in the room for the Panthers this offseason is the status of veteran defensive end Charles Johnson, who is entering the final year of a six-year, $78MM deal he signed prior to the 2011 season. Johnson, hampered by a hamstring injury, was limited to just nine games last season, and played in something of a rotation, as he saw action on just over a third of Carolina's snaps.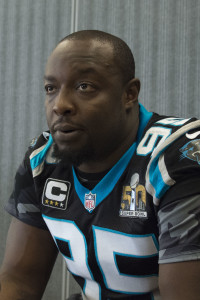 The 29-year-old Johnson is scheduled to count $15.02MM against the Panthers' salary cap, and all indications are that that figure is unpalatable for the club —the Charlotte Observer recently reported that Carolina will ask Johnson to accept a pay cut next season, and if he declines, he'll face the possibility of release. The club would save $1MM in 2016 by cutting Johnson.
Depending on how steep a pay reduction the Panthers propose, I could see Johnson choosing to move on, figuring he could earn more on the open market. If Carolina wants to slash his pay by, say, 50%, and reduce his cap charge to $7.5MM, Johnson should definitely decline — he posted 8.5 sacks just one season ago, and reached double-digits in the two years prior, so it's not as if he's washed up. Since there would certainly be a market for Johnson's services were he to become a free agent, he holds a bit of leverage over the team.
Besides Johnson, the Panthers don't have a ton of other potential cap casualties, but if the team is looking to save a little money on the margins, defensive tackle Dwan Edwards could be on the chopping block. Carolina would only save $1.6MM by releasing Edwards, but he's 34 years old, so the team could look for younger players to add to its interior rotation.
Positions Of Need:
Offensive line and wide receiver have been listed among the Panthers' needs for what seems like a generation, and while Carolina could certainly use help in those areas — we'll cover them a bit later — the three most pressing needs might be on defense.
Defensive end, specifically, is a position group that the Panthers will likely need to target this offseason. I expect Charles Johnson to decline a pay cut and ultimately be released, but even if he does stick around, Carolina needs to add more talent at end. Johnson would be entering the final year of his contract, and while Kony Ealy posted the game of his life in the Super Bowl, he hasn't shown that level of production in the past.
So if merely adding depth at defensive end is the Panthers' goal, they could enter the free agent market, and perhaps target someone like the recently-released Mario Williams. Obviously, Carolina won't be able to pay Williams the $16MM per year he was earning in Buffalo (he's not worth that amount, clearly), and other interested clubs could probably offer more. But Williams, who has never played in a postseason game, might be intrigued by the idea of joining a ready-made contender, albeit at a reduced priced. On the cheaper end of the scale, Wallace Gilberry is coming off an effective run as a rotational end in Cincinnati, and could be a nice backup piece, while former Jet/Dolphin Quinton Coples reportedly met with the Panthers this week.
If Carolina wants to add an end that will contribute both now and into the future, the team will look to the draft, and while it's difficult to find a premier edge rusher at pick No. 31, there is no shortage of prospects who might be available. Bucky Brooks of NFL.com has the Panthers taking Georgia defender Emmanuel Ogbah in his most recent mock draft, while Michigan State's Shilique Calhoun, Clemson's Kevin Dodd, and Florida's Jonathan Bullard could also be on the board.
In the secondary, safety is also an area of concern, especially if Roman Harper is not re-signed. At nearly every other position listed in this section, I think the Panthers would be fine combining draft picks with internal options, but to upgrade at safety, Carolina should take a hard look at using what cap space it has. The most obvious addition would be Eric Weddle — not only does he have a history with Ron Rivera and secondary coach Steve Wilks, but he's indicated that he'd like to join a contending club. Tashaun Gipson, George Iloka, and Rodney McLeod could also be under consideration if the Panthers are willing to spend a little.
Cornerback is also a position that could be addressed, but perhaps is of less importance than perceived. With Josh Norman back in the fold, Bene Benwikere potentially moving to the outside, and Robert McClain around to play the slot, the Panthers can field a passable secondary. Still, it's certainly an area where young talent wouldn't hurt, and many observers, including Mel Kiper of ESPN.com and Daniel Jermiah of NFL.com, project Carolina to select a cornerback in the first round (Mackensie Alexander and Eli Apple being the choices).
Moving to the offense, right tackle has been a concern for the past few years, and Mike Remmers was disappointing in his first full season as a starter. But it sounds like Remmers — a restricted free agent — will return in 2016, and 2015 draft pick Daryl Williams could provide some competition. I doubt Dave Gettleman & Co. will spend money to add talent at this position, but a mid- or late-round draft pick could be in the cards.
As I noted, receiver is always listed among Carolina's needs, but the group assembled last season — Ted Ginn Jr., Corey Brown, Jerricho Cotchery, and Devin Funchess — played pretty well, and lest we forget, Kelvin Benjamin, who posted more than 1,000 yards and nine touchdowns as a rookie in 2014, will return from an ACL tear. Brenton Bersin, Stephen Hill, and Kevin Norwood haven't contributed much in their short NFL careers, but further development is always possible. I don't expect Cotchery back, but this is a cohort that can succeed, especially in a run-based offense with a talented quarterback like Cam Newton at the helm. The Panthers probably won't be willing to add a receiver via free agency, but using a pick in the first two rounds — as they've done in consecutive seasons — is a possibility.
Extension Candidates/Contract Issues:
Kawann Short was a breakout star last season, posting 11 sacks from the interior, and grading as a top-10 defensive tackle per Pro Football Focus. Short, 27, is entering the final season of his rookie contract, and because he wasn't a first-round pick (he was selected 44th overall in 2013), the Panthers don't hold a fifth-year option on him for the 2017 season.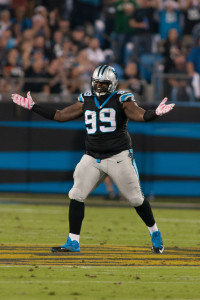 Short will easily be the top option among the 2017 class of free agent defensive tackles, so if he were to hit the open market, he'd be looking at a rather large payday. Since he holds so much leverage, there's no reason that Short shouldn't push for a deal that brushes the top of the market — Ndamukong Suh's massive Dolphins contract is an outlier, but Marcell Dareus and Gerald McCoy each received more than $95MM in total value. However, Dareus and McCoy did receive vastly different levels of guaranteed money ($43MM for Dareus versus just ~$15MM for McCoy), so that could be an area of negotiation for Short and the Panthers.
Carolina would probably balk at such an asking price given that Short has really only produced for one season, and if no deal can be reached by this time next year, Short could be a prime candidate for the franchise tag, with a likely cost of roughly $14MM. None of the Panthers' other 2017 free agents would warrant the tag, and the option might force Short to take a bit less money.
Carolina's other starting defensive tackle, Star Lotulelei, was selected in the first round, meaning the Panthers can control him — if they so choose — through the 2017 season via the fifth-year option. Lotulelei hasn't been a star, and he really struggled in 2015, though his play could have been affected by a foot injury (he had surgery last January and dealt with complications in training camp, ultimately missing the first two games of the season). Carolina will surely exercise his option (price tag: ~$7MM), but with the team expected to prioritize an extension for Short, a long-term agreement for Lotulelei could be on the back-burner.
Safety Kurt Coleman was excellent in 2015, adding a stabilizing force in the back end of the Panthers' secondary. He's entering the final season of a two-year contract, and he's set to count just over $2MM on this year's cap. If Carolina wants to keep Coleman around past 2016, I wonder if they might extend him now and add a bit more guaranteed money to his '16 base salary, thereby reducing the potential dead money down the line. Then again, Coleman has had a pretty up-and-down career, so perhaps the Panthers will want him to prove his worth again during the upcoming season.
On offense, left guard Andrew Norwell is extension-eligible after just two seasons instead of the standard three as a result of having been an undrafted free agent. He has made former second-rounder Amini Silatolu irrelevant, taking over on the inside and grading as the league's eighth-best guard in 2016, per Pro Football Focus. Locking up Norwell, and, following this season, right guard Trai Turner, are important tasks in the effort to keep Cam Newton upright.
Overall Outlook:
In a league with such parity, it's difficult to maintain a contending team, much less a dynasty. And while the Panthers probably aren't at dynastic levels just yet, it's not hard to see them getting there. Carolina has solid decision-makers, stable ownership, innovative coaches, young talent on both sides of the ball, and most importantly, a franchise quarterback. A fourth consecutive NFC South title looks almost inevitable, and a return trip to the Super Bowl — and a win, this time — is unquestionably the target for the 2016 Panthers.
Information from Over The Cap was used in the creation of this post. Photos courtesy of USA Today Sports Images.
Follow @PFRumors