Pending free agents:
Top 15 cap hits for 2016:
Notable coaching/front office moves:
Draft:
No. 28 overall pick
Acquired fifth-round pick from Seahawks in deal for S Kelcie McCray.
Other:
Overview:
Mounting one of the most unlikely playoff surges ever, the Chiefs finally exorcised some demons last season by winning a playoff game for the first time in 22 years. After their dominant rout of the Texans, the Chiefs pushed the defending Super Bowl champion Patriots in Foxborough despite having several key players either out or limited.
Kansas City's 2015 season should be viewed as a rousing success based on winning 10 straight games without Charles to close the regular season after starting 1-5. How much relevance that resilient performance has to the organization's immediate future, however, will hinge on how well the team navigates its offseason.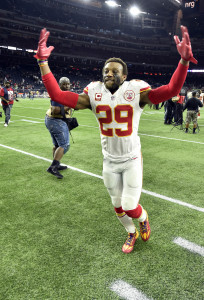 The strength of the team ended up being the NFL's No. 7-ranked defense, a unit that may have been the Chiefs' best since the famed Marty Schottenheimer outfits that guided the franchise out of a near-two-decade stretch of irrelevance. Justin Houston and Tamba Hali again formed one of the league's best edge-rushing tandems, and the Sean Smith/Marcus Peters pairing outside served as one of the league's top cornerback duos. Although teams tested the raw Peters relentlessly, with no corner in the league receiving as many targets, the first-round pick responded by intercepting eight passes and returning two for touchdowns en route to defensive rookie of the year acclaim.
However, the Chiefs' defensive resurgence centered on Eric Berry and Derrick Johnson re-establishing their dominance. Johnson would've been a comeback player of the year candidate in an ordinary campaign, re-emerging as good as ever after a torn Achilles' tendon in Week 1 spoiled his 2014 season. Berry, however, was a runaway winner after returning to All-Pro form following a cancer diagnosis. The Chiefs weren't sure Berry could play again, which probably played a role in the decision to give Ron Parker a hefty contract. Instead, Berry became a force and seemed to lock himself into a lucrative extension with the team that drafted him six years ago.
Offensively, Alex Smith didn't deviate much from what gave him his game-managerial reputation. The 31-year-old quarterback took few risks but deftly guided the Chiefs to just enough points week after week, allowing the defense to dictate games. Smith did this without Jamaal Charles' services for most of the season, and the Charcandrick West–Spencer Ware tandem operated much better than the Thomas Jones–Jackie Battle coalition that served as the Chiefs' ball-carriers in 2011, when Charles suffered the first of his two torn ACLs. Where Smith deviated from his usual careful approach was in helping the Chiefs compensate for the electric Charles' absence, rushing for a career-high 498 yards.
Jeremy Maclin proved to be worth his upper-echelon contract and helped the Chiefs escape the albatross Dwayne Bowe became to their passing game and cap sheet. Maclin surpassed 1,000 yards receiving, giving the Chiefs a four-digit target for the first time since Bowe reached that mark in 2011. Meanwhile, Travis Kelce has become one of the league's best tight ends and delivered a Pro Bowl campaign that looked a lot like his breakout season of two years ago.
With Doug Pederson headed to Philadelphia, the Chiefs' new co-coordinator system is interesting in design, but shouldn't have too much bearing on how the offense functions. Andy Reid's presided over his teams' offenses throughout his coaching tenure, with Brad Childress working under him for seven seasons in Philadelphia and three in Kansas City. The 37-year-old Matt Nagy has been on Reid's staff since 2008, but unlike his co-coordinator, who already had head-coaching experience, this move will thrust Nagy into the spotlight after eight seasons in less visible roles. Don't expect too much to change in a precision-based, risk-averse offense specifically tailored to its conductor.
Kansas City did mount its second-half charge in 2015 against a cozy portion of its schedule, beating a slew of struggling teams. When they ran into top-tier clubs, the Chiefs either lost (as was the case to the Broncos, Bengals, Packers and Vikings in September and October) or caught them at ideal times — the Steelers were without Ben Roethlisberger and the Broncos were restricted by a severely limited Peyton Manning's worst game as a pro. How much this contributed to the Chiefs' second-half run remains to be seen, because the team morphed into the league's most consistent operation and became only the second team since the AFL-NFL merger to start 1-5 and make the playoffs (the 1970 Bengals did this in a four-team AFC bracket).
Still, should the Chiefs manage to retain some of their free agent defensive standouts, there's no reason to think they won't be a threat to unseat the Super Bowl champions in the AFC West. They rode a similar blueprint to the Broncos, with a playmaking defense elevating a station-to-station offense, but fell a little short thanks in part to injuries to Houston, Maclin, Hali and Charles — arguably four of the team's top five players.
Key Free Agents:
Even the Broncos, with their well-publicized glut of expiring contracts, don't have the volume of talent with defection options that their chief rivals do. After applying the franchise tag to Eric Berry, the Chiefs still have six either current or former defensive starters — Derrick Johnson, Tamba Hali, Jaye Howard, Sean Smith, Husain Abdullah and Mike DeVito — looming as UFAs. Jeff Allen has also become one of the top guards on the market, so the Chiefs will have to make difficult decisions, because despite possessing nearly three times the cap space they had going into the 2015 free agent period, there is more talent unsigned and a bevy of vacancies to fill this time around.
Berry's past two full seasons have been the finest of his career, and his improbable return to full workloads early in 2015 helped trigger the Chiefs' late surge. He was a lock for the franchise tag as the team's most popular player and one who should have many prime years ahead, as he's set to enter his age-27 season. One of three players to run their old-CBA rookie deals through the end of the 2015 season — along with Sam Bradford and Russell Okung — Berry will be the rare modern player whose franchise tag doubles as a slight pay cut from his peak rookie-contract earnings.
With the Chiefs currently on the hook for $10.81MM for Berry, they will almost certainly come to terms with their cornerstone defender before the July 15 deadline. The salary cap's $12MM rise from last season makes Berry a candidate to join Justin Houston in establishing a new high-water mark for earnings at his position. Berry's tag makes him the NFL's second-highest-paid player at his position for 2016. Earl Thomas is the lone safety to earn $10MM on average, and only Jairus Byrd's $10.9MM figure for this season eclipses Berry's likely temporary salary. A résumé that features two first-team All-Pro distinctions should allow Berry to surpass Thomas' deal – which was signed in 2014 – and become the highest-paid back-line defender.
It's not that simple for the rest of the Chiefs' UFA defenders.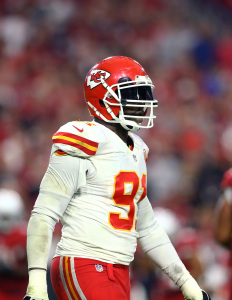 Although it's strange to picture Hali or Johnson with another team, one of them will probably have to leave after at least 10 years in Western Missouri. Hali plays the more coveted position and was a top-12 PFF edge-rusher last season despite nagging knee problems. We heard earlier this week the Chiefs were "working hard" to retain Hali, a five-time Pro Bowler who has never played fewer than 14 games in a season.
Hali's days being a threat for double-digit sacks in a season may be over, with Kansas City's blind-side rusher accruing 12.5 over the past two years after collecting 10+ sacks in three of the previous four years. But he can still be productive as an edge player against the pass and the run. The 32-year-old Hali not being healthy for the team's divisional playoff game helped give Tom Brady sufficient time to dissect the Chiefs.
When the Chiefs selected Dee Ford in the first round of the 2014 draft, he looked like Hali's eventual replacement, but the veteran restructured his contract to stay in Kansas City last March, relegating Ford to part-time duty again in 2015. Save for a three-sack game against the bottom-tier Chargers front, Ford hasn't contributed much in his first two seasons. If Hali is brought back on a salary he deserves, then Ford's selection will have been a curiously extraneous decision. Hali has made it clear he'd prefer to stay in Kansas City, but in a market where players like Trent Cole or Lamarr Houston are making $7MM per season, Hali would be a coveted commodity due to his consistency. With a player like Ford on the roster, it's harder to see the Chiefs keeping Hali without a noticeable hometown discount.
Johnson, though, makes more sense as a re-up candidate for the Chiefs. The team doesn't have a Ford-like talent in waiting behind the former All-Pro, and the 12th-year veteran's been a marvel during his first two contracts. Kansas City's longest-tenured player, and one that has played for five of the franchise's six 21st-century coaches, Johnson also plays a position that teams don't necessarily panic about replacing. In theory, inside backers aren't itinerary-topping performers, but Johnson's three-down ability has been crucial for the Chiefs' defensive resurgence under Bob Sutton.
Kansas City slipped to 28th against the run without Johnson in 2014, so ditching him would create an immediate need that hasn't existed in some time. The '05 first-rounder could easily earn a Karlos Dansby– or David Harris-type deal — each early-30s inside man signed for at least $6MM AAV, with Harris currently making $7.17MM annually. Johnson is superior to both and showed no ill effects in returning from one of the toughest injuries from which to recover.
The Chiefs can afford to pay Johnson or Hali, but probably not both. Kansas City's investment in Ford makes it more plausible Johnson will be the one the club chooses to retain.
Howard enjoyed a breakout season but could have to chase his payday elsewhere. The Chiefs already committed to Allen Bailey – who didn't produce on the level Howard did in 2015 – and have Dontari Poe's contract negotiations to consider in the not-too-distant future. Considering Bailey is set to earn $6.25MM per season, Howard is probably pushing to be paid on the Derek Wolfe/Jurrell Casey tier (around $9MM per year) and should be able to approach that top-10 realm for 3-4 ends, at least.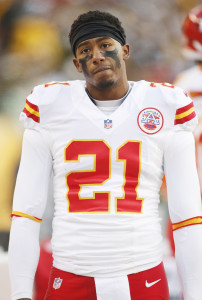 Sean Smith also looks like a player who will exit Kansas City. Josh Norman and Trumaine Johnson being franchise-tagged leaves Janoris Jenkins and Smith as arguably the market's top two corners. A less consistent version of Smith had to settle for a three-year, $16.5MM accord in 2013 and proceeded to outplay that contract. As a quality starter player hitting free agency twice before his 29th birthday without being released, he'll probably seeking the best possible offer.
A capable safety who started 16 games for the Chiefs in 2014, Abdullah was relegated to an off-the-bench role last season after Berry's return made the Chiefs a rare team that used four safeties and two corners in dime looks. He'll be 31 in July, however, so Abdullah may be looking at a middling-at-most deal in a crowded safety crop of free agents.
The only offensive free agent that would have a significant impact if he departs is Allen, who emerged in his contract year. He'll be one of the most sought-after guards after serving as the Chiefs' top lineman last season. After not showing much for two healthy seasons in 2012-13, Allen missed 15 games in '14 and didn't reclaim a starting job until Week 7 of 2015. But once he did, the 26-year-old guard/tackle helped ignite the West- and Ware-powered run game and graded out as the Chiefs' top lineman, per Pro Football Focus.
The Chiefs watched Branden Albert, Geoff Schwartz and Rodney Hudson depart after strong contract years and have deployed below-average lines the past two seasons as a result. Allen will command a nice deal from a guard-needy team in a down era for offensive line play, but it will be far more affordable than what Hudson or Albert cost. And with Eric Fisher's tenure having been up and down to date, the Chiefs only seem to have a long-term answer at one offensive line spot. Allen would help stabilize this group alongside Mitch Morse, but the Chiefs will have a nice bidding war for his services.
Possible Cap Casualties:
Kansas City doesn't have many candidates here, with so many key free agents and players whose releases would come with a lot of dead money and scant cap savings.
The only player who would qualify as a big money-saver that may not have a long-term future with the team is Jamaal Charles. The premier Chief for probably the entirety of the 2010s, Charles is now rehabbing his second ACL tear and will turn 30 in December. Despite profiling as one of the era's best backs, the NFL's all-time yards-per-carry leader is now firmly on the downside of his career after suffering another major injury. The Chiefs impressively revived their season without Charles but weren't as explosive on the ground.
Although the Chiefs would save $5.31MM by releasing Charles after eight seasons, general manager John Dorsey has professed that the two-time All-Pro remains in the team's plans. Running backs are among the most easily-replaced performers, but if Charles is healthy or reasonably well-equipped to return in 2016, is by far the Chiefs' best running back. He's probably the best ball-carrier in franchise history, dashing to five 1,000-yard rushing seasons without the luxury of a top-tier line like the ones Priest Holmes and Larry Johnson enjoyed. Charles might see Spencer Ware (5.6 yards per carry in limited duty last season) eat into some of his workload, which has never been on par with some of this era's other elite backs.
Ben Grubbs would qualify as a potential cap casualty had Kansas City not modified its trade acquisition's contract upon his arrival last March. Although he looked solid at left guard before suffering a season-ending neck malady, Grubbs will be 32 before this season starts. Unfortunately for the Chiefs, they're thin up front and would only save $1.1MM by releasing the former Pro Bowler, while taking on $5.2MM in dead money.
Positions Of Need: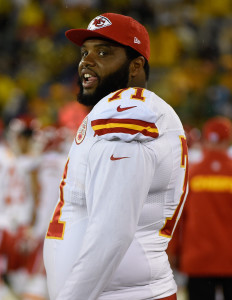 Kansas City's thus-far-cryptic plans for its holdovers will dictate much of what's needed. But one spot that will need help with or without a re-signing is the Chiefs' offensive front. Jeff Allen's departure would make this a DefCon 1-esque need, but even if Kansas City re-ups the breakout guard, it has holes on the right side. Laurent Duvernay-Tardif and Jah Reid are backup-level players, and the Chiefs need an upgrade at one of those positions at the very least.
If the Chiefs allocate money toward their defense, affordable guard options exist in Ramon Foster, Mike Harris and J.R. Sweezy. Even a Geoff Schwartz reunion makes sense; he's going into his age-30 season and has been a quality player when he's healthy enough to take the field, which has been admittedly infrequent over the past two years. Schwartz, though, could fill either of the Chiefs' primary needs due to his versatility. A Schwartz gamble would be a route the Chiefs could take if they keep Allen — that would give the team two valuable 20-somethings around which to plan, along with Morse. The Chiefs badly need some quality talent that can be relied upon for the future.
If right tackle is where the Chiefs opt to look – and they should considering how poorly Reid performed last year – players like Joe Barksdale (PFF's No. 24-rated tackle last season) and Bobby Massie represent middle-class options from the likely too-pricey Mitchell Schwartz. With Eric Fisher teetering on bust status, the Chiefs using their first- or second-round pick to address the position wouldn't be a bad idea. PFF graded the Chiefs at No. 22 overall among offensive lines, with its pass protection drawing the No. 30 slot.
The Chiefs failing to address the tackle position in free agency or with a draft choice on Day 1 or Day 2 would again leave them vulnerable. Since Schwartz, Branden Albert, and Jon Asamoah left, the team has been forced to start many below-average talents, and despite Jamaal Charles' gaudy per-carry averages, it has hindered the offense. Alex Smith has absorbed a career-high 45 sacks in each of the past two seasons.
Kansas City's other glaring need comes at corner, with the expectation Sean Smith will venture elsewhere. Phillip Gaines' season-ending injury in Week 3 put the Chiefs in three- and four-safety looks often, and the club will need to acquire a complement to Marcus Peters. Smith and Janoris Jenkins could be eight-figure AAV players. The next tier includes Prince Amukamara, who comes with a checkered injury history that should keep his price tag under that threshold, and Casey Hayward, a Packers draft choice during Dorsey's last year in Green Bay.
Without a second or a healthy third corner at this point, the Chiefs should consider allocating resources here instead of getting into a potential bidding war for Tamba Hali or Derrick Johnson. Jerraud Powers and Legion of Boom bastion Jeremy Lane are also available, and the Chiefs have coaxed success out of multiple ex-Seahawks, such as Jaye Howard and Ron Parker. Peters could become one of the game's best corners, but adding a steadier veteran who is perhaps not as flashy would be an ideal complement on the Chiefs' budget.
While the Chiefs' aforementioned linebacker situations are fluid, the team may be less equipped to sustain Howard's departure. Mike DeVito could be had on a short-term deal after a torn Achilles in 2014 relegated him to a bench role last season. The team's in-house candidates to fill that role are Rakeem Nunez-Roches and recently tendered Nicholas Williams. While corner and offensive line look like spending avenues for the Chiefs, this job could go toward one of their rookie-contract holdovers.
Behind Malik Jackson and Howard in this year's crop of 3-4 ends are Cedric Thornton and Akiem Hicks, neither of which is set to attract the kind of attention Howard will. An Andy Reid-drafted performer in Philadelphia, albeit as a 4-3 tackle, Thornton was solid at end with the Eagles last season, rating as a middle-of-the-pack interior defender, per Pro Football Focus. Although likely to hit the market despite the Eagles' spree of extensions, Thornton's projected salary may price him out of Kansas City's range considering the team has $12MM+ allocated to its other two defensive line starters.
No. 2 wide receiver has been an issue for the Chiefs since the Dick Vermeil era's conclusion broke up the Eddie Kennison–Johnnie Morton tandem. The position churns out little annually and has relied on a committee-based effort for most of this decade. That said, this isn't exactly a high-volume attack that would get the most out of one of the many No. 2-type receivers out there.
Options like Rishard Matthews, Jermaine Kearse or Rueben Randle represent upgrades on Albert Wilson and Chris Conley, but the Chiefs have bigger issues than to hand out a $5MM-per-year-type deal to someone who would reside well behind Jeremy Maclin and Travis Kelce in Alex Smith's pecking order. That said, if the Chiefs didn't have the glut of expiring defensive contracts, this would be the year they could address this position. Veterans like James Jones or Jerricho Cotchery are short-term accord candidates, with NFC South legends Marques Colston and Roddy White on the market as well.
This year's market provides a reservoir of auxiliary weapons, and Kansas City bringing in a bargain-bin option to compete with Wilson and Conley — and whomever arrives via the draft — will be something to monitor.
Extension Candidates/Contract Issues:
The Chiefs and Dontari Poe, who is set to play this season on a fifth-year option worth $6.15MM, have engaged in preliminary extension talks. As is the case with Berry, an extension for Poe appears to be inevitable. Poe's anchored the Chiefs' defensive front for the past three seasons and has emerged as one of the league's best nose tackles during that span. Dorsey has shown no issue making players brought in by prior regimes the franchise's faces and has compensated them well. Justin Houston and Jamaal Charles, who received $18MM in new money in 2014, are the most obvious examples.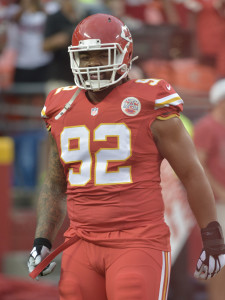 Poe recovered from back surgery last offseason and helped anchor the Chiefs' vastly improved run defense, one that vaulted to eighth in the league. He has played almost all of the team's defensive snaps over the past three seasons, factoring in on passing downs despite his near-350-pound frame. Poe's fifth-year option is worth more than any nose in the game this season, and an extension for him — like the one for Houston, and Berry's eventual pact — will place him atop his position's earnings hierarchy.
No 3-4 nose tackles currently earns $5MM on average, so Poe's forthcoming deal could pay him more like a second-tier 4-3 tackle. Ndamukong Suh, Marcell Dareus and Gerald McCoy money may be unreachable for someone with 10.5 career sacks. But the deals for Kyle Williams ($10MM per year) and Tyrone Crawford ($9MM AAV) are numbers at which the 25-year-old dynamic inside presence could take aim. Even if judged purely by sacks, not a prerequisite for nose dominance, Poe has Crawford (eight) beat, and only one of Williams' seasons eclipses Poe's six-sack slate in 2014.
Scott Pioli's final first-round pick seems unlikely to leave Kansas City anytime soon. Dorsey's first, though, has a murkier future. Eric Fisher hasn't been a mega-bust in JaMarcus Russell fashion as a No. 1 overall pick, but he has underwhelmed considerably for a player chosen at that lofty perch. The high standards by which this draft slot is judged place Fisher as one of the worst first-overall selections in modern football history, and the Chiefs have a decision to make soon on the left tackle's possible fifth year in Kansas City.
Last year, keeping an offensive lineman chosen in the top 10 cost a team $11.096MM, an amount the Vikings are currently deciding if Matt Kalil's worthy to earn. That figure will rise to $11.902MM for offensive linemen drafted in 2013's top 10. Failing to stand out at right or left tackle, Fisher hasn't shown anything worthy of the kind of money that would place him firmly among the top-10 earners at his position come 2017.
The Chiefs, though, don't have much at tackle. Donald Stephenson is a free agent and disappointed in his audition with the starters last season, and Jah Reid is more of a swing tackle-type player. Fisher's fifth year would be guaranteed against injury only, giving the team one more season to evaluate its potential sunk cost. The Chiefs could move on from Fisher after 2016 even if they exercise this option, providing he stays healthy.
Overall Outlook:
A successful offseason keeps the Chiefs in stride with the Broncos. The franchise's most talented team in probably a decade had the eventual champions on the ropes in Week 2 and outplayed them cumulatively last season in their two matchups. Denver is in line to return more of its defense than Kansas City, and Oakland is set to improve based on the money it has to spend and the pieces already in place. The Chiefs could find themselves in a tough spot if they can't replace some of the key stalwarts they could well lose this winter.
Last season undoubtedly provided a spark after the Chiefs' Wild Card romp, but some key ingredients in that seminal march may not be around next season. How much carryover 2015's progress will induce remains to be seen.
Information from Over The Cap was used in the creation of this post. Photos courtesy of USA Today Sports Images.
Follow @PFRumors