Pending free agents:
Top 10 2015 cap hits:
Notable coaching changes:
Draft:
Other:
Overview:
For most of the last decade, the Dolphins have come to embody the word "mediocre" — since winning the AFC East in 2008, Miami hasn't won more than eight games in a season, nor have they posted more than ten losses in any single campaign. After posting a pedestrian 8-8 record in 2013, owner Stephen Ross made some changes at the top, firing longtime general manager Jeff Ireland, and, after a protracted search process, hired Buccaneers executive Dennis Hickey as the club's new decision-maker.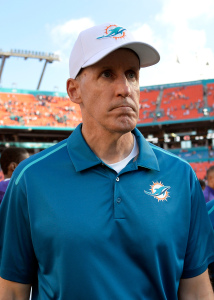 Hickey and the rest of the front office used free agency to make several upgrades, signing tackle Branden Albert to fortify an offensive line that had come under fire, retaining cornerback Brent Grimes and defensive tackle Randy Starks to aid the team's defense, and adding veterans like Cortland Finnegan, Knowshon Moreno, and Earl Mitchell to round out the roster. In the draft, the Dolphins picked tackle Ja'Wuan James and receiver Jarvis Landry in the first two rounds, selections that would prove astute.
But despite the new additions, Miami once again finished with a .500 record, good for third place in the division. There were positive developments to be sure, as third-year quarterback Ryan Tannehill took to new offensive coordinator Bill Lazor's scheme and posted his best season to date, completing 66.4% of his passes for 4,045 yards, 27 touchdowns, and 12 interceptions. The rest of the offense, buoyed by contributions from Landry, running back Lamar Miller, and a revamped offensive line, finished 7th in DVOA. The defense was a different story, however, as the Fins finished 21st in yards allowed, 20th in points allowed, and 18th in DVOA. The unit struggled in both aspects of defense, placing 20th against the pass and 18th against the run per DVOA.
Front Office Changes:
Rumors abounded that head coach Joe Philbin's job was in jeopardy, as he'd posted just a 23-25 record during his three seasons at the helm. Many speculated that Ross, rebuffed by Jim Harbaugh three years before, would once again try to lure the 49ers coach to South Beach. However, Ross announced after Miami's penultimate game that Philbin would indeed be retained for a fourth season.
Hickey, by all accounts, had an excellent rookie season as GM, hitting on both his free agency additions and his draft picks. Still, the Dolphins opted to make a front office change for the second consecutive year, hiring former Jets GM Mike Tannenbaum as executive vice president of football operations, a role which guarantees him control over the club's personnel. Tannenbaum and Philbin will report directly to Ross, while Hickey, who was retained as something of a "GM-in-name-only," will report to Tannenbaum. Tannenbaum had mixed results in New York, and even if the move proves fruitful, it's odd that he was able to wrest control from Hickey after the latter's successful debut.
Key Free Agents:
Regardless of the front office hierarchy, Tannenbaum and Hickey will need to work collaboratively to make decisions on several critical key free agents. Topping that list is defensive tackle Jared Odrick, who heads into his sixth season after a very successful 2014. He started all 16 games along the interior, finishing as the 19th-best DT among 81 qualifiers per Pro Football Focus (subscription required). He posted just one sack, but in Kevin Coyle's 4-3 scheme, Odrick's role isn't to get after the quarterback. The 27-year-old will be part of a strong free agent defensive tackle class, and might price himself out of Miami's range.
The Dolphins have interest in re-signing tight end Charles Clay, and were reportedly to planning to offer the 25-year-old a contract proposal in the coming weeks. Coming off a season in which he caught 58 passes for 605 yards and three touchdowns, Clay could probably ask for $4MM/year on the open market. The franchise tag looms as an option for the Fins, but as PFR's Luke Adams noted last month, Miami's tight cap space situation means it probably can't commit to such a high salary for one year.
Miami also has decisions to make along the offensive line, where Samson Satele and Daryn Colledge are impending FAs. Satele filled in for the injured Mike Pouncey after the latter was injured during training camp, and stayed at center even when Pouncey returned. Colledge, signed late in the summer, was the starting left guard, playing 763 snaps. Both Satele and Colledge were below-average players in 2014, and the Dolphins probably woudn't want either to return as a starter, but perhaps one could be re-signed to act as depth.
Finally, three veterans present interesting free agent cases for the Dolphins. Backup quarterback Matt Moore is viewed as one of the better No. 2 options in the league, and could be aiming to find a starting role in free agency, especially given the dearth of QB options available on the market and in the draft. As such, James Walker of ESPN.com wrote last month that there's a good chance Moore finds work elsewhere, while Miami searches for a more affordable backup.
Two other veterans — running back Knowshon Moreno and safety Louis Delmas — are each coming off injuries, as Moreno tore his ACL in October and Delmas did the same in December. Both were turned in competent performances in 2014, but given that each suffered such a serious injury, I wouldn't expect to see either return.
Possible Cap Casualties:
The Dolphins are currently projected to enter the offseason with just $1.69MM in available cap space, which could make roster maneuvering difficult. As such, the club could opt to make several cuts to free up financial room. Undoubtedly, receiver Mike Wallace is the name to watch when it comes to a potential release. After signing a five-year, $60MM deal prior to the 2013 season, Wallace has failed to live up to expectations, failing to top 75 receptions or 1,000 yards in either of his two seasons in Miami (though he did catch 10 touchdowns in 2014). His cap figure tops $12MM in each of the next three seasons, and Miami could create $2.5MM of space by releasing him now, or $6.9MM by designating him as a post-June 1 cut.
Ousting Wallace as a pre-June 1 release would still leave $9.6MM of dead money on Miami's books in 2015, so the front office will have to decide if that extra $2.5MM in savings is worth the move. Given Wallace's production and the team's fiscal issues, it just might be. Barry Jackson of the Miami Herald reported today that Hickey and Wallace recently met, and suggested that the club won't make a decision on Wallace without first considering all its options, which suggests that a pay cut could be in the cards.
Two more pass-catchers — Brian Hartline and Brandon Gibson — could also be shown the door, as the Dolphins would save a combined $6.41MM by cutting both. Neither was overly effective last year, as Hartline caught only 39 passes while Gibson saw just 29 receptions. The Wallace situation will likely play a role in the duo's future in Miami. If Wallace is retained, especially at a lower salary, both could be cut, as Miami could fully turn the No. 2 role over to Landry. If Wallace is released, however, one or both of Hartline/Gibson could stick around to provide a veteran presence in the WR corps.
Linebacker Dannell Ellerbe is almost surely going to be released — he's set to count $9.85MM against the cap next year, and the Fins would save $5.65MM by cutting him. He missed almost all of last season with a hip injury, but posted a -13.5 PFF grade in 2013, his first year in South Beach. Miami could turn to either Jelani Jenkins, or fellow FAs Jason Trusnik of Kelvin Sheppard, to take Ellerbe's role.
Another defender, the veteran cornerback Finnegan, is also on the chopping block after rating as the No. 74 CB in the league among 108 qualifiers last season per PFF. At 31, he's due a $5.45MM base salary in 2015, and would leave just $1MM in dead money if cut. Finnegan is just a season removed from being ranked as the second-worst corner in the NFL per PFF, so it's fair to say he probably won't be retained.
Positions Of Need:
The problem with potentially releasing so many veterans is that the Dolphins would subsequently need to find replacements, which could be tough given the team's cap problems. Miami's secondary is an area of concern, as the the club needs to find a safety to pair with Reshad Jones, and could look to add a No. 2 corner if Finnegan is cut. The likes of Byron Maxwell and Devin McCourty will be out of the Dolphins' price range, but lower-tier alternatives like Chris Culliver, Perrish Cox, Chris Conte, or Dwight Lowery could be viable.
Guard is another position that could use a talent infusion. With Pouncey likely to take over at center, the Dolphins won't want to count on Colledge as a starter next year. Second-year lineman Billy Turner or veteran Shelley Smith might be able to take one of the guard spots, but a free agent addition at the position wouldn't be a bad idea. 49er Mike Iupati will be too expensive, but James Carpenter, a former first-round pick, could make some sense. Veteran lineman Todd Herremans could be cut by the Eagles, and he could be an option for the Dolphins given his familiarity with Lazor and his scheme.
It's conceivable that Miami could rid itself of Wallace, Hartline, and Gibson, leaving a glaring need at receiver. The Dolphins won't be able to make a play for Demaryius Thomas or Dez Bryant, and Torrey Smith isn't a schematic fit — he's essentially a Wallace-clone, and Tannehill struggles throwing the deep ball. Jeremy Maclin (who, like Herremans, is familiar with Lazor) would be a match, but he also might cost too much. Miami might have to settle for someone like Kenny Britt or Hakeem Nicks, veterans who have shown flashes of talent but have struggled in recent years.
The club could look to add reserve talent at both quarterback and running back, where Moore and Moreno will likely not be retained. Bringing in a young-ish option like Christian Ponder or Blaine Gabbert could make some sense, or the team could add a veteran such as Tarvaris Jackson to solidify the No. 2 QB role. At running back, Miller proved he could thrive as the starter, but it's rare that a single player is entrusted with the RB role. Signing a veteran like Bilal Powell or Antone Smith, or giving a chance to a rehabbing Stevan Ridley, could be intriguing for Miami.
More than likely, Miami will have to use the draft to fill its holes, as free agency might prove to costly. Hickey hit on several of his picks last season, and while regression to the mean suggests he probably won't be as successful in 2015, his performance warrants the opportunity to head another draft. Teaming with Tannenbaum, Hickey will need to find several more successful rookies who can contribute for the next several years at low costs.
Extension Candidates/Contract Decisions:
The Dolphins will have to decide whether to exercise their fifth-year option on Tannehill, and given his success last season, it's probably a foregone conclusion that they will. The next step would be entering negotiations on a long-term extension. Tannehill improved greatly in 2014, and another exemplary year in 2015 would only increase his asking price, so it could be smart for Miami to lock him up now. A deal in the Andy Dalton/Colin Kaepernick mold, with a large total commitment but modest guarantees, would make sense for both sides, as would an AAV in the neighborhood of $13-14MM.
Pouncey's deal is up after 2015, making him a candidate for extension, as well. His brother, center Maurkice Pouncey of the Steelers, recently signed a five-year, $44MM extension to remain in Pittsburgh. Maurkice is considered the better player, so Mike shouldn't warrant as high a salary, but a new deal that pays him $6MM per year would be reasonable. Miller is also entering his walk year, but given the fungibility of running backs, it might make sense to simply let him play the year out rather than try to extend him.
Overall Outlook:
2015 is unquestionably an important year for the Dolphins. Another 8-8 (or worse) season would probably be the last straw for Philbin. His firing could mean the removal of Lazor, which would force Tannehill to master yet another offensive scheme. Cap space remains a problem in Miami, so a series of cuts probably need to be made in order to free up financial room. The team had success in the free agent market last season, and another solid round of signings, combined with a second consecutive high-quality draft, could set the Dolphins up for years to come. A Tannehill extension is the primary issue on the table, but if the club misses the playoffs yet again in 2015, any offseason wins will be quickly forgotten.
Information from Over The Cap was used in the creation of this post. Photo courtesy of USA Today Sports Images.
Follow @PFRumors