Pending free agents:
Top 10 2015 cap hits:
Notable coaching changes:
Draft:
No. 11 overall pick
No traded picks
Other:
Overview
Employing both a first-time head coach and rookie quarterback, the Vikings finished with a 7-9 record, showing respectable improvement on all fronts and looking like a club that's set up well for the future. But most of that development went unnoticed, at least on a national level, due to the off-the-field trials of veteran running back Adrian Peterson, who was active for only one game following a child abuse incident. AP's future in Minnesota will be a key offeseason storyline that we'll delve into below, but the Vikings' quietly successful 2014 deserves a quick rehashing.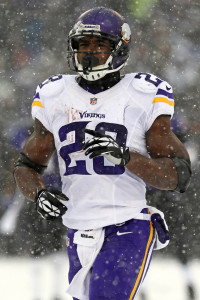 No. 32 overall pick Teddy Bridgewater was unquestionably a bright spot last season — after a disappointing pre-draft process caused him to fall in the draft, the former Louisville Cardinal started 12 games (winning six), completing 64.4% of his passes for 2,919 yards, 14 touchdowns, and 12 interceptions, performing much better than fellow first-round QBs Blake Bortles and Johnny Manziel. First-year running back Jerick McKinnon was also impressive, rushing for more than 500 yards in six starts, and catching 27 passes out of the backfield. Under new coordinator Norv Turner, Minnesota's offense finished 22nd in DVOA, but placed 16th in weighted DVOA, meaning the unit got better as the season progressed.
The Vikings' defense was a little less impressive (finishing 23rd in wDVOA), but under Zimmer and new coordinator George Edwards, the pieces are in place. Cornerback Xavier Rhodes, defensive tackle Sharrif Floyd, and safety Harrison Smith all blossomed in '14, while defensive end Everson Griffen showed continued success. Perhaps most impressive, rookie edge defender Anthony Barr had an excellent showing in Minnesota's 4-3 defense, despite pre-draft concerns about scheme fit.
Adrian Peterson
The most pressing question facing the Vikings is the future of Peterson, the team's most high-profile player and one of the more talented running backs in the league. While facing child abuse allegations, Peterson was originally deactivated and then placed on the commissioner's list, ultimately missing 15 games. He's currently suspended through at least April 15, though he is fighting that ban.
The Vikings, Zimmer, and GM Rick Spielman have been clear that they want Peterson back, so it appears that management is willing to deal with any sort of public relations backlash that comes with allowing Peterson to return. So the more important issue, then, becomes Peterson's contract, which is no longer tenable. The 2012 NFL MVP will be 30 years old when the season begins, and his deal calls for him to count $15.4MM against Minnesota's cap. His $14.38MM average annual value is more than $5MM greater than the second-highest paid running back (LeSean McCoy).
Releasing Peterson would leave the Vikings with just $2.4MM in dead money, clearing $13MM in the process. The Vikings could conceivably ask Peterson to take a pay cut, but Peterson holds all the leverage. He's said he's "uneasy" about returning to Minnesota, so if he prefers to find a fresh start with a different team, he could simply decline to accept a pay reduction, forcing the Vikings' hand. At that point, Spielman & Co. would be either be forced to a) keep Peterson at his current salary b) release him, making him a free agent (which might be what he wants) or c) trade him.
The final option is perhaps the most interesting, as it's unclear what kind of compensation the Vikings could expect to receive for Peterson. He's unquestionably talented, but he is aging and he just spent an entire year off the football field. Any acquiring team would probably want to restructure Peterson's contract, as well. The Cowboys have been linked to Peterson in the event that they don't re-sign DeMarco Murray, but more teams could enter the fray.
Key Free Agents
The Vikings don't have many impact players heading for unrestricted free agency — instead, most of the club's pending FAs are role players who saw limited snaps in 2014. One such player is linebacker Jasper Brinkley, a 29-year-old who saw 471 snaps in 2014. He graded out well per Pro Football Focus' advanced metrics (subscription required), especially against the run, where he posted a +7.9 mark. Brinkley is something of a one-dimensional player, however, with rush defense being the one area in which he excels. As Matt Vensel of the Minneapolis Star-Tribune wrote on Thursday, Zimmer has indicated the team would like to find a three-down middle linebacker. It's just my speculation, but Audie Cole could fill that role in 2015 if Vikings don't upgrade through the draft. Either way, Brinkley probably won't be retained.
A pair of offensive lineman — Joe Berger and Vlad Ducasse — are also eligible for free agency next month. Both saw playing time at guard during various points in the season while filling in for Charlie Johnson and Brandon Fusco, with Berger seeing more snaps than Ducasse (626 to 417). Berger was the better player per PFF, posting a +3.3 grade to Ducasse's -14.1 mark. Fusco will presumably be back at right guard in 2015, but Berger could conceivably be re-signed to compete for playing time at left guard with Charlie Johnson, who struggled last season. Ducasse, on the other hand, shouldn't be brought back, and the former second-round pick's time in the NFL might be coming to an end.
In Tom Johnson and Corey Wootton, the Vikings also have a defensive line duo up for free agency. In his first season in Minnesota, the 30-year-old Johnson had a nice season, registering a +5.2 PFF grade on 444 snaps while playing behind Floyd and Linval Joseph. He's still young enough that he could find a starting position somewhere else, but given that Zimmer likes a rotation along the defensive line, the Vikes could look to re-sign Johnson to maintain their depth at the position. Wootton, 27, struggled last year and it probably makes sense for the Vikings to move on.
Fullback Jerome Felton is also a free agent after opting out of his contract earlier this year. He's an excellent player, but one of the primary reasons he opted out of his deal was a reduction of playing time in Turner's offense, so he'll presumably look for greener pastures.
Potential Cap Casualties
Peterson isn't the only player who might not return to Minnesota if a contract restructure can't be agreed upon. Longtime Vikings linebacker Chad Greenway, the club's first-round selection in 2006, is now 32 years old. He missed four games with injuries, and when he did play, he wasn't effective, grading as the league's third-worst 4-3 outside linebacker per PFF. Set to count $8.8MM against the cap in 2015, Greenway will probably have to accept a pay cut to remain on the roster, something he's indicated he's willing to do (he took at $1MM pay reduction before last season).
Elsewhere on the defense, end Brian Robison is also a candidate for release. Playing opposite Griffen, the 31-year-old Robison accrued 4.5 sacks while starting all 16 games, but rated as the just the No. 52 4-3 DE among 59 qualifiers per PFF. He's scheduled to count $5.65MM against the cap next year, and given that the Vikings could save $2.65MM by releasing him, perhaps the club will decide to turn the position over to a younger player.
On offense, veteran receiver Greg Jennings could be on the chopping block, or at the very least, be asked to take a pay cut. The 31-year-old has largely been a disappointment since joining the Vikings, averaging just 64 receptions for 773 yards over the past two seasons. Jennings' 2015 cap figure is the second-highest on the team, behind only Peterson, as he's due an $8.9MM base salary and will count $11MM against the cap. Minnesota could create $5MM of cap space by cutting him.
Matt Cassel, who entered 2014 as the starting quarterback before succumbing to injuries, will count $4.75MM next season if he's not released. It's not an absurd number for a backup quarterback, but I'd guess the Vikings can find a better way to spend that money. Johnson could also be released, especially if the Vikes re-sign Berger and decide he can start at left guard.
Positions Of Need
For a team that finished 7-9, the Viking don't have a lot of need areas. One position group that could be improved is offensive line, but because the main culprit, left tackle Matt Kalil, is a former top-three draft pick and will remain a starter for at least one more season, there isn't much the Vikings can do. Left guard could use an infusion of talent, as Johnson is a below-average player. Minnesota could take a look at Clint Boling, whom Zimmer knows from their time in Cincinnati, or Orlando Franklin, who would cost quite a bit more. If the Lions let Rob Sims, a solid player, get away, the Vikes could make a play for him, as well.
Linebacker could be another area that could be attacked in free agency. I don't think Greenway will be back, and even if he is, his role could be greatly reduced, so Minnesota could look to upgrade at outside linebacker. Fortunately, 4-3 OLBs aren't too costly, so the Vikings shouldn't have to expend too much of their $18.07MM worth of cap space. Malcolm Smith could be looking for a bigger role after acting as the fourth linebacker for the Seahawks, and if he doesn't follow Dan Quinn to Atlanta, he could be a fit for Minnesota. Sean Weatherspoon is injury-prone and missed the entire 2014 season, but he could be a nice rebound candidate.
If the Vikings see Captain Munnerlyn as primarily a slot corner, the club could look to add another CB to pair with Rhodes, as Ben Goessling of ESPN.com suggested last month. Terence Newman thrived under Zimmer in Cincinnati, but the former is now 37 years old and can't be counted on as a reliable starter. If the Vikings are willing to pay the price, someone like Brandon Flowers could be a nice addition — he'd give Minnesota one of the best corner groups in the league. But more likely, the Vikes will set their sights lower and target the Buster Skrines of the world.
Finally, the Vikings could opt to add talent at wide receiver, where Jennings is a release candidate and Cordarrelle Patterson continues to be disappointing. Charles Johnson looks the club's No. 1 pass-catcher, so it wouldn't be out of the question for Minnesota to bring in another WR. I could see them trying to buy low on someone like Michael Crabtree, or perhaps bring in someone like Leonard Hankerson, who might be able to thrive in a larger role.
Extension Candidates/Contract Decisions
Besides Peterson, Kalil might be the biggest question mark on the Vikings' roster. The third overall pick in 2012, Kalil was great during his rookie season, grading as PFF's No. 21 tackle among 81 qualifiers. But he fell to No. 51 in '13, and dropped all the way to No. 81 last season. Minnesota must decide on Kalil's fifth-year option in the coming months, and I don't see how they can exercise it given Kalil's current level of play.
On the other hand, Harrison Smith, the team's other 2012 first-round pick, will definitely see his fifth-year option picked up, as he's among the league's best at his position. He's also in line for a contract extension. Smith just turned 26, and he could be looking at a deal similar to that of Eric Weddle, with near $20MM guaranteed.
Overall Outlook
The Vikings are a team on the upswing, and even if Peterson doesn't return, continued progression by Bridgewater and the defense could push the club above .500. If Peterson does come back to the Twin Cities, and performs at something close to his prior level, the playoffs aren't out of the question. Of course, the Vikes play in a tough division, as both the Packers and the Lions both earned postseason berths in 2014. But with what looks like a franchise QB in place, the Vikings are surely a team to watch.
Information from Over The Cap was used in the creation of this post. Photo courtesy of USA Today Sports Images.
Follow @PFRumors