Pending free agents:
Top 10 2015 cap hits:
Notable coaching changes:
Draft:
Other:
Overview
The Eagles are coming off a painful end to the season in which they finished 1-3 in their final four games, ending up with a 10-6 record and narrowly missing the playoffs after having control of the NFC East for most of the year. Those four losses all came with Mark Sanchez at the helm, after the team lost Nick Foles to a broken clavicle in early November, an injury that prematurely ended the starting quarterback's season. While Sanchez had his moments and performed better than many backups would have fared, he was unable to keep the lead he was handed in the divisional race.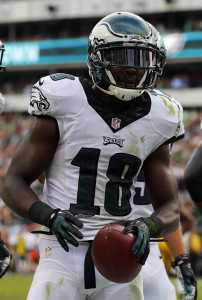 Chip Kelly's vaunted offensive attack was unable to hit the same marks it did in his first season as the head coach, when Foles became a dark horse MVP candidate behind his 27 touchdown to only two interceptions. The Eagles were able to move the ball behind a dangerous ground attack with LeSean McCoy and a superb offensive line.
This past season, however, the offensive line dealt with injuries and suspensions, and was never able to line up its best five guys and really get a flow running the football. McCoy still ran his way into the Pro Bowl, but Eagles fans saw it as a slow burn instead of the highlight reel on loop that it had been in 2013.
One of last year's best trades brought in Darren Sproles, who did provide some spark to both the offense and the special teams units. The Eagles' struggles on offense were mitigated by touchdowns by the defense and special teams, but all those wins without a playoff appearance could keep the team from drafting the one player it might need the most in order to take the next step into a Super Bowl contender.
Transfer of Power
Since the regular season ended, the biggest story surrounding the Eagles has been the club's front office shakeup. Kelly has been given a more authoritative role over the roster, while former general manager Howie Roseman has reportedly maintained control over contract negotiations and cap management. So far, this new setup has created more confusion than anything.
The new power structure will ensure that Kelly will be able to have more of an imprint on the on-the-field product. Without anyone to answer to, he will be able to pursue players to fit his system through the draft and free agency, with less push-back or resistance from his front office.
Kelly has already made a habit of adding former Oregon Ducks to his Eagles' roster, but with full control it would be difficult to imagine someone with vision for the team such as Kelly's not immediately pushing this roster forward, especially on offense, in order to run the offense exactly the way he wants.
Quarterback Situation
The first thing the Eagles need to address is their quarterback position. Nick Foles was sensational in 2013, but the combination of him and Sanchez this past year was adequate at best. Kelly is not running a defense-first team that can survive inconsistent quarterback play, so that will have to improve going forward.
Sanchez faded down the stretch, likely putting him out of the running for the job. The seemingly obvious solution would be to move forward with Foles, and chalk up a failed 2014 campaign to his injury. That would be a dangerous presumption. Foles turned the ball over 13 times in eight games, and struggled moving the football down the field. He also graded out extremely poorly according to Pro Football Focus, coming up behind the likes of Charlie Whitehurst, Zach Mettenberger, Mike Glennon, and Kirk Cousins (subscription required).
Of course, the top free agent passer is generally considered to be either Sanchez or Brian Hoyer. Sanchez performed worse than Foles, and doesn't have a recent Pro Bowl season to his name, and Hoyer graded out considerably worse than Foles — the Browns signal-caller was among the worst in the league, according to Pro Football Focus.
The wild card here is the NFL Draft, where Jameis Winston is ascending as the likely number one overall pick. The quarterback he passed to get there is former Oregon Duck Marcus Mariota, who is watching his stock slip a little as the weeks go by.
The Jets are currently slated to take Mariota with the sixth pick, according to ESPN Draft Expert Todd McShay (Insider-only article). The Eagles select at No. 20, but Kelly may be hoping to have a shot to draft his former star. Moving up from 20th to first or second is probably out of the question, and even moving up to sixth is unlikely. However, if Kelly is sold on Mariota, there must be a place where he feels comfortable moving up to get the Heisman winner should he continue to fall.
Last year, Teddy Bridgewater went from possible top-three pick to the end of the first round where the Vikings traded up to select him. I don't imagine that happening again, even if Mariota continues to fall out of favor with NFL evaluators. Even falling to No. 20 is very unlikely, as the fit with the Eagles is too obvious and any other team interested would be smart enough to try to work a deal to move up ahead of the Eagles to select him.
Kelly might not think Mariota is the perfect fit for the NFL version of his up-tempo attack, but Foles, Sanchez, and Hoyer are probably more likely to disappoint than they are to put up the points that Kelly is looking for from his offense.
Positions Of Need
Other than quarterback, which is always the number one position of need for teams that don't feel they have the right guy, the Eagles' biggest need is at cornerback, where the team is in desperate need of an upgrade. During their 1-3 finish, the Eagles repeatedly got burned in one-on-one coverage on the outside – giving up notably large performances to Dez Bryant, Doug Baldwin, DeSean Jackson, and Odell Beckham Jr. – and the club's corners struggled in many other games this season.
If the team is insistent on running an aggressive defense, it will require better players on the outside. Darrelle Revis seems like a lock to return to the Patriots, and Byron Maxwell might not represent the type of athlete the Eagles need for their style of defense. Brandon Flowers also struggled in the Chiefs' man-to-man heavy defense before being cut and restoring his value in San Diego.
Among corners that are better fits, Kareem Jackson could potentially handle the scheme, although he has been inconsistent in Houston. Antonio Cromartie is also a modicum of inconsistency, but he has a lot of experience being on an island and has had more good days than bad recently.
One interesting option is Packers free agent Tramon Williams, who was last seen getting burned for a game-winning, one-on-one touchdown to Jermaine Kearse. Williams will likely not be re-signed by the Packers as a 32-year-old corner. He still has some cover skills, and on a short-term deal, could be effective. Chris Culliver and Davon House could be additional options for Philadelphia, though neither would be considered a surefire fix at the position.
The team could also use an upgrade at safety, although veteran options are far and few between there as well. If Antrel Rolle or Troy Polamalu hits free agency, both could be stop-gap solutions for the Eagles in 2015. The team will also have an opportunity to look at defensive backs with their first-round pick, with a number of corners and/or safeties likely to be available. Landon Collins of Alabama could be one star player that may fall to the Eagles at that No. 20 spot.
Key Free Agents
The Eagles' most important free agent is Jeremy Maclin, who bet on himself with a one-year contract last season. That bet paid off to the tune of 85 catches, 1,300 yards and 10 touchdowns. Maclin is now in line for a very big long-term contract with plenty of guaranteed money. Our own Luke Adams noted that it wouldn't make sense for Maclin to sign his extension just yet — with franchise tags ready to be passed out, Demaryius Thomas and Dez Bryant could be off the market by the time free agency opens. That would make Maclin's best competition Randall Cobb, and could leave him as the most sought-after free agent at his position.
The only other major free agent worth keeping is edge rusher Brandon Graham. Graham never quite fit into the Eagles' plans under Kelly's regime. Graham would be a cleaner fit for a 4-3 defense where he could line up with one hand in the dirt. Despite high production, he has appeared in less than 1,300 snaps over the past three seasons. In 435 snaps in 2012, he ranked as the second-best defensive end in the league according to Pro Football Focus (subscription required). He graded positively again in 331 snaps in 2013 while transitioning to a 3-4 outside linebacker, and his 524 snaps in 2014 he rated out as the third-best player at his position. Graham will likely look for a big pay raise with more opportunity, and the Eagles might think it is better to let him go and groom underwhelming 2014 first-round pick Marcus Smith for a larger role on the defense.
The team will likely allow Nate Allen, Bradley Fletcher, Sanchez, and Brad Smith leave in free agency, or bring them back on short-term deals with little guaranteed money.
Possible Cap Casualties
Cary Williams' middling performance and the struggles in the secondary as a whole would be enough to consider moving on from the Super-Bowl-winning cornerback, and a cap hit of more than $8.16MM for 2015 will only make that decision easier. Cutting Williams would save $6.5MM on the cap, according to OverTheCap.com.
A tougher decision for the Eagles will be Trent Cole, who has been a stalwart of the team's defense for years, and remains productive. A pass-rushing expert, Cole has been a premier – if underrated – contributor for his entire career as an Eagle. His 85.5 career sacks puts him just outside the top 10 for active players, and place him second in franchise history. However, releasing Cole this offseason would result in cap savings of $8.425MM in 2015, followed by savings of $11MM and $14MM the next two years. If the team still wants to keep him, a restructure might be a possibility for Cole, who has expressed interest in playing his entire career with the team.
DeMeco Ryans tore his Achilles tendon and missed most of the 2014 campaign, leaving Kelly to call him the "Mufasa" of the team's defense. Whether or not that reference was used properly, there is no doubt that Ryans was a leader on the team and that his absence would be felt. The team will likely want him back in 2015, but a $6.9MM cap hit may be too high for an inside linebacker coming off a serious injury.
Finally, LeSean McCoy is the rare running back who holds the highest cap number on his team's books. Not many would argue that he's not deserving of being one of the highest-paid players at his position, but even still, a cap hit approaching $12MM leaves restructuring a possibility.
Extension Candidates/Contract Decisions
The Eagles will likely point to Fletcher Cox as a top priority this offseason. He graded out as a top five 3-4 defensive end in 2014 according to Pro Football Focus, alongside such names as J.J. Watt, Muhammad Wilkerson, Calais Campbell, and Sheldon Richardson. The team will almost certainly exercise its fifth-year option on Cox, but a long-term extension would be ideal.
Foles believes he should return as the starter in 2015, and if the Eagles agree, then an extension seems like a possibility. However, it's not clear if the team is sold on the idea of Foles as its quarterback of the future. If he becomes available via trade, there will likely be potential suitors who believe in his abilities. The Eagles may covet a passer like Mariota, or another player more dynamic than Foles.
Overall Outlook
The Eagles are coming off a 10-win season that saw them narrowly miss the playoffs, and 2015 will likely represent a crossroads for Kelly's regime. The club was able to stay afloat with the duo of Foles and Sanchez, but that shouldn't mask the fact that the quarterback situation needs to be addressed. Of course, with the 20th pick in the draft and a lack of options in free agency, it will be extremely difficult to upgrade that spot. The dream would be Mariota falling, but that might just be a storyline that brings the city of Philadelphia false hope. A secondary option such as Brett Hundley far from guarantees an upgrade over Foles, now or in the future.
A more realistic spot to make significant upgrades is in the secondary, which held the entire defense back in 2014. Unfortunately for Eagles' fans, the market for corners and safeties isn't great this year after or Revis and Devin McCourty, who may not even become available. Players like Cromartie and Tramon Williams, or Byron Maxwell, Chris Culliver, and Davon House could be improvements, but adding one or two of those guys probably wouldn't make the Eagles' defense one of the top units in the league.
Coach Kelly will try his best to keep his team at double-digit wins and in the playoff hunt for a third straight year, but if he cannot return Foles to his 2013 form or find a better option, Kelly will have a hard time sustaining his early success over the long term.
Information from Over The Cap was used in the creation of this post. Photo courtesy of USA Today Sports Images.
Follow @PFRumors