Pending free agents:
Top 10 2015 cap hits:
Notable coaching changes:
Draft:
No. 22 overall pick
No traded picks
Other:
Overview
By virtue of a Week 17 victory against division rival Cincinnati, the Steelers snagged the AFC North title in 2014, which is impressive enough in its own right, but especially so when considering that the division sent three teams to the playoffs last year. Much of Pittsburgh's success was built on its tremendous offensive performance, as quarterback Ben Roethlisberger enjoyed a career year behind an offensive line that managed to keep him mostly upright, and Le'Veon Bell established himself as a premier all-purpose threat. Antonio Brown, meanwhile, proved that he is one of the league's most prolific receivers, catching an incredible 129 passes for nearly 1,700 yards. He even added a passing touchdown and a punt return touchdown to the 13 TDs that he hauled in through the air. Combined with the strong showings of second-year wideout Markus Wheaton and rookie Martavis Bryant, the Steelers offense looks like it will be a powerhouse for the foreseeable future.
The defense, though, was a different story, and its underwhelming performance played a major role in the team's disappointing defeat at the hands of wildcard entrant Baltimore in the first round of the playoffs. According to Pro Football Outsiders' Defense-adjusted Value Over Average metric, Pittsburgh's defense was the third-worst in the league in 2014, while their offense was the second-best. The secondary's performance was especially troubling, and that unit will be a primary focal point of the team's offseason.
Former NFL agent Joel Corry recently tabbed the Steelers as having one of the worst salary cap situations in the league, and even the inevitable extension of Roethlisberger's contract and the departure of a few aging veterans would not bring a ton of relief. After years of so-called salary cap hell, the Steelers will once again have to make every penny count over the next few months.
Key Free Agents
There are several notable names on the Steelers' list of pending free agents, but only one is likely to generate a great deal of discussion: Jason Worilds. Pittsburgh used the transition tag on Worilds last season, and it has not ruled out using it again in 2015. The cost for the transition tag this year, though, will likely be around $11MM, and just last week GM Kevin Colbert implied that Worilds' time in Pittsburgh may be up.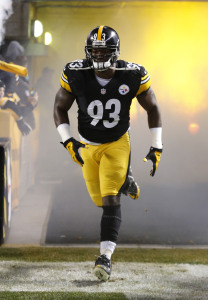 Worilds ranked as the 11th-best 3-4 outside linebacker out of 46 qualified players according to Pro Football Focus' advanced metrics (subscription required), and his departure would leave a bit of a gap in the team's pass rush, which has been among the league's worst in each of the last two seasons. But although Worilds is a good player, he is not a great player at this point in his career, and the Steelers may be better off spending their money elsewhere. Although sack totals are by no means the best way to measure a player–particularly a player like Worilds, who has shown that he can also play well against the run–Worilds' eight sacks suggest that his production would not be irreplaceable.
Outside of Worilds, the remainder of Pittsburgh's free agent crop is rather underwhelming. Although Ike Taylor and James Harrison conjure fond memories for Steelers fans, their play has inevitably deteriorated in recent seasons as they reach the end of their careers. There has been talk that both players could retire or follow former defensive coordinator Dick LeBeau to Tennessee, but it is unlikely that their departure would have anything other than sentimental import for the Steelers.
Coaching Changes
Speaking of LeBeau, who served as the team's defensive coordinator from 1995-1996 and from 2004-2014 before stepping down from his position in January, his absence from the Steelers' sidelines will be a strange one. LeBeau enjoyed tremendous success as the leader of Pittsburgh's defense, and although his replacement, Keith Butler, will retain LeBeau's familiar 3-4 scheme, the overall dynamic will certainly be different.
Butler will be tasked with getting the most out of a defense that has some young talent in unproven linebackers Ryan Shazier and Jarvis Jones, both of whom suffered significant injuries in 2014, and up-and-coming defensive end Cameron Heyward. But outside of those players, there is little to be excited about on the defensive side of the ball (assuming Worilds does not, in fact, return). We learned earlier this month that the team would target pass rushers and defensive backs in free agency and the draft, and given the talent disparity between Pittsburgh's offense and defense, it would appear that the front office is prepared to devote most of its efforts this offseason to restocking the talent in Butler's unit.
Contract Issues
Given the way Roethlisberger performed in 2014, there is no reason to believe he cannot continue playing at an All-Pro level for the next four or five seasons. To that end, we have heard for a few months that the team was preparing to give the face of its franchise a hefty extension, with something along the lines of a six-year, $120MM deal in play. Such an extension would likely lower Roethlisberger's cap number for this year, thereby giving the team the financial wiggle room it needs to address the defense in free agency. Contract talks are progressing, and an agreement could come within the next several weeks.
On a less pleasant note, the Steelers could choose to part ways with Troy Polamalu, who has lost much of the dynamic playmaking ability that made him one of the most-feared safeties in the league for years. Releasing Polamalu would clear about $3.7MM in cap space, and even though the internal options to replace him are less than inspiring, the team may have no other choice but to part ways with the future Hall-of-Famer.
Cortez Allen, who was rewarded with an extension in September after a solid 2013 season, was nothing short of a disaster in 2014, and the team could choose to let him go rather than risk suffering through a similar performance in 2015. Though Allen's release would create a minimal amount of cap room, it may be more logical for the Steelers to see if he can rebound in 2015 rather than cut a player at a position of need just one year removed from a strong campaign.
The team might also choose to extend guard David DeCastro, who has established himself as one of the better interior offensive linemen in the league over the course of the last several seasons, and Heyward, whose pass-rushing skills are still developing but who has shown great promise as an edge-setter on the defensive line. At this point, an extension is more likely for Heyward, who can become an unrestricted free agent at the end of the year. With DeCastro, the Steelers can buy a little more time if they exercise his fifth-year option, which would keep him under club control for 2016.
Overall Outlook
The Steelers, traditionally known for their iconic defenses, saw a true changing of the guard in 2014. Their offense, while always solid or better under Roethlisberger's leadership, absolutely exploded last season, propelling Pittsburgh to the AFC North crown. The defense, meanwhile, will be the Steelers' undoing in 2015 if they cannot utilize their minimal cap room and the draft to address their needs in the secondary and in the pass rush. A team that relies so heavily on their offense is rarely a title contender, but if Butler can find some of LeBeau's magic, and if the team can unearth a gem or two in the draft, 2015 might just yield another chance at a seventh Super Bowl title.
Information from Over The Cap was used in the creation of this post. Photo courtesy of USA Today Sports Images.
Follow @PFRumors