Several weeks ago, I took a closer look at the Lions' options this offseason with Ndamukong Suh, whose contract situation is much more complicated than a typical free agent's. Because Suh's 2014 cap number was well over $22MM, using the franchise tag on the defensive tackle this winter would cost Detroit much more than it would cost – for example – the Cowboys to tag Dez Bryant, or the Chiefs to tag Justin Houston.
While Suh's case is exceptional, the Patriots' options with cornerback Darrelle Revis this offseason may be even trickier. The franchise tag isn't an option for New England and Revis, since he remains under contract for 2015 rather than being eligible for free agency in March. But retaining the star corner won't be as easy as simply keeping him on the roster. Let's examine the options on the table for the Patriots and Revis as we try to determine what his future might hold….
Picking up his 2015 option:
When the Patriots signed Revis last March, the deal was structured in such a way that it was reported as essentially being a one-year, $12MM pact, despite technically being a two-year, $32MM agreement. Along with a $10MM signing bonus, which was prorated over two years, the contract included a modest $1.5MM base salary for 2014, a $7.5MM base salary for 2015, and a $12MM roster bonus if the former first-round pick remained on the Pats' roster for a second season.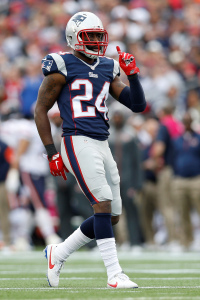 Throw in $500K annual per-game roster bonuses, and the upshot is this: Revis counted against New England's cap for $7MM in year one of the deal. In year two, he'll count for $5MM in dead money against the cap if he's cut, or for $25MM if the Pats pick up his option. Having already paid him $12MM, the team would be on the hook for another $20MM in 2015 by keeping him around on the same deal.
While it initially appeared out of the question, the idea of simply picking up Revis' option has gained some traction lately. Most recently, both Gary Tanguay and Chris Gasper of CSNNE suggested yesterday that they felt the Pats should consider exercising that option if the two sides can't work out a longer-term arrangement.
Picking up the option sounds like a nice fallback plan on the surface, buying the club some time to negotiate an extension and ensuring that Revis sticks around to handcuff top opposing receivers. But in practicality, it's extremely difficult to imagine the Pats being able to stomach such an exorbitant cap hit. For comparison's sake, there were only two cap numbers in all of football in 2014 that were over $20MM — Suh's $22.41MM figure, and Eli Manning's $20.4MM. If we narrow our focus to the Patriots, only Tom Brady had a cap hit of over $8MM, at $14.8MM.
Bringing back Revis is important, but history has proven that Bill Belichick's Patriots aren't a team that retains a player at any cost. New England currently projects to be nearly $5MM over the cap for 2015, with Revis' option on its books, and while it will be possible to cut some players and slide under the cap, keeping the cornerback around for a cap hit that's worth $11MM more than Brady's would seriously limit the club's flexibility this offseason.
Patriots president Jonathan Kraft recently acknowledged that the second year of Revis' deal is essentially a "placeholder," which makes sense. When they finalized the contract a year ago, the Pats didn't expect the 29-year-old to play the second season at that price, and even after a year in which the team won a Super Bowl and Revis ranked as one of the league's top corners (PFF link), I'd be surprised if that stance changes.
Working out a multiyear extension:
If exercising Revis' second-year option isn't a viable solution and using the franchise or transition tag isn't on the table, negotiating a multiyear extension looks to be by far the Patriots' best bet. And with free agency less than a month away, I expect the club to do everything it can to finalize something with its top defensive back.
As I noted earlier, however, New England isn't the sort of team that will lock up its players at any price. A long-term deal would have to provide value and flexibility for the Pats in addition to being worthwhile for Revis. Given the cornerback's age (he turns 30 in July) and the Pats' reluctance to splurge on any one player (even Brady is making markedly less than other top quarterbacks), I think it's unlikely that the team will make an offer similar to the ones signed by players like Richard Sherman, Joe Haden and Patrick Peterson in 2014.
Even if guys like Haden and Peterson don't necessarily have the same ability Revis does as a cover corner, their extensions will cover their prime years. There's still room for improvement for those players as they enter their mid-20s — in Revis' case, the concern would be that a drop-off may be around the corner, if not in the next year or two, than shortly thereafter. He's still in great shape, but if the Pats have any concerns about his long-term outlook, the team may be reluctant to commit to a lengthy deal in the range of $13.5-14MM per year, like the ones signed by Sherman, Haden, and Peterson.
That may be fine with Revis, whose last couple deals have both been structured to allow his teams to escape after just a year or two. He has never been shy about betting on himself in the past, though there's no guarantee that stance will change as he approaches 30 — banking on a big annual payday was a safe bet for most of his career, but if the veteran has a down year at age 31, for instance, there will be more uncertainty about his ability to bounce back and to once again rank among the NFL's elite defenders.
Taking into account all those factors, a three-year deal in the range of $45MM with a sizable portion of guaranteed money seems like it could make sense for the Patriots. But would it make sense for Revis? If he plays hardball and forces the Pats to pick up his option, he'd guarantee himself $20MM for the 2014 season alone. Even if the team doesn't exercise that option, he could hit the open market and potentially find another suitor (the Jets?) more willing to overpay him. Coming off another excellent season, Revis will have plenty of leverage — if he wants to return to New England, I think the two sides could work something out, but I'm skeptical that the Pats are willing to match the biggest offer he'd get on the open market.
Cutting him and letting him reach the open market:
If Revis does make it to free agency, that doesn't guarantee he'll play for a team besides the Pats in 2015. But it would certainly be a worst-case scenario for the prospect of Revis returning to New England, opening the door for the Jets – a team with a ton of cap space and a ton of interest in Revis – or another suitor to put a huge offer on the table.
A report yesterday indicated that the Jets will prioritize Revis over any other cornerback, including Antonio Cromartie, if he makes it to free agency, and it's fair to wonder if the team itself is leaking word of its interest. After all, hinting that a big offer will be waiting for him in free agency seems like the best way to try to discourage Revis from agreeing to a new deal with the Pats.
While there's been no indication yet what sort of contract the Jets – or any other team – might offer Revis, new GM Mike Maccagnan figures to be armed with nearly $50MM in cap room, so New York would certainly have the flexibility to make Revis an offer that matches or exceeds those long-term Sherman, Haden, and Peterson deals, making him the highest-paid corner in the game.
If the Pats hope to lock up Revis before free agency, it will probably take an offer that's competitive with the one(s) waiting for the cornerback on the open market. As much as Revis may want to return to New England and help defend the club's Super Bowl title, his track record suggests he's unlikely to take a sizable discount to re-sign. Whether or not he and the Pats can find common ground on a deal that appeases both sides will be one of the top stories to watch as the free agent period approaches. The team has until March 10 to make its decision.
Photo courtesy of USA Today Sports Images.
Follow @PFRumors