10:25pm: The 49ers have confirmed Borland's retirement.
9:11pm: 49ers linebacker Chris Borland will retire after just one NFL season due to concerns about repeated head injuries, according to Mark Fainaru-Wada and Steve Fainaru of ESPN's Outside the Lines. Borland notified the 49ers about his decision on Frid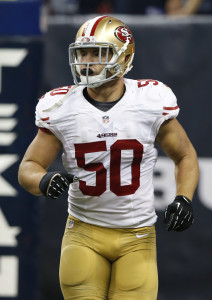 ay.
"I just honestly want to do what's best for my health," Borland told Outside the Lines. "From what I've researched and what I've experienced, I don't think it's worth the risk.
"I feel largely the same, as sharp as I've ever been, for me it's wanting to be proactive," he continued. "I'm concerned that if you wait till you have symptoms, it's too late. … There are a lot of unknowns. I can't claim that X will happen. I just want to live a long healthy life, and I don't want to have any neurological diseases or die younger than I would otherwise."
As the ESPN scribes note, Borland will become the highest-profile NFL player to leave the game because of concussion concerns. Player safety, and specifically head injuries, has been on the NFL's plate for awhile, but the issue has mostly been related to former players. The league has instituted new sideline concussion protocols, but the retirement of Borland — a player entering his prime, and having only played a single season — will surely shed new light on the issue.
Prior to San Francisco's fourth preseason game, Borland wrote a letter to his parents indicating that he believed his career might be cut short because of head injuries. His concerns "gathered steam" throughout the season, and once the year concluded, Borland met with researchers and former players before he made his final decision. He'll continue to undergo tests to "maintain his well-being" and contribute to further concussion research.
A third-round pick in last year's draft, Borland was a revelation at linebacker after taking over following injuries to Patrick Willis and NaVorro Bowman. In only eight starts, the Wisconsin product racked up more than 80 tackles, showing himself to be an excellent run-stopper. In his limited snaps, Borland ranked as the fourth-best inside linebacker in the league, per Pro Football Focus (subscription required).
The 24-year-old Borland will become the second San Francisco linebacker to retire in the past week, as the veteran Willis also hung up his cleats. Moreover, defensive lineman Justin Smith is also contemplating retirement, corners Perrish Cox and Chris Culliver were lost to free agency, and embattled end Ray McDonald isn't expected to return. As such, the unit, and new coordinator Eric Mangini, will certainly face an uphill battle in 2015 as the team as a whole looks to move past its subpar 2014 season.
Borland is the third young NFL player to retire in the past seven days, as linebacker Jason Worilds and quarterback Jake Locker also called it quits last week. Each of those players cited a lack of passion for the game when retiring, however, so Borland's explanation will surely stir more headlines and discussion.
Follow @PFRumors