As we head into April, there are just four remaining unsigned free agents that were listed among Pro Football Rumors' Top 50 FAs. Our 29th overall free agent, receiver Michael Crabtree, had a down year in 2014, and PFR's Rory Parks look at w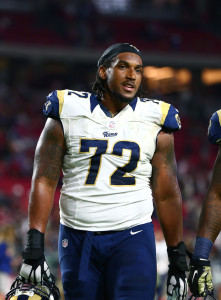 hy he remains on the open market. Linebacker Rolando McClain, our No. 35 FA, has already retired twice during his young career, and is facing a fine after failing a third drug test, as documented by PFR's Luke Adams. And our 39th-ranked free agent, center Stefen Wisniewski, is recovering from offseason shoulder injury, which could explain his lack of a market.
But perhaps the most puzzling member of the unsigned free agents club is offensive tackle Joe Barksdale, who ranked 36th on our Top 50 list. The 27-year-old Barksdale has spent the past three seasons with the Rams, and has started 29 games over the past two years. Without a strong crop of right tackles available in free agency, Barksdale seemingly should have been in line for a multi-year pact that paid him in the neighborhood of $6MM annually, comparable to the deals signed by Andre Smith and Anthony Collins in recent years.
The few free agent right tackles who did hit the market were handsomely rewarded, making it even more confusing that Barksdale hasn't been able to find a home. The top RT available, Bryan Bulaga, re-signed with the Packers for almost $34MM, and while he'll average just $6.75MM per year, it's assumed that he took less money to stay in Green Bay. Jermey Parnell, largely unproven after starting just seven games over three seasons for the Cowboys, secured a five-year, $32.5MM deal from the Jaguars, while Doug Free will earn a $5MM AAV after re-signing with Dallas.
A glance at Pro Football Focus' (subscription required) offensive tackle grades could offer some explanation as to why Barskdale remains available — while Bulaga, Parnell, and Free all ranked within the top 21 tackles, Barksdale placed just 48th. His run-blocking grade (arguably the more important mark for a right tackle) was impressive, however, as he ranked as the league's 11th-best T in the run game. Still, based on PFF's ratings, Barksdale might not be in the same class as those top three tackles, so if he's asking for $5-6MM per year, clubs could be looking elsewhere.
Indeed, Barksdale hasn't drawn much known interest from around the league, as he's only been linked to the Rams and the Titans. Tennessee's interest seems to be lukewarm, as reports indicated that the club would "consider" Barksdale after losing Michael Roos and Michael Oher earlier this year. Based on reports, it appears that a reunion between Barskdale and St. Louis is the most likely scenario — the Rams initially thought that the tackle was overestimating his market, and now that that seems to have been the case, head Jeff Fisher confirmed the two sides were talking.
Even after a dreadful season, Oher was able to garner a $3.5MM AAV from the Panthers, and I'd be very surprised if Barksdale has to settle for less than that. Something in the $4-4.5MM range (at the level of Zach Strief and Breno Giacomini) would make sense for both Barksdale and the Rams. For its part, St. Louis can use all the help it can get along the offensive line, where Greg Robinson and Rodger Saffold are the only returning starters. With only about $2.6MM needed to sign its draft class, the Rams have approximately $6.4MM in effective cap space, so they should easily be able to fit a Barksdale-level contract on their books.
Follow @PFRumors