Pending free agents:
Top 10 2015 cap hits:
Notable coaching changes:
Draft:
No. 24 overall pick
No traded picks
Other:
Overview
For the second straight season, Bruce Arians and the Cardinals were surprise contenders, but unlike the 2013 season, when Arizona won 10 games only to finish outside the playoff picture, the Cardinals managed 11 wins, earning a pos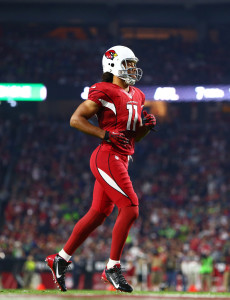 tseason berth via a wild card spot. Arians won Coach of the Year (for the second time in three years), and both he and general manager Steve Keim inked contract extensions that will keep the pair in in Phoenix through 2019.
Of course, Arizona didn't win that aforementioned playoff game, losing to the Panthers largely due to the absence of a viable quarterback. Just two days after signing a three-year extension, Carson Palmer tore his ACL, leaving backup Drew Stanton to take over in the middle of Week 10. After Stanton then went down in Week 15, journeyman Ryan Lindley was forced to take over, and Arizona never recovered.
The Cardinals thrived on the other side of the ball, where despite numerous injuries and a yearlong suspension of linebacker Daryl Washington, the defense finished seventh in DVOA under coordinator Todd Bowles, who has since taken a head coaching position with the Jets.
Key Free Agents
Most of Arizona's top free agents reside on defense, where Keim has made a habit of adding low-cost veterans to supplement a talented core. One such addition was cornerback Antonio Cromartie, who signed a one-year, $4MM pact with Arizona after being released by the Jets. The 30-year-old played more than 1,000 snaps in the desert in 2014, and he looks to be line for a multi-year deal. Keim indicated that the club would like to-resign Cromartie, but allowed that he's likely to hit free agency. A reunion with Bowles and the Jets is certainly on the table, especially if New York loses out on Darrelle Revis.
At 27, Dan Williams will hit free agency at a younger age than Cromartie, and he's coming off a better season, having finished No. 14 among 81 qualified defensive tackles per Pro Football Focus (subscription required). Williams is part of a loaded interior defensive line class, which also boasts Ndamukong Suh, Terrance Knighton, and Nick Fairley, among others. But aside from Knighton, who's spent his career in a 4-3 defense, and B.J. Raji, who seems likely to return to the Packers, Williams is the only true nose tackle available on the open market. He should find many offers once free agency begins, and it's possible he'll price himself out of Arizona's range.
Tommy Kelly is seven years older than Williams, but his 2014 production showed no hint of an advanced age. After being released by the Patriots at cutdowns, Kelly signed a one-year deal with the Cardinals that netted him less than $1MM. The veteran defensive lineman ended up playing more than 700 snaps, and performed well. But given his age, he shouldn't command too much of a market, meaning Arizona could have a chance to bring him back.
Two linebackers — Sam Acho and John Abraham — hit free agency at very different points in their respective careers. The 27-year-old Acho played nearly 500 snaps and held up well, especially against the run, and could be a nice find for a LB-needy club in free agency; the link between he and Bowles is obvious, but Acho would make sense for the Jets. Abraham, meanwhile, was placed on injured reserve in September after doctors told him to sit out a year following a concussion. He'll be 37 in May, and it appears as though retirement is the best option for him given his head injuries.
On offense, the Cardinals have just one pending free agent — guard Paul Fanaika — who played more than 400 snaps. He was underwhelming in 2014, placing No. 71 among 78 guard qualifiers per PFF. The free agent guard class recently saw some newcomers, as Todd Herremans, Justin Blalock, and Charlie Johnson were all released in recent days, so Arizona can probably find an upgrade if they'd like. It's probably time to give 2013 first-round pick Jonathan Cooper a chance to start, so Fanaika shouldn't return regardless.
Tight end Rob Housler saw limited duty as the backup to John Carlson, and wasn't overly effective when he did play. The Cardinals spent a second-rounder on Troy Niklas in 2014, so I'd expect them to bid farewell to Housler, especially given they've been linked to free agent James Casey.
Possible Cap Casualties
The Cardinals have already been among the most active teams in advance of the new league year, releasing both Darnell Dockett and Ted Ginn Jr., and agreeing to a new deal with Larry Fitzgerald that will keep the veteran receiver in Arizona for the next two years. Still, the club has only about $14.3MM in cap space, so further moves could be coming.
Center Lyle Sendlein was possibly the worst player on the Cardinals' offense, as he finished the year with a -31.3 PFF grade. Soon to be 31, Sendlein is scheduled to count $4.275MM in 2015, the final year of his deal. Releasing Sendlein would save Arizona $3.15MM, and although the free agent center market isn't strong, it wouldn't be surprising to see the team seek out an upgrade on the open market or via the draft.
Stanton could also be on the chopping block, as he's due to count more than $3.8MM next season — Arizona would save $3.2MM by cutting him. But given the uncertainty regarding Palmer and his recovery, and the team's utter lack of QB options elsewhere on the roster, Stanton will probably be safe.
Carlson, entering the final season of a two-year contract, was especially ineffective in 2014, struggling in nearly every aspect of the game — he was PFF's third-worst TE, and his run-blocking was particularly sub-par. The Cardinals could clear nearly his entire cap figure by releasing him, and given their cap situation, having another $1.6MM to work with could be appetizing.
Positions Of Need
Without question, the Cardinals are a team set up to win now. With a 36-year-old quarterback, and an aging receiver locked in for two seasons, Arizona has a short window to remain a contender, so free agency decisions will need to focus on the short-term. Keim & Co. have done a wonderful job with under-the-radar signings in the past, and with less than $15MM to work with, the club will have to hope it can do the same again.
Offensive line should be the key area of concern heading into the new league year. Arizona added left tackle Jared Veldheer on a five-year deal last offseason, and he was certainly a stabilizing presence on the blind side. However, he was the only effective player along the Cards' front five, as every other position was filled by a below-average lineman. If Sendlein isn't retained, center could a priority, but as mentioned, there aren't a ton of options at the position. Instead, the Cardinals could focus on guard — one spot could be handed to Cooper, with the other being filled by a free agent. The likes of Mike Iupati and Orlando Franklin are too expensive, but someone like Blalock could be a nice addition on a short-term deal.
At running back, Andre Ellington is a talented receiving option, but he might not be cut out to be a featured back. Luckily, RB is a position flush with free agent possibilities. If the Cardinals can't land a big name like DeMarco Murray or (if he's released/traded) Adrian Peterson, they can look at some lower-tier options, instead. Ryan Mathews would make a solid pairing with Ellington, although both share injury concerns. Mark Ingram could make sense for Arizona, or the club could take a chance on Stevan Ridley on a one-year, "prove-it" deal. In the draft, the Cardinals could look at either Todd Gurley or Melvin Gordon in the first round, or wait until later rounds to find a capable back.
If Cromartie leaves via free agency, the Cardinals could also have a hole to fill at CB. If the club wants to add another veteran to team with Patrick Peterson, someone like Chris Culliver or Brandon Flowers could be an option (although the latter might be a tad too expensive). Arizona could choose to invest in a younger player such as Davon House or Buster Skrine, but I'd guess that they'll take the same approach they did with Cromartie, and wait for a veteran to fall into their lap. That could be Flowers if his market fails to develop, but 32-year-old Tramon Williams seems like the ideal target for the win-now Cardinals.
That strategy — waiting out the market — is how I expect Arizona to approach free agency as whole. The club has a history of stretching a dollar, especially on defense, and though Bowles is no longer around to develop talent, the Cardinals simply don't have the cap space to target top-tier free agents. Adding complementary players to fill out an already strong core seems like the best avenue for Arizona.
Extension Candidates/Contract Decisions
The Cardinals already made a move to lower Fitzgerald's 2015 cap hit, and they could do the same with other players in the hopes of clearing out cap space. Palmer, for example, has a $9.5MM roster bonus due in March which could be converted into a signing bonus, lowering the QB's cap charge. Calais Campbell and Veldheer could be candidates for a similar restructuring.
Entering the final year of his rookie deal, Michael Floyd is a candidate to have his fifth-year option picked up. The 25-year-old is coming off a down year in which he caught just 47 passes for 841 yards, but he finished with over 1,000 yards in 2013. He's always shown flashes of talent, and given that Fitzgerald won't be around for the long haul, I'd expect the Cardinals to exercise the option.
Washington's contract status is unclear — some of his contract guarantees probably will void due to his suspension, but it's hard to speculate what the Cardinals might do with him given that we don't know the specifics of his deal. Speaking at the combine, Arians said he doesn't "even think about" Washington. We'll probably see some sort of resolution with Washington in the near future.
Overall Outlook
The Cardinals could be viewed as a litmus test used to separate optimists from pessimists. The glass half-full perspective: Arizona has won 21 games during the past two years, has a solid head coach and front office in place, and has a record of succeeding in player acquisition. Glass half-empty? The Cardinals are counting on an aging quarterback coming off a second torn ACL, have limited cap space, reside in a tough division, and lost perhaps their best tactician (Bowles) to another job. The 2015 offseason will go long way in determining how that pendulum swings.
Information from Over The Cap was used in the creation of this post. Photo courtesy of USA Today Sports Images.
Follow @PFRumors