With the NFL draft now just two days away, we're continuing to take a closer look at the notable prospects for each position. We finished up on the offensive side of the ball last week, and have also examined front-seven players on the defensive side.
If you missed the previous installments of the series, you can go and check out the other positional breakdowns here:
Next up is one of the most important positions in today's NFL, as cornerbacks get their in-depth treatment in this breakdown. Corner is one of the game's most exceptional positions, as it takes such elite athleticism and skill to succeed on the outside. Unfortunately, this is a position that ultimately comes down to who will fail the least.
Tall corners measure in at 6'0″ or 6'1″. The giants are 6'2″. Those players are expected to cover A.J. Green, Julio Jones, Calvin Johnson, and Mike Evans, all of whom would hover over them with leaping ability that is tough to match. It makes it unfair, but the corners who can keep up with the elite playmakers on the outside are worth the high draft picks, and eventually the big contracts.
Top 15 Lock:
Trae Waynes, Michigan State
When it comes to cornerbacks in the 2015 NFL draft, Waynes has separated himself from the rest of the pack. Looking through big boards and mock drafts across the web, there's very little consensus about which players are first-round talents and who fits where, but Waynes shows up time and time again at the top of those lists.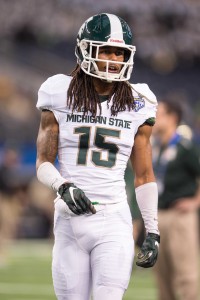 Waynes is a speedster, with great ability to run down the field with receivers on deep routes. The closing speed and the way he turns from his backpedal to a sprint sticks out on tape. The next big plus on his résumé during the college season was his size. He was listed at 6'1″ at Michigan State, and he matched up well with big receivers. Often on broadcasts he was lauded as a future top-15 – possibly top-10 – pick.
Despite those praises, the film shows he didn't have unbridled success. He ran well with receivers down the field, but it wasn't like he was a lock on deep routes all season. He was beaten down the field a few times in the Baylor game, and that's a problem, because he struggles on shorter routes as well. In press coverage he tends to race back too fast and leave himself vulnerable to hitches, curls, and outside breaking routes.
When Waynes plays with cushion, he gives up inside leverage and leaves the middle of the field wide open. He has the speed to close on crossing routes, but got burned with quick slants, as he is slow to come towards the line of scrimmage out of his backpedal.
I think his stock was down a little at the end of the college season, but he turned things around by running a 4.31 40-yard dash at the NFL combine. He only measured in at 6'0″, but he still has the size to compete at the next level. Waynes has a lot of work to do with technique and recognition, but he has above-average to good ball skills, and – most importantly – he's squeaky clean off the field. I don't know if the team that drafts him can plug him in and not worry about that side of the field, but he does have the physical skills to survive on the outside.
First-Round Talents:
Marcus Peters, Washington
Kevin Johnson, Wake Forest
Jalen Collins, LSU
P.J. Williams, Florida State
Byron Jones, Connecticut
Every player in this group has a chance to join Waynes in the first round this year, but I would be surprised if all five heard their names called on day one.
The main reason this group is labeled "First-Round Talents" is because of the inclusion of Peters and Williams. Both players have struggled with non-football issues, despite having killer seasons in 2014.
It's remarkable how similar these two players are — they're the two best tacklers of the top corners. Neither is 100% in terms of making every tackle, but they pursue the play and maintain outside integrity. Both players have some highlight hits on film, and they try to get in on every play. Washington and Florida State both blitzed them off the corner, often in running situations, and each did impressive jobs getting to the running back in the backfield.
Peters specifically does a great job sniffing out screens and reverses and killing them in the backfield. He doesn't jump up to leave his responsibilities, but he's able to hedge his bet and wait for the quarterback to make a decision before shutting it down. Neither player got beat down the field on a regular basis, even though neither of them possesses the pure speed of Waynes.
Both Peters and Williams are pretty awesome in man coverage, and play the ball well in the air. They show good technique to keep receivers close and play the ball with their off hand. Peters has the better ball skills, including the ability to make athletic interceptions, and exhibits good hands when a quarterback puts the ball up for grabs. Each measured in with good size, and Peters has the talent to be the best corner in the draft. Williams has the ceiling to be in that conversation. There are also some scouts who project Williams to safety if he struggles on the outside.
However, Peters had multiple incidents with the coaching staff, and was ultimately dismissed from the team. He's definitely scaring teams off with a reputation as uncoachable, and it really hurts his draft stock, especially when he didn't exhibit elite physical skills at the combine. As for Williams, the dismissal of his DUI case is a plus, but his arrest may make teams a little more inclined to consider another corner in the first round. Given their on-field skills, Peters is likely to stick in round one, while Williams makes more sense as a candidate to slide down into day two of the draft.
Collins doesn't have notable issue off the field, but he has plenty when he puts his pads on. Collins is legitimately big, at 6'1″ and 203 pounds, and runs really well, especially for a player his size. He made some plays in college, coming away with a game-winning interception against Texas A&M and often showing ability as a tackler that matches his size.
Unfortunately, the overall package doesn't match his draft stock. Collins struggles with footwork, and is inconsistent dropping back into coverage. He can get physical on the sidelines, but doesn't move well to the middle of the field — he also only had 10 starts in college, including just seven last year, which leads me to wonder why his coaches didn't have more faith in him. I don't want to kill him for getting torched by Amari Cooper, but he got torched by Amari Cooper. It was very obvious in that matchup which player was polished and which one needed some work.
Collins wasn't a sure tackler, and wasn't always too interested in tackling in general. He gave up on a lot of plays chasing runners down the field. His physical skills could push him into the first round, and the Eagles could make sense as a team that could work with him to eventually provide a tall, long option on the outside. Out of the players in this group though, he's the most likely to frustrate a fan base, at least early in his NFL career.
The most versatile player in the group is Jones, who has been projected equally at corner and safety across boards. He has great size and length, and has all the traits necessary to be a leader on defense in college. He excels at finding the ball, and does a good job defending the run and tackling receivers. He didn't go up against the greatest competition at UConn, but he made sure to be heard in every game. Jones has been a frequently-mentioned target for the Patriots at No. 32, given his high character and versatility, but he's a rising prospect who might not be around at that spot.
Don't worry, I didn't forget about Johnson, who has spent the process as the second- or third-best cornerback on most boards. However, Johnson is somewhat forgettable. He shows he has the ability to run with players down the field, but he also has plays where he does a shaky job keeping up. He'll put a few big hits on tape, then have a slew of film where he's happy to watch his teammates make the tackle.
Johnson doesn't jump out on a consistent basis, and there are stretches of tape where he doesn't show up. Some would argue that's a good thing for a corner — for instance, Collins showed up more frequently on the tape because quarterbacks looked to pick on him at times. But the thing about Peters and Williams, and even Jones, is that they find a way to impact the game even when quarterbacks start ignoring their side of the field.
Johnson could quietly be a solid first-round pick with a high floor — maybe the highest floor at the position. However, even though he may be the closest teams will get to a sure thing at corner in this class, he has a number of things to work on, since he's going to come into the league against bigger, faster, and smarter receivers, and quarterbacks who will look to exploit him.
Day Two Picks:
Ronald Darby, Florida State
D'Joun Smith, Florida Atlantic
Senquez Golson, Mississippi
Ifo Ekpre-Olomu, Oregon
Charles Gaines, Louisville
The biggest difference between these five corners and the six who have a legitimate shot to go in the first round is height. None of the top-tier cornerbacks have the numbers 5'9″ or 5'10" associated with their names, and all five in this group are in that range.
The highlights of this group in terms of name recognition are Darby and Ekpre-Olomu. Darby, of course, is known from his run to the National Championship as a sophomore and Florida State's inclusion in the BCS College Football Playoff this past year. Along with teammate Williams, Darby brought a lot to the table in terms of ability. With a blazing fast 40-yard dash and top-flight agility, he's really able to run with receivers and should be able to translate that to the next level.
Darby isn't a very good tackler, and he got picked on often by quarterbacks avoiding Williams. While taller receivers were able to get an advantage over him, it is concerning how easily shorter players like Phillip Dorsett and his Hurricane teammates were able to separate from Darby when the teams met in the second half of the season.
Ekpre-Olomu provides a different case. Had he declared for the draft last year he may have had a chance of becoming a first-round selection. I imagine his stock would have been picked apart during the process and he would have dropped, but not as much as he did this year, between inconsistent performances and a leg injury that cost him the latter part of the season.
The Oregon corner does pack elite athleticism and excellent ball skills into that small frame, but his size caught up to him when asked to play more physical at the line of scrimmage and when playing the run. He isn't a slouch in those areas, but his technique is not up to par with some of the other players in this class.
Smith might be the first player taken amongst this group, even though he didn't see many elite pass-catching threats on the outside during his time in college. He plays the ball well, but his measurables aren't over the top to put him into the first round discussion. Gaines did run those top-flight times, and he's an explosive athlete, but that didn't always show on the field. Gaines' small hands also provide concern in terms of his ball skills improving at the next level, despite being recruited to Louisville as a wide receiver.
Golson is a hot name rising up draft boards. Scouts love how much effort he puts into the game, and his production not only matches but exceeds that. Last year at Mississippi he intercepted nine passes and deflected 16 more. He was drafted by the Boston Red Sox but is committed to football, despite being undersized. He did struggle covering taller receivers, and doesn't have a lot of experience in press-man schemes, but he provides an interesting option for NFL teams that miss out on the top couple of guys.
Tall corners are all the rage in the days of Richard Sherman and Patrick Peterson, but height isn't everything, and plenty of players excel despite not hitting the 6'0″ benchmark. There are many late-round options who come in tall and raw, but this middle class highlighted here could be undervalued because of their height, among other things.
Photo courtesy of USA Today Sports Images.
Follow @PFRumors