With the NFL draft now right around the corner, we have one last position group to parse through before our 2015 NFL Draft Breakdown Series comes to a close. We finished up the offensive side of the ball last week, and have gotten through most of the defense so far.
If you missed the previous installments of the series, you can go and check out the other positional breakdowns here:
Finally we've arrived at our last breakdown, examining a group of safeties that are coming into the NFL at a very strange time for the position.
Earl Thomas and Kam Chancellor still give teams hope that they know what they're doing when evaluating safeties. Thomas is the prototypical center fielder, while Chancellor fills the in-the-box tackler role. However, Thomas is one of the hardest hitters in the league, and Chancellor runs well in both zone and man coverage.
Another traditional safety who general managers can wrap their heads around is Devin McCourty, a converted corner. Calvin Pryor and Ha Ha Clinton-Dix were valued as first-round picks, but Deone Bucannon and Jimmie Ward unexpectedly sneaked into the end of day one. Four safeties were taken in the first 33 picks in 2013 as well. Teams need versatile defenders in the middle of the field, to play outside linebacker and nickel corner and cover deep middle, and over the past few years they've been willing to pay a premium to acquire them.
Day One:
Landon Collins, Alabama
Damarious Randall, Arizona State
Safety is considered to be one of the weakest position groups in this draft, and the player who has been at the forefront of the class is Collins, whose stock epitomizes the league's feelings about the class as a whole.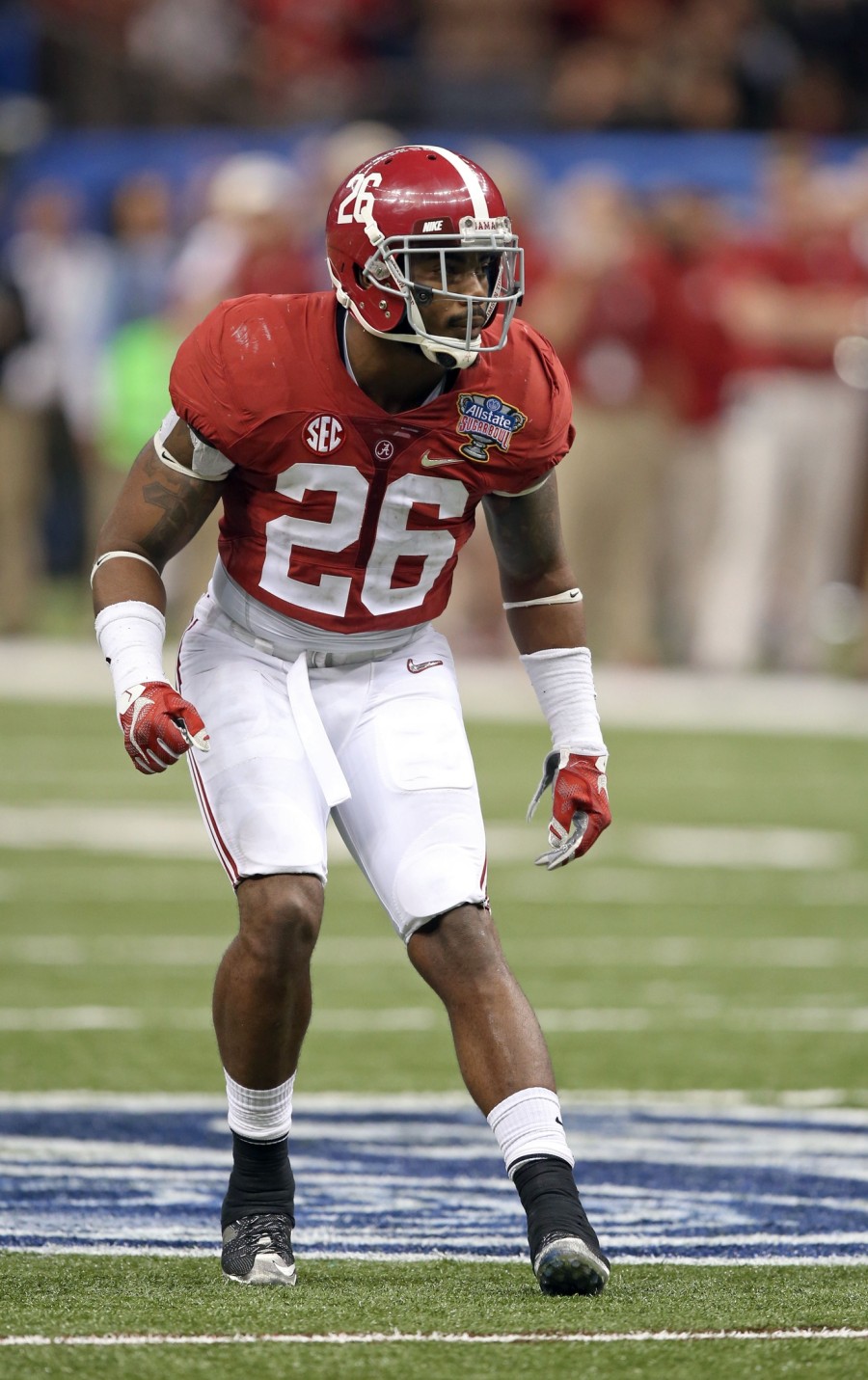 Collins is not going to come in like Ward and cover slot receivers as a nickel corner. He isn't going to go back to deep center field and track down the long throws like Clinton-Dix does. He isn't even going to be a hybrid safety like Pryor who can play in the box and down the field. Collins essentially has one strength, and one strength only: coming up and stopping the run from the strong safety position.
Teams might not mind adding that skill to the team, but it has diminished value in today's NFL. First of all, defensive backs who tackle well don't always translate that skill to the pro game. Pryor struggled with it early last year, and even a cornerback like Dee Milliner went from being the nation's best tackler at his position to one of the NFL's worst his rookie year.
The hope is that Collins can be a bigger, stronger version of Bucannon, which is fine. Of course, that considerably narrows down his list of potential suitors. The Eagles and Patriots have need at the position, but will likely look for a more versatile player. And while the Cowboys, Ravens, and Panthers could add a safety, those three teams figure to value a player with coverage skills over a run stopper. The Steelers and Colts are both looking to replace safeties. The Colts could be wary of taking another player in the mold of LaRon Landry, and Troy Polamalu is above simply being replaced, but no matter where Collins goes, I imagine his struggles in coverage will be a subject of conversation in the draft room.
For anyone who believes those problems are overstated, the last two defensive drives of the Ole Miss game should be submitted into evidence. With Alabama up a touchdown, Collins is lost in no-man's land during a 34-yard post down the center of the field that went for a touchdown to tie the game. Two minutes of game time later, he gets beat badly in man coverage on a wheel out of the backfield on third-and-goal from the 10-yard line. He stays flat-footed and allows the running back to run right past him for the game-winning score, turning around just in time to see the ball float gently into the hands of his man.
There will be a point in the draft where Collins' value is too great to pass on him. Still, like some of the pass rushers in this class, his dependence on scheme fit could cause him to drop significantly if one or two of his logical suitors decide to pass on him.
Collins' versatility issues have opened up the door for a riser at the safety position, with Randall now generating some buzz as a first-round pick and possibly the first safety off the board. In Randall, we have without a doubt a superior safety in coverage, even if he isn't the premier center fielder teams would target a little earlier in the first round.
Randall doesn't have ideal height, but he's one of the best athletes at the position. Pundits have suggested he might have the ability to transition to cornerback if he's coached well, though he'd be a much less polished prospect if he made that move. Despite his small frame, he does try to play with some physicality, even though he rarely goes for the big hit and can often be found grabbing at ankles.
There isn't a lot of tape of Randall tightly contesting throws or taking on bigger runners, and both of those aspects could be a concern. I'm not so sure the transition from corner to safety will be that easy, but he does have the talent to come off the board in the first round. Unless a team falls in love with Collins' size and needs a safety to play in the box, I'd guess Randall would make more teams happy and has a better shot to come off the board first.
Considering how weak the safety class is at the top, I don't believe there's a huge drop-off when we move to the next tier, and a few later-round players may even provide more upside in the right situation.
Day Two:
Eric Rowe, Utah
Derron Smith, Fresno State
Quinten Rollins, Miami (Ohio)
Kurtis Drummond, Michigan State
In terms of coverage skills, this group could have some real potential. Not necessarily highly regarded, Drummond played well for a very good Michigan State defense. He was able to come up strong against the run, and also did a good job of stepping up on short throws. Drummond isn't overly physical, and wouldn't be the sort of in-the-box safety Collins would be, but he helps protect the outside part of the field, quickly flying there when the ball makes its way towards the sidelines.
Drummond is a little late attaching himself to receivers running down the field, and doesn't display exceptional timed speed. If his instincts in coverage were better, he could get away with a slow time, but he probably has a ceiling in terms of his effectiveness going stride for stride with speedy receivers on vertical routes.
Smith has his own flaw, as he's another player who's a little small for someone with average athleticism. He doesn't have the speed to run with faster receivers or the height to battle taller tight ends, but he displayed plenty of ball skills at Fresno State, intercepting 15 passes across 56 games. Smith plays well in the underneath zone, and if he can hold his own against the run near the line of scrimmage, he might be given the chance to make some plays on intermediate routes and turn defense into offense.
The day-two upside really shines through with the other two players in this grouping — Rowe and Rollins both primarily played corner in 2014, and could be given the chance to make the transition to safety in the NFL.
Rowe was a combine top performer in the 40-yard dash, bench press, vertical jump, broad jump, three-cone drill, 20-yard shuttle, and 60-yard shuttle, per NFL.com. He played free safety for his first three seasons at Utah, and displays great ball skills at both positions, along with adequate tackling ability. His over-the-top athleticism isn't on full display at cornerback, where there are questions about whether he can play all the routes in a man-to-man scheme, but his zone skills show off the traits he learned as a safety.
At 6'1″ and 205 pounds, Rowe should transition quickly back to free safety, where he provides the combination of size, speed, and strength that could make him an impact player. Given his ability to find the ball and great instincts, he might have hurt his stock by moving to corner as a senior. Some teams are still considering him on the outside, and while clubs would salivate to have a tall corner with his physical skills, he has more upside in the middle of the field.
Rollins is an even more interesting case. He played point guard on the basketball team for four years before deciding to use his last year of eligibility to walk onto the football team. A raw corner without top-end speed and agility, it's remarkable how high his stock has risen. His footwork isn't polished, but he isn't clumsy, and it should get better with work.
What stands out for Rollins is how he explodes in small spaces. He's not the greatest tackler ever; after one year of college experience that shouldn't be expected. Still, there were a few instances on tape where he puts huge hits on receivers, and – most impressively – he does it without having running starts. He has natural power with his movements, and a move to safety could merge his natural instincts with a comfortability with space. Throw in his soft hands, and Rollins is the sort of potential gem who could be a high-risk, high-reward pick.
Late Round Sleepers:
Anthony Harris, Virginia
Adrian Amos, Penn State
Jaquiski Tartt, Samford
James Sample, Louisville
Dean Marlowe, James Madison
Ibraheim Campbell, Northwestern
Clayton Geathers, UCF
Defensive backs are solid picks no matter how late in the draft they come. Corners can find a footing despite being fourth or fifth on the depth chart, giving them a chance to slowly work their way into favor, and safeties with at least one above average skill can find the field situationally. On top of that, they'll get first crack at seeing the field on special teams, given their combination of speed and tackling ability.
Many of these late-round picks will start off slowly, with small snap counts and special teams contributions. That sliver of hope could eventually result in an opportunity for them to really break out.
Campbell and Geathers both project as strong safeties that play well against the run. Geathers is a 6'2″, 218-pound monster who does a great job gaining speed and smashing into the line. He often goes for the big hit, which might not work at the next level, but he has the size to play in the box or even become a pseudo-outside linebacker in the right system.
Campbell has a similar reputation, without the athleticism or cover skills to hold up in man-to-man coverage. However, while he might not be perfect, he did a very good job on multiple occasions of finding his way to the play when asked to cover the middle of the field. He tracked the ball well in the air, and was able to make some plays as a center fielder, as well as in underneath coverage.
Sample presents a big frame similar to Geathers', with a little better athleticism. He held up well at Louisville, consistently making his presence known in the secondary even if his overall performance was unspectacular. Although he's exclusively a football player, he doesn't have a ton of experience due to injuries and a transfer from Washington.
In my opinion – one that's unbiased as possible considering he's a former high school teammate of mine – Marlowe has the size and athleticism often seen in more highly-touted prospects. He was very versatile at JMU, contributing as a free safety, strong safety, and corner on different snaps. He was able to do that in part because of the weaker competition, but he always stepped up in the few chances he got against big conference schools.
Marlowe is projected by most draft experts to be a run supporter at strong safety, knocking his athleticism and instincts in coverage. His timed speed might not make anyone think he can line up at corner and lock down receivers. But from the safety spot, it and his game speed are good enough that I'm not concerned with his ability to play the middle of the field. He has excellent ball skills, and the ability to break on passes to make a play in a hurry.
Add that to his reputation as a big hitter and consistent tackler, and I don't see why Marlowe isn't more highly sought after. For a player who could be available in the seventh round or as an undrafted free agent, he has the ability to contribute in a number of ways.
Harris has the height desired for a free safety, but packs it into a slight frame of only 183 pounds. He's another player whose 40-yard dash time is in the mid-4.5 range, but he's something of a tweener in terms of tackling and coverage ability. Harris is constantly diving to make plays on runners, often taking players down by grabbing ankles. To his credit, he saved a lot of big plays with those shoestring tackles, and didn't let those players get away on the collegiate level. In coverage, he did well with the plays happening in front of him, but seemed out of control and even a little panicked when forced to turn his hips, often making the decision to get deep on a play a hair too late.
Amos has been given the nickname "Hulk" by some of the Penn State faithful, and given his large frame at safety, it's easy to see why. Amos is able to put some big hits on receivers unfortunate enough to be led into his zone, and he does a good job playing the ball when in the area.
He timed out dramatically differently at the combine and his pro day, with his 40-yard dash improving from 4.56 to 4.37. That pro day number is dubious, but he was one of the better performers in the two shuttle drills at the combine, which made his dash underwhelming to begin with. If he is truly a 4.37 player, he could buy himself some leeway to be coached up in the NFL.
Tartt can't compete with Amos' pro day speed, but before that he looked like one of the physical specimens in the class. He feasted on lower competition, but his size and combine performance have propelled him up draft boards as a possible high-upside selection.
There wouldn't be many outcomes that would surprise me from among this overall group of safeties. There should be talent available in every round of the draft, but there will be plenty of players who never make it beyond one or two NFL seasons. It may ultimately be a weak class, but even if it fails to produce a bona fide star, teams should be able to develop impact starters if their scouting departments can identify the right guys.
Photo courtesy of USA Today Sports Images.