With the NFL draft just nine days from getting underway, we'll continue taking a closer look at the notable prospects for each position. We already examined the offensive side of the ball, so today we will move on to the defensive side of the ball.
If you missed the first half of the series, you can go and check out the other positional breakdowns now:
As we begin to break down the defense, we'll start with the anchors along the trenches, taking a look at the top defensive linemen. Pure pass rushers are excluded; they'll get their own post later this week. While a few of these guys will provide some pass rushing value from the line, no one here is likely to play 3-4 linebacker and pin his ears back. These guys are more traditional hand-in-the-dirt linemen, and that starts with the one player who is head and shoulders above the rest.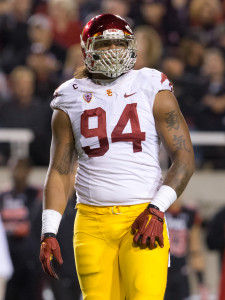 Top Five:
The prize of this class is Williams, who for many draft experts is the number one player on the board. Across most mock drafts, Williams is the top choice for the Titans if the team elects not to take Marcus Mariota or trade the second overall pick.
Having been compared to such players as Richard Seymour, Williams provides one of the most versatile skill sets for a top-five pick in years. He played 4-3 defensive end at USC, but showed the ability to bump inside to defensive tackle and cause havoc from different spots.
Team that need a defensive end or tackle should be salivating at the 6'5″, 302-pound monster, who fits well in a 4-3, but may be even more dangerous as a 3-4 end. While Williams did a great job rushing the passer, he was equally as effective in the running game. He uses his long arms to harass offensive tackles unfortunate enough to have to block him, and does a great job shedding blockers at the point of attack. Those arms and strong hands allow him to finish plays by grabbing hold of any ball carrier trying to get away from his grasp. Williams is able to set the edge, and continue working his way inside until he either squeezes the play into dust or pushes it out to the other side of the field. He was the tone setter for the Trojans' defense, drawing all of the offense's attention and yet still making the plays necessary to stop drives in their tracks.
It isn't all roses with the USC lineman, of course. As a sophomore, he got his butt kicked at the line of scrimmage in more than a few games. He added weight and strength before his junior season, and was able to win off the snap on almost every play in 2014, despite facing constant double teams from opponents. He struggled pursuing the ball across the formation and down the field early in his career, and that didn't completely correct itself at USC. This leads to questions – which may or may not be fair – about his motor.
Williams isn't the most polished player, but the production was there and the physical skills are so outrageous that it's really no question that he should be alone atop the defensive line rankings. His ceiling probably doesn't include a bunch of 20-sack seasons, but teams drafting him will expect consistent pass rush that puts him in the double-digit range, along with a run-stuffing workhorse to build the defense around.
First Round:
Danny Shelton, Washington
Arik Armstead, Oregon
Malcolm Brown, Texas
Eddie Goldman, Florida State
Armstead is a 6'7″, 292-pound marvel who didn't have production to match his physical skills. Oregon was probably hoping he'd develop into a feared pass rusher by the time Mariota was a senior — that never came to fruition, but Armstead held up against the run and has a huge tackle radius, which is different than length, even if length is the most important contributor to tackle radius. Former Duck Dion Jordan, who was picked third overall in 2013, had great length, but didn't have a great tackle radius.
Armstead could line up in multiple spots along the defensive line, and is scheme versatile. He has plenty of upside, and is probably the only other first-round pick along the defensive line who isn't strictly a big-bodied inside run stuffer. He's also likely the only player in this post who even has a chance at playing 3-4 outside linebacker for a creative defense that learns how to turn his length into consistent production.
Shelton, Brown, and Goldman are all similar players on film. They line up in the middle of the formation, and they lean up against interior offensive linemen at the snap of the ball. Most mock drafts I see have the three going in exactly that order, but for my money, the value runs in the opposite direction.
Shelton had the most notable workout, pushing big weight on the bench press. He needs to push weight, standing at 339 pounds. With the weight, he unsurprisingly lacks explosiveness. He isn't particularly fast off the snap, and doesn't drive his legs well into the line. Understanding that he's often double-teamed, he tends to get pushed back off the line of scrimmage with alarming ease. He contributed to a lot of tackles, but a scary number of them were between two and five yards down field, enough that a running back could put the same play on his own highlight tape if he wanted to. Shelton closes quick when he does see a hole in the offensive line, but was disappointing as a space eater despite his size.
Brown does a better job getting up the field, although he's also not going to penetrate enough to provide interior pass rush. There's no Ndamukong Suh or Gerald McCoy in this draft, and the respective grades show it. Brown does give more than most in that area, and could be particularly helpful for a team that could use some secondary pass rush along with a strong tackler against the running game.
Goldman does the best job of the three in remaining stout at the line of scrimmage and making tackles for short gains. He was really able to leave his mark on the game, and while he was rarely spectacular, he was consistently solid. He comes into the NFL as a player who should immediately be able to join a defensive line rotation as a run defender. I believe he should fit in well at defensive tackle, but he could play defensive end or nose in a 3-4 defense. Goldman won't provide much pressure on the quarterback, if any at all, but he'll pursue upfield enough that he should prevent passers from stepping up in the pocket to avoid the rush off the edges. He may not have the highest ceiling due to his average athleticism, but he could end up having a steady NFL career.
Day Two:
Michael Bennett, Ohio State
Carl Davis, Iowa
Jordan Phillips, Oklahoma
Xavier Cooper, Washington State
Grady Jarrett, Clemson
Mario Edwards Jr., Florida State
The two players here who have legitimate claims to being included in the first-round group are Davis and Phillips. Davis tormented interior linemen at Iowa, proving to be too strong for the smaller guards and too fast for the bigger ones. He gets up the field off the snap, but his most impressive trait is his ability to move quickly laterally down the line of scrimmage, stringing outside runs out and filling cutback lanes.
Phillips is a behemoth in the middle of the defense, an immovable object that simultaneously eats blockers while remaining disruptive if given the opportunity. There is some concern about his consistency, but when he's playing well, he provides flashes of Casey Hampton, who made a career opening up holes for pass rushers by drawing attention to himself in the middle of a 3-4 defense.
Both of those players will definitely be in play in round one, and I would imagine there are teams that have them much higher on their boards than some of the players mentioned above. Still, both Davis and Phillips rely on scheme fit and that could drop them into round two.
Edwards lined up on the edge a lot at Florida State, but he needs to be able to make the full transition to defensive tackle in order to stick on an NFL team. Mostly a non-threat as a pass rusher, playing him outside of Goldman did discourage offenses from running the ball on Florida State. However, athletic runners were able to get outside of him and force the Seminoles to change their game plan. What Edwards does have is plenty of strength and versatility. He can play all along the defensive line in either a 4-3 or 3-4 scheme, as long as he's not asked to get after the quarterback.
Normally a deep group, interior defensive linemen will be hard to find in this draft. After Phillips and Davis, the best options are Bennett, Cooper, and Jarrett. Those three players have upside – Bennett especially has been rising up draft boards and Cooper has been pointed to as a sleeper-type player – but overall they're part of a weak class. That could be the reason raw talents like Shelton and Armstead are going to be in consideration in or near the top 10, and it's one reason Williams stands out so much despite being a step or two behind top-five defensive linemen we've seen in past drafts. Ultimately, teams that have needs at the position will need to get their guy with an early pick, or else they'll have to hope they can develop a prospect into a surprise performer as a rookie.
Photo courtesy of USA Today Sports Images.
Follow @PFRumors