With the NFL draft fast approaching, we'll be taking a closer look this month at the notable prospects for each position. We've already examined quarterbacks, running backs, and receivers, so today we'll look at the top offensive linemen.
First-Round Tackles:
Andrus Peat, Stanford
Ereck Flowers, Miami
D.J. Humphries, Florida
T.J. Clemmings, Pittsburgh
When teams look for offensive linemen in round one, they're typically chasing cornerstone left tackles to protect their quarterback's blind side. While the 2015 NFL draft class doesn't feature the sort of highly-touted prospects that come off the board in the first 12 picks and slide right into the starting lineup, there are a number of high-upside players who could impact a team this coming season.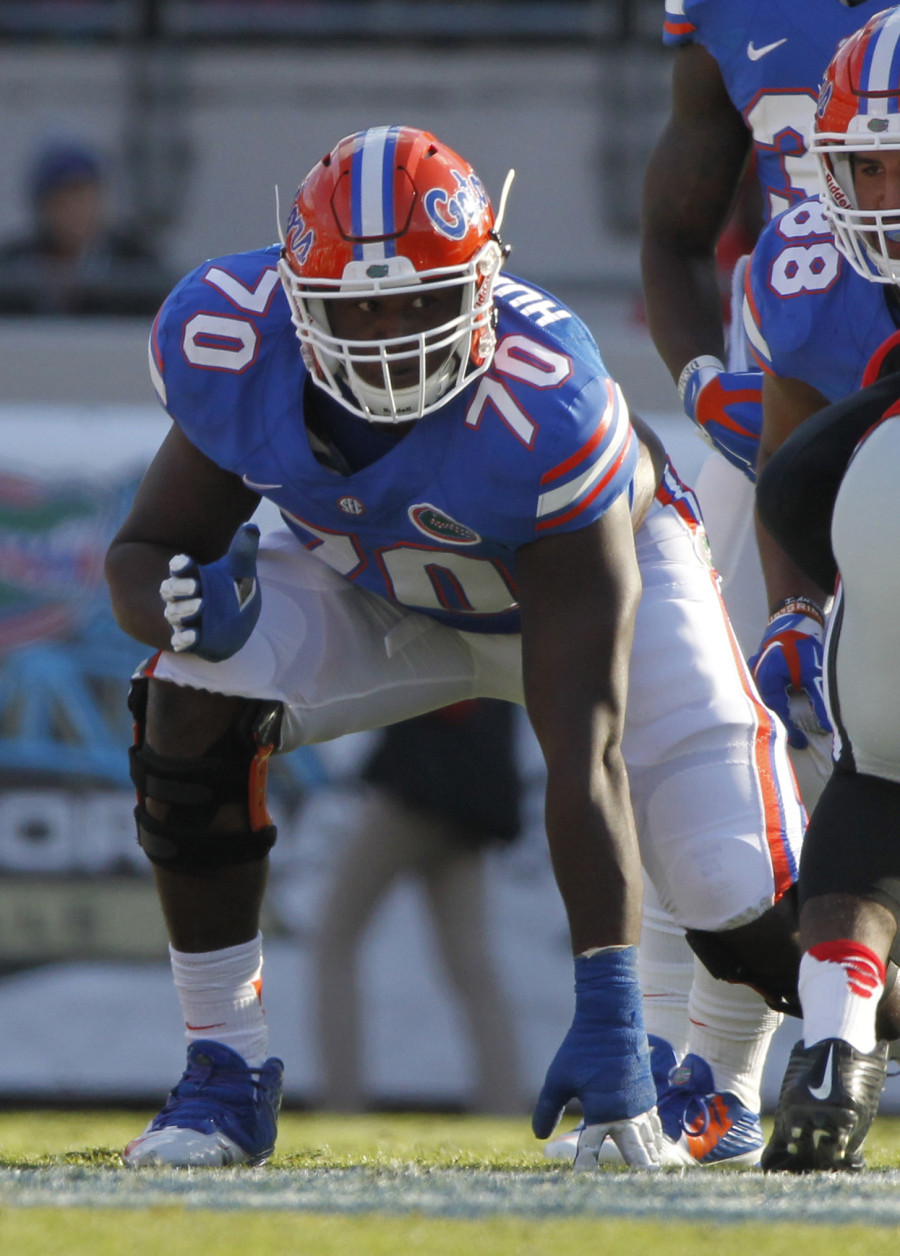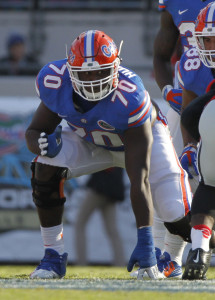 That list starts with Peat and Flowers. Both were highly sought after recruits coming out of high school. Peat was regarded as the top high school player in his class, and grew to become the 6'7″, 313-pound stalwart expected to be a first-round pick. Flowers wasn't quite as highly regarded, but still committed to Miami as a four-star recruit. Standing at 6'6″ and weighing in at 329 pounds, his stock is very similar to Peat's.
Both players are very solid in both the running game and the passing game. I saw the ability to force defensive lineman inside and drive them down the field, and both players showed they're capable of coming off the first block to target a second player down the field on longer runs. That ability to recognize when a block is made and to continue the play is an important skill — it's one that Vikings' 2012 fourth overall pick Matt Kalil didn't show on film, which should have been a red flag at the time, despite his consensus status as a top pick. As Kalil has struggled to recognize blocking schemes and finish plays in the NFL, that inability and/or unwillingness to get to the second level is something teams should carefully study in their evaluations.
Both Peat and Flowers also hold up in pass protection, with Peat particularly kicking out of his stance quickly off the snap. Each player is able to get wide and force pass rushers to take long routes to the quarterback, where it is easy for an offensive tackle to remain in punching distance to push them around the back of the passer who should have room to step up and avoid any pressure in the pocket.
Humphries and Clemmings represent slightly different packages. No sane human would refer to them as small, and Flowers and Peat aren't considerably bigger, but these two have a reputation for being athletic marvels who are less polished and less solid at their positions. Humphries got the job done at Florida, but he could be found reaching at times in the run game rather than using the force of his body to move defensive linemen. This issue is exacerbated by the shortness of his arms, and puts his body in position where he is unable to draw strength from his legs.
Clemmings played right tackle at Pittsburgh, which is unusual for a player with an eye on moving over to the left side as a pro. Left to right is the usual progression for players transitioning from college to the NFL, though all of these tackles will likely have the opportunity to start their NFL careers on the right side if their new teams think they'll need that time to adjust. Clemmings is a favorite of some scouts for his extreme athleticism, and the former basketball player can certainly move. He's raw, but he has the footwork, frame, and arm length to develop into a top left tackle in the right situation.
First-Round Interior Linemen:
Brandon Scherff, Iowa
La'el Collins, LSU
Cameron Erving, Florida State
This group is made up of nominally interior linemen for draft purposes, but actually all three players spent most or all of their college careers at left tackle. There is a chance all three stick at tackle in the NFL, but most have them valued more realistically at guard or center.
Guards don't get the same respect as tackles when it comes notoriety or contracts, and they're especially discounted on draft day. However, there is some consensus that Scherff will be the first lineman off the board, and he's worthy of that honor. While the group of left tackles is best described as solid, Scherff is spectacular. In the running game, he's as dangerous as they come, finishing every block to the ground and then diving on the poor defensive end or linebacker he just victimized. His Youtube highlight tape is the most entertaining and fun to watch of any player in the draft, an honor usually reserved for receivers, running backs, quarterbacks, or maybe a hard hitting defensive player. His arms are short for tackle, and he got fooled with a finesse pass rush occasionally, so I understand the feeling that he will have to be moved to guard. That being said, like Zack Martin, if Scherff is the best offensive lineman in the draft, then it makes sense to pick him and figure out later where he'll play.
Collins has similar issues with arm length, though he held up very well at left tackle in the SEC. He's a strong player and a good run blocker, even if he isn't as fun to watch as Scherff. Pass rusher Dante Fowler Jr., the presumed favorite of the Jaguars selecting at three, was haunted by Collins in college. "My sophomore year, we went to Baton Rouge and played against LSU, and I'm not going to lie, I got my butt whooped," Fowler told Jenny Vrentas of MMQB.SI.com. "That was one of my worst games just because of how I got tossed around."
Fowler continued to say he was motivated by the "butt whooping" and came back harder in 2014. I rewatched that game; you wouldn't even notice he was on the field for the most part. Collins isn't the brute that Scherff is, nor does he have the sheer athleticism and technique of Peat, but he is a really solid player who can do a lot of different things for a football team.
Erving is a little different. He started his career at left tackle, and would have drawn some second-round interest if he had declared for the draft a year ago. Instead, he returned to Florida State, where he struggled at times. Players were able to blow by him, and his play made you question whether his stock would drop by the time the draft came around. One of his best games at left tackle came against Clemson and pass rusher Vic Beasley. Beasley torments with athleticism, but Erving held him at bay for most of the game, allowing him to pressure the quarterback only a few times. Specifically, Erving was beat with speed off the edge for Beasley's two sacks. However, Beasley was pushed around in the running game, which Florida State leaned on during some big moments late in the fourth quarter and especially in overtime.
Erving moved to center for the Miami game, and didn't look great at first — he was very inconsistent with his snaps, moving slowly out of his stance while focused on looking through his legs at his target in the shotgun behind him. However, the Hurricanes were shockingly unable to take advantage of his lack of confidence. Only a few short weeks later against Georgia Tech in the ACC championship game, Erving looked as if he had been playing center his whole life, and I think that would be a great spot for him to stay in the NFL.
Day Two:
Jake Fisher, Oregon
Hroniss Grasu, Oregon
A.J. Cann, South Carolina
Ty Sambrailo, Colorado State
Laken Tomlinson, Duke
Tre' Jackson, Florida State
Reese Dismukes, Auburn
Ali Marpet, Hobart
Arie Kouandijo, Alabama
Daryl Williams, Oklahoma
John Miller, Louisville
Cedric Ogbuehi, Texas A&M
Rob Havenstein, Wisconsin
Fisher is in the discussion at the end of the first round, and Cann may be too, depending on how desperately teams need help at the position and how many offensive linemen are off the board ahead of them. Fisher isn't a far cry from the likes of Humphries or Clemmings, but there's likely a sense that he's less of a known commodity coming out of Oregon's up-tempo spread. He was rarely asked to sit in pass protection to allow Marcus Mariota time to progress through reads on deeper drops. Oregon did move him around, playing him at both tackle spots and even bumping him inside, which should add to his value. His teammate Grasu will be easier to project — while playing tackle in that offense might relieve some of the physical pressures of the position, Grasu had to be both strong and smart to keep the offensive line together.
Grasu is part of a pretty strong group of interior linemen with a good chance at being taken on day two of the draft. Cann and Jackson were standouts at guard and have both the size and strength to handle interior defenders. Cann's strength and mobility were on display, as he can often be found running up to the second level to deliver punishing blows on would-be tacklers. Jackson lined up next to Erving often in Florida State's scheme, and the pair combined to be a force in the running game, springing Seminole runners for huge gains through the teeth of opposing defenses.
Tomlinson, Marpet, and Miller are a trio of players who have risen up draft boards to present secondary options at guard. If Cann, Jackson, and Grasu live up to their status as early second-round picks and come off the board fairly early, teams like the Bills and Seahawks could still hope to fill a tremendous need when they come to the podium for the first time in round two. Both teams are looking to plug holes in the interior of their offensive lines, and I expect they'd like to see as many players in this group as possible still available for them in round two. The Seahawks have a number of draft picks, and I wouldn't think it's out of the question for them to go up and get one of these guys if their man is still on the board in the middle of the second round.
Also in this group are three very different but very interesting offensive tackles, in Sambrailo, Ogbuehi, and Havenstein. Ogbuehi has drawn some first and second-round grades, and is a big, strong prototypical left tackle who had success at Texas A&M, following the mold of Luke Joeckel and Jake Matthews. Ogbuehi presents good quickness and has some strength that should translate to the NFL, but was often caught out of position blocking both against the run and the pass. He was frequently able to get away with this poor technique in college based off his athleticism, working his way into good position or overpowering defensive linemen, but it'd be difficult to imagine that trend continuing in the NFL.
Sambrailo is regarded much differently. There aren't as many concerns about technique, athleticism, or strength — the main question is essentially whether or not he is a good football player at this stage. He misses on blocks and fails to recognize blitzers often enough that it's a problem, and while he's a brute in the running game, he does get beat across his face and sometimes over-pursues his block. Some evaluators have him as a possible late first/early second-round pick , while others seem him slipping into the third day of the draft.
Havenstein is a player who is thought of as solid to a fault. He tested poorly at the combine, and went from a strong stalwart to an underwhelming physical talent. NFL.com describes him as a "Three-year starter who doesn't look the part in his uniform," but the 6'7″ tackle was the anchor on an offensive line that sprung Melvin Gordon for 2,500 yards, 29 touchdowns, and a first-round grade. Fans of Wisconsin and Big Ten defensive ends are probably surprised he has been pegged as a third-round pick by many draft expert. For a team in need of a right tackle who fires off the ball, Havenstein could be just the mauler they are looking for.
It's a strange time for offensive linemen in the draft, as in recent years top picks such as Joeckel, Kalil, Eric Fisher, Chance Warmack, and Jonathan Cooper have all failed to provide stability to their teams' offensive lines. If Scherff drops past the Giants and Rams, we could see an NFL draft without an offensive lineman as a top-10 pick for the first time since 2005. Maybe this is a referendum only on the quality of prospects in this draft, or possibly the needs of the teams picking in the top 10. But it does seem like teams may be less likely to regard highly-rated offensive linemen as safe picks, as clubs are being more cautious about selecting them over more dynamic players at other positions.
Photo courtesy of USA Today Sports Images.
Follow @PFRumors