With the NFL draft fast approaching, we'll be taking a closer look this month at the notable prospects for each position. Quarterbacks are already in the books, so today we will look at running backs, starting with a pair of players who could break the streak of two straight years without a player at the position taken in the first round.
Potential First-Rounders:
Melvin Gordon, Wisconsin
Todd Gurley, Georgia
2012 was the last year any NFL team selected a running back in the first round, and a look at the three backs who came off the board early that year clearly indicates why clubs may have been scared off for the last couple years. David Wilson has already announced his retirement, while Doug Martin and especially Trent Richardson followed up strong rookie years with consecutive subpar seasons.
Now, Gordon and Gurley are on a mission to bring the star power back to the position.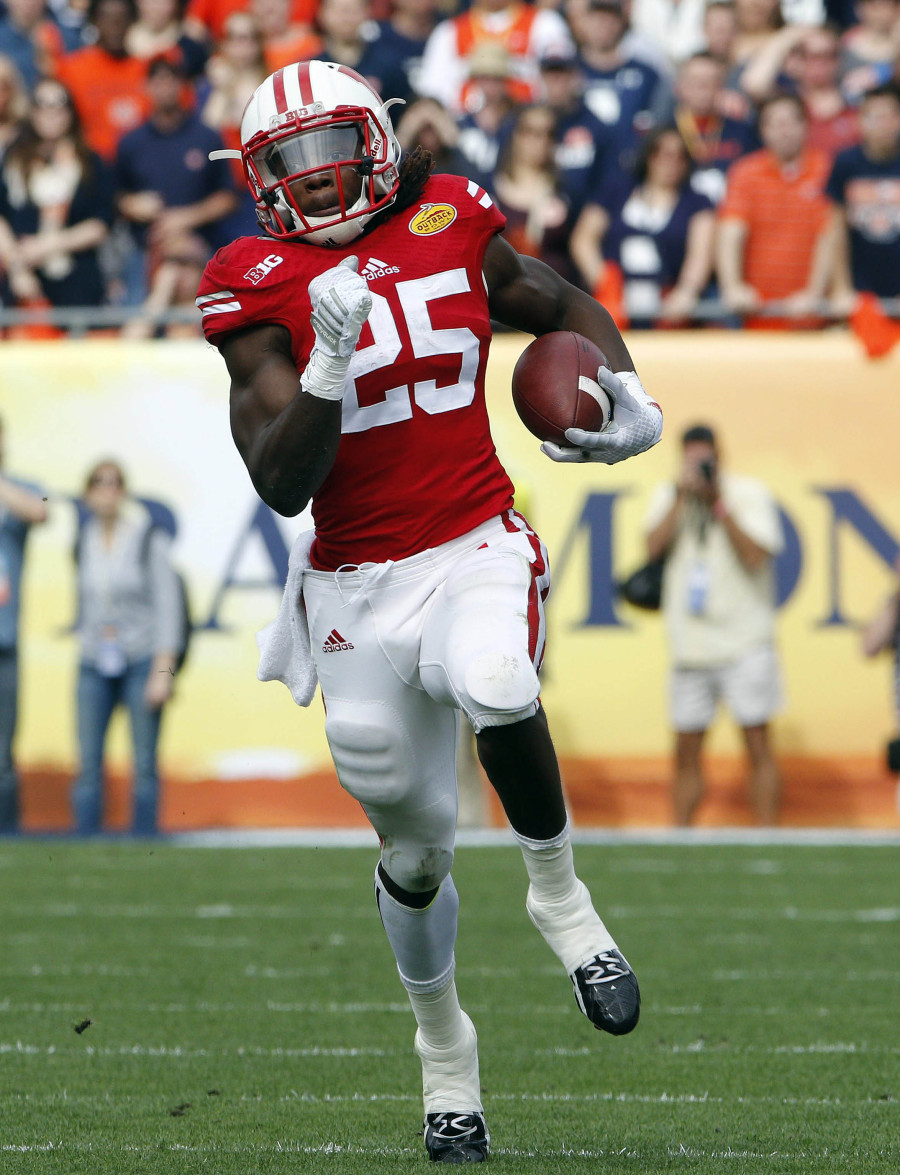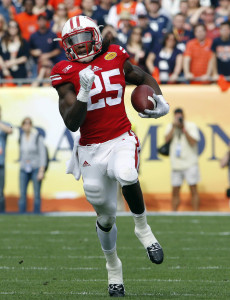 Before getting into the merits of these two backs, let's briefly look at why no running backs were drafted in round one the past two seasons. In 2013, Giovani Bernard was the first back taken, with the fifth pick in round two. Last year, Bishop Sankey was the top running back chosen, a measly 54th overall. The Bengals and Titans were pretty desperate for backs, but with Bernard and Sankey representing the best options, both were able to wait until round two. In 2013, the Packers and Broncos were also in need of a runner, but were able to wait until the very end of round two to get their men.
The good news for fans of running backs is that Gordon and Gurley are leaps ahead of the crop from the past two years in terms of physical talent. On top of that, the Chargers, Cardinals, and Cowboys are all in dire need of a runner. The Dolphins, Jets, Patriots, Colts, Panthers, Ravens, and Lions also have need at the position.
That being said, I'm skeptical that either player is a lock for a first-round pick. I was only able to squeeze one into the PFR Mock Draft 1.0, with Gordon going to Arizona. Even in the case of that 24th overall pick, there were many talented defensive players on the board, and Cards GM Steve Keim is smart enough not to draft based on need alone. There's still a chance this is the third straight year we don't see a running back taken.
Gordon has the slightest edge over Gurley in my eyes strictly based on injury concerns. Clubs like the Chargers, Cardinals, and Cowboys, who are desperate at the position, also happen to be in win-now mode for 2015, and Gurley has been unable to work out for teams after tearing his ACL in one of the most idiotic and unfortunate "amateur" sports stories of 2014. Gordon has no health questions, and should have an immediate on-field impact.
Gordon has an impressive combination of speed, power, and most importantly great balance. He protects the ball, and uses his arms well to ward off would-be tacklers. Gordon's vision and relentlessness propelled him to over 2,500 yards and 29 touchdowns in 2014. He was among the best in the nation at creating space between the tackles while also maintaining his status as one of the scariest players turning the edge and scampering up the sidelines.
Gordon was able to take pole position as the best running back in the nation after Gurley's suspension. Prior to the ban, Gurley was a Heisman favorite and was on the way to comfortably being the top back available in the draft. He was suspended for selling his autograph, which only enhanced his stock, saving him from the unnecessary pounding of the SEC. However, the suspension was overturned, and he returned to the field after missing four games only to subsequently tear his ACL.
When Gurley was on the field, however, he was an unstoppable force, blending mind-blowing athleticism and violence as he pounded through some of the best defenses in college football. At times he was untackleable. That may not be a word, but if Gurley had played the whole season uninterrupted by the NCAA or injury, it might have been added to Merriam-Webster. Gurley's vision and speed is unquestioned even if it isn't on par with Gordon's, but the physicality of his on-field performance sets him apart from the pack.
It is tough to see any running back going in the first round if these two playmakers can't get themselves into the top 32 picks. To really lock himself in as a top pick, a prospect would likely have to be a smooth receiving option in the passing game as well as an accomplished and willing pass protector. Like most college standouts, both these players lack skills as a blocker picking up rushers out of the backfield. Neither player has tremendous experience catching the ball out of the backfield, never mind lining up in the slot and taking advantage of mismatches in the defense.
Going back to 2012, Richardson was supposedly going to be able to have immediate impacts as a rusher, receiver, and blocker. Martin was taken 31st and was also expected to provide value across every aspect of the position. Sankey and Bernard were limited players, and that is the main reason they didn't garner first-round consideration. Bernard had some value as a playmaker, but even Sankey was probably overdrafted as a mid-second rounder. Gordon and Gurley blow every one of those players away as prospects with the exception of Richardson, who continues to be one of the all-time misevaluations in recent draft history.
If I published a big board, I would probably have both Gordon and Gurley among my top 20 prospects. That being said, there is plenty of value to be found later in the draft, and the potential to take a player at a premium position in round one and worry about running back later still seems to make more sense than targeting Gordon and Gurley, which hurts their stock, fair or not.
Day Two:
Jay Ajayi, Boise State
Ameer Abdullah, Nebraska
Duke Johnson, Miami
Tevin Coleman, Indiana
The names in this group – and even those in the next group – provide a handful of reasons not to draft Gordon or Gurley with a first-round pick. Johnson and Abdullah both bring the top-end speed teams are looking for in a home run threat. They also come with the added value of having ability in the passing game. Abdullah particularly has drawn comparisons to Darren Sproles, who was transformative as a receiver and returner for the Eagles in 2014. Johnson is a bit more raw, and is often discounted as a complementary back, but he is bursting with potential. DeMarco Murray was never expected to carry the load like he did either, but he translated to the NFL as a star when healthy and with the help of a strong offensive line.
Ajayi is the preferred back in the draft for some evaluators, because he does have the ability to do it all. Watching him play doesn't evoke the emotional reaction of the first-round hopefuls, but his ability to protect the quarterback and catch the football makes him a complete package who could potentially step in as an every-down back as a rookie. Of course, the jack-of-all-trades players have been scary, especially if they don't have a single skill they can lean on if one or more of the other aspects of their game are taken away by the defense. Fellow Boise State alum Martin looked great in his first year transferring from blue turf to green, but quickly fell out of favor with the coaches and faded into obscurity on the Buccaneers' depth chart. Additionally, even the best blockers at running back need to relearn this skill when they first arrive in the NFL.
Coleman provides a different type of value as a possible second or third-round pick. Coleman is what I like to call a churner. The guy never stops moving his legs, never stops trying to power himself for a first down or for a touchdown. Watching film on him immediately makes me think of the of the two little mice dropped into a bucket of cream. As the story goes, the first mouse gives up and drowns, while the second mouse struggles so hard it churns the cream into butter and walks out. Coleman is that second mouse. In his draft profile on NFL.com, under weaknesses, he is described as treating every play like a sprint. I understand why this is a weakness, as it means he lacks patience and likely struggles with vision, but it's the sort of flaw you wouldn't mind mentioning in a job interview.
Late or Undrafted:
David Johnson, Northern Iowa
Jeremy Langford, Michigan State
T.J. Yeldon, Alabama
David Cobb, Minnesota
Mike Davis, South Carolina
Javorius "Buck" Allen, USC
Karlos Williams, Florida State
In my discussion of quarterback prospects, I identified a few players who might be given the opportunity to fight for a roster spot and would be lucky to get a backup job in the NFL. For running backs, there is legitimate hope that one or two of these late-round players will become reliable ball carriers or even Pro Bowlers, while all of them should have the opportunity to make some sort of impact. Allen, Cobb, and Johnson all have supporters– none of those three possess the athleticism to really push the envelope of stardom at the next level, but they were able to move the chains during their college careers, and they do enough things well to warrant a draft pick. Williams is sneaky and shifty, even if he was overshadowed at times on the Florida State offense.
The real prize here could be Yeldon, even if Alabama runners can scare off fans and pundits. Despite the success of Eddie Lacy and the career turnaround of Mark Ingram, it's hard to get the Richardson stink off. Yeldon, however, provides a similar blend of violence and speed in his running style to Gurley. The Alabama back gets up the field and is devastating in penetrating the heart of the defense. He also shows potential as a blocker and is terrifying in the passing game, even if he did most of his damage catching the football with screens.
Yeldon's biggest drawback was his ball security. While his fumbling problems might be overstated, as a fan of his I'd be lying if I said I didn't see him lose the ball in big spots too often. That's a correctable issue, and if he can stay healthy and be effective, teams are willing to deal with that kind of red flag. Murray was fumbling once a game for the Cowboys during a stretch early in the season, and he was being handed the ball at a record pace anyway. Yeldon does have to stay healthy though, and like many Alabama players he struggled with numerous injuries during his college career.
I pulled Yeldon out for the Bills in the second round in PFR's first mock draft. I think a team could fall in love with the things he does well and push him up a few rounds, where his strengths probably dictates he should belong. If I had the choice between Gurley or Yeldon, I have to admit Gurley is the better bet, despite my affections. Gordon is too. On the other hand, a team like the Chargers might rather have a top offensive lineman and a second-round talent like Coleman or Yeldon at running back, rather than taking Gordon in the first and missing out a chance to improve the offensive line or a very thin defense.
Follow @PFRumors