With the NFL draft just days away, we're continuing to take a closer look at the notable prospects for each position. We already finished up the offensive side of the ball, and last week we started on the defense, breaking down the players who will make their living at the line of scrimmage.
If you missed the previous installments of the series, you can go and check out the other positional breakdowns here:
Today we'll file through some of the men playing under-appreciated positions in the modern NFL, looking at this year's crop of linebackers. Many of the pass rushers will be lining up at outside linebacker in the 3-4, but for the sake of consistency, here we are going to focus on 4-3 outside linebackers and all inside linebackers, regardless of scheme.
These guys might get after the quarterback occasionally, but they're primarily known as run stuffers or for covering tight ends and running backs in the middle of the field.
Lateral Space Eaters:
Shaq Thompson, Washington
Eric Kendricks, UCLA
Stephone Anthony, Clemson
Kendricks is the most highly regarded linebacker in this draft. This is a player who won awards named after Dick Butkus and Ronnie Lott in 2014, leading the team with 149 tackles. He can really move, which is why he's a part of a group I call the lateral space eaters. Kendricks patrols the field, sideline to sideline, and – even more impressively in today's NFL – he can run with tight ends and running backs down the field.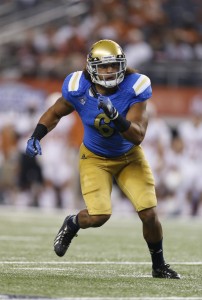 Of all the players at this position, Kendricks is by far the most polished in coverage. His brother Mychal Kendricks has been a successful if underrated player for the Eagles, and while Eric doesn't have the same physical skills, he does impress in similar ways.
Anthony is the big, fast, physical specimen that looks great settling into his defensive stance before the snap. He has some of the most impressive speed side-to-side, and does a better job than Kendricks of using his acceleration to fill holes at the line of scrimmage. He has the skills to perform in coverage, even if he often gets lost in man-to-man and fails to be disciplined in his zones.
Thompson is the most interesting linebacker in this class. Many have him pegged as a safety, at 6'0″ and 228 pounds. He flies around the field, covering space in a split second, and can adjust from playing in coverage to coming up to stop the run in an instant — he has supreme aggression, and is a heavy hitter. He also has the ability to not only run with tight ends and running backs, but to effectively cover slot receivers. Every evaluator lists Thompson's weaknesses, but then notes a team could use him as a hybrid safety/linebacker in the way the Cardinals used Deone Bucannon.
However, Thompson and Kendricks are both short enough that, despite their cover skills, taller players could really take advantage of them when NFL quarterbacks put balls high up in the air. None of the three players has proven they can take on a running back in the hole, and all three have the propensity to get washed out on power running plays.
There are late first-round teams that could use these players, and unlike the next group, they provide some upside and versatility due to the athleticism. However, they're far from the Week 1 stars that even C.J. Mosley was last year.
Between-The-Tackles Thumpers:
Benardrick McKinney, Mississippi St.
Denzel Perryman, Miami
Paul Dawson, TCU
If teams don't like the athletes above, they could get a bargain with one of the run-stuffing inside linebackers in this group.
Perryman is the guy who stands out here, playing like a big (read: slow) bully who stays in the middle of the field and acts like a backup to a big-bodied nose tackle, plugging up holes and forcing plays outside. Still, Perryman is only 5'11", with short arms and below average athleticism. Not to mention, his ability as a tackler between the tackles has been overstated. He seems slow to recognize the play and read the offensive line, and while he succeeds when he meets the running back in the hole – where the previous group did not – he was often late getting there, allowing runners to get to the second level, where they could make a move or lower their shoulder for extra yards.
McKinney is a similar player on film, even if he's much bigger by the tape measure. He has the speed and size to play outside and be vertical, but doesn't seem interested in using those skills to his advantage. He doesn't change direction well, and when he guesses, he often takes himself out of the play. While he has the speed and size to run with tight ends, he doesn't have the agility necessary to make him a real threat in coverage in a big spot. He has some upside, but looks like a player who wants to stay in the space between the guards and take on backs and blockers near the line of scrimmage.
Dawson provides a different type of player. He probably fancies himself as a lateral player who can cover receivers and run down plays sideline-to-sideline. The 4.93 seconds it took him to run 40 yards at the combine disagrees with him. He ran better at his Pro Day, but it's still alarming for a player who relies on his athleticism despite being a small 6'0″, 235 pounds.
In addition to his on-field red flags, he had a reputation of being a problem within the TCU locker room, and observers question both his motivation and his dedication to the film room. Once players get a bad reputation, it can snowball into a number of deficiencies, but he doesn't have the natural talent to overcome a bad attitude, which could negatively affect his stock.
I have a personal love for Brandon Spikes, who never covered anybody but did a phenomenal job chasing down running backs off the snap. Spikes spent a lot of time proving his ability as a tackler and run stopper in college, and only fell in the draft due to his off the field concerns. He was always a negative in coverage, which was fine because of how strong he was against the run — that cemented his role in the NFL. I don't think any of these players have that upside, even though stopping the run is their strength.
Day Two/Three Plug Ins:
Jake Ryan, Michigan
Zack Hodges, Harvard
Ben Heeney, Kansas
Hayes Pullard, USC
Ramik Wilson, Georgia
Bryce Hager, Baylor
Taiwan Jones, Michigan State
Jeff Luc, Cincinnati
For a team seeking a linebacker with some upside, most pundits would likely recommend picking off one of those top six players, in what is a fairly weak class at the position. There's a little something for everyone in that group, without a lot of overlapping skill sets.
At the same time, the players up there might not exactly fit a team's needs. Some will end up as two-down players, and others will struggle mightily in one aspect of the game or another. Grabbing Thompson in the first round might mean acquiring a player who provides little to nothing as a linebacker against the run. Conversely, drafting Perryman might leave a team with a player who will never see the field on third and long, when offensive players make their money.
The alternative to taking a limited player high is grabbing one of these day two and day three players later on in the draft.
A player like Ryan doesn't run to the sidelines like anyone in the first group, and doesn't take on blockers like anyone in the second group. However, the upside of Ryan comes threefold. First, he can do a little of both those things. Second, he could eventually develop into a solid three-down player. Third, and most important: you can get Ryan in the middle rounds, after you already added a couple of impact players elsewhere on the roster.
Ryan has played both inside and outside linebacker, and is comfortable in either position. He is solid in every aspect of the game, but not much better. He gets beat to the sidelines, at the line of scrimmage, and in coverage. That being said, NFL.com has him as a fourth or fifth-round pick. A draft class that features Ryan and three other players ahead of him is an easier one to swallow if I'm an NFL fan, especially for those borderline first-round picks.
A guy like Wilson could provide the size and athleticism needed for teams to survive in the modern NFL. He needs some coaching, but he should have a chance to come in with low expectations and earn a starting spot. Hodges and Heeney have some upside as contributors, and I could see both players developing into starters down the line if they can build on their strengths and their weaknesses don't sink them. Jones is in the same boat, although he has a better floor, based on the competition he faced on a regular basis.
I think there are plenty of impact players to be had in this overall group of linebackers, and the drop-off from Kendricks to Hodges is gigantic — I don't want to downplay that gap. At the same time though, I think Kendricks has a chance to go in round one, and that would inflate the value for all these players. If a team doesn't have a desperate need at the position and isn't in cruise control with its roster (ie. the Packers), it would be easier to fill those big holes elsewhere earlier in the draft and hope a combination of one of these other prospects can be paired with a veteran to fill one spot on the field in a platoon situation.
Photo courtesy of USA Today Sports Images.
Follow @PFRumors