With the NFL draft just a week away, we'll continue taking a closer look at the notable prospects for each position. We already finished up the offensive side of the ball, and started on the defense by analyzing some of the guys in the trenches.
If you missed the first half of the series, you can go and check out the other positional breakdowns here:
Today, we'll move on to the money makers on defense, in what is likely the strongest position group at the top in the entire draft. Here is a breakdown of some of this year's premier pass rushers, starting with the four players who hope to be taken in the first 10 picks of the 2015 NFL draft.
Top 10:
Randy Gregory, Nebraska
Shane Ray, Missouri
Dante Fowler Jr., Florida
Vic Beasley, Clemson
In today's pass-happy NFL, there's a general consensus that the most important player on offense is the quarterback, and the most important player on defense is the one who can torment the quarterback. Teams value these players far above anyone else, which is evident based on how much money they make and where they're drafted. Most observers expect two quarterbacks to be selected in the first 10 picks, and there's a very good chance they come off the board first and second. But pass rusher is going to be the position that dominates the beginning of the first round.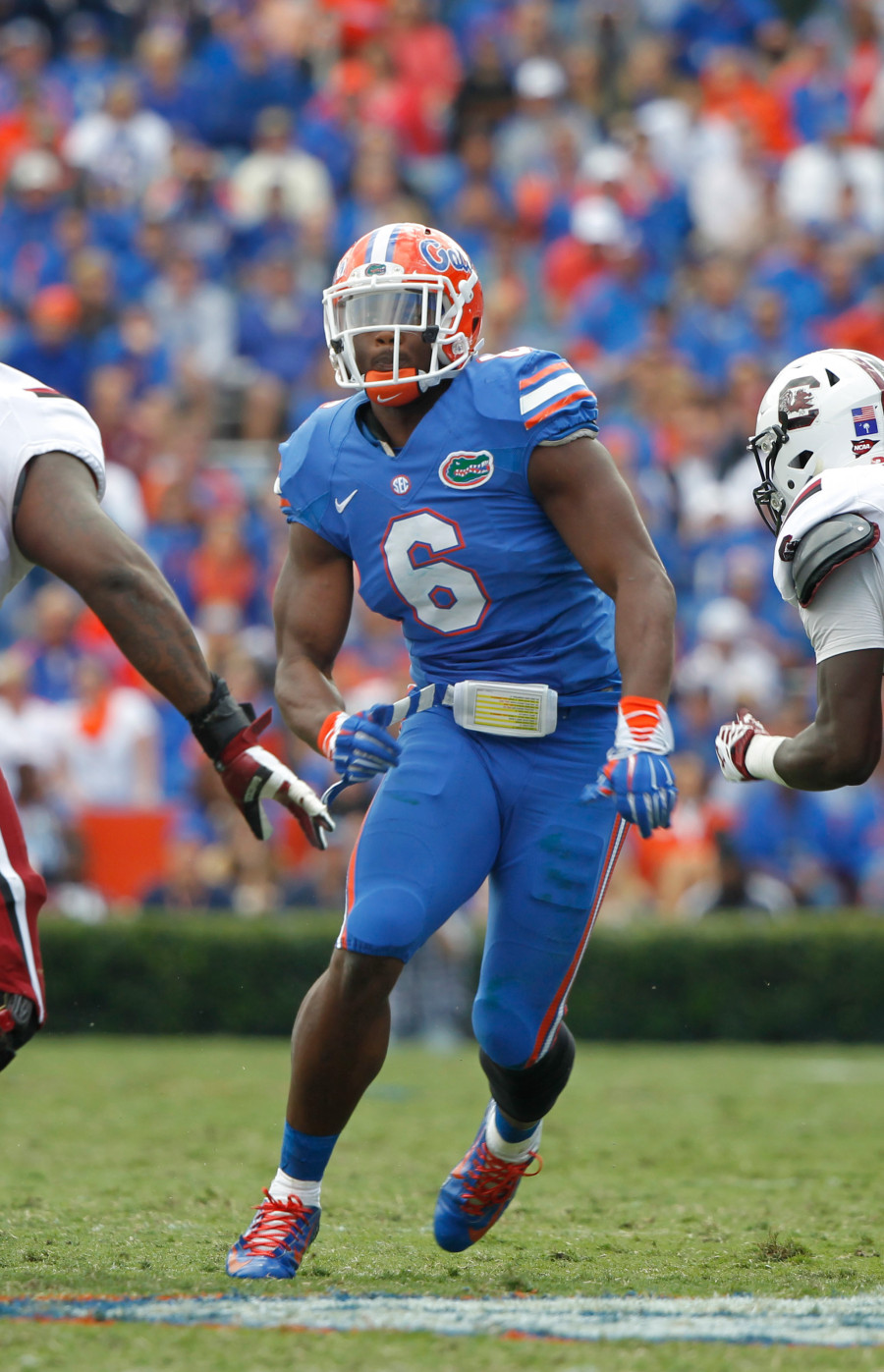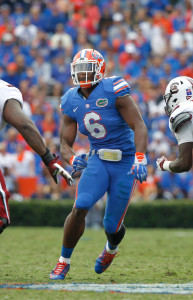 If you include Leonard Williams, an interior defensive lineman will be expected to get after the quarterback, half of the first 10 picks should be pass rushers. In my first Mock Draft, I projected these five players to go second, third, fifth, sixth, and eighth, with Williams going No. 2 to the Titans and the four players above making up the rest of those picks.
Fowler is presumed to have found a fit in Gus Bradley's defense in Jacksonville, as a player who can rush the quarterback from all over the field. At Florida, Fowler was the clear leader on the defense, lining up as a stand-up edge rusher, with his hand in the dirt, and – most intriguingly – in the middle of the formation, before barreling through a crack of daylight in the interior of the offensive line. Fowler displayed explosiveness through defenders, and once he was in the offensive backfield, he made sure the quarterback would know he was there by quickly jutting his body into the pocket and getting his hands up.
The sack numbers for Fowler weren't quite there in college, as he only totaled 8.5 in 2014, and that figure was inflated by a three-sack performance in the Birmingham Bowl against East Carolina. He was able to make plays against the run, but did a lot of that damage between the tackles. Setting the edge and forcing runners inside was not his strong suit, and he hasn't exhibited any ability to hold up in coverage, though he was not asked to do so often. His athleticism gives hope that he could turn into a Pro Bowl-caliber player, and he should be especially useful to a coach with the creativity to exploit his various strengths.
Up next is Beasley, a player who has proven that he could produce sacks coming off the edge. With 33 career sacks, including 12 as a senior and 13 as a junior, Beasley has consistently generated pressure over his last three collegiate seasons. The most incredible thing about watching him is how committed he is to beating tackles with his one elite skill: speed.
Beasley explodes off the edge. He's quick off the snap, and he's too fast for offensive tackles to handle. When profiling offensive linemen, I noted that Cameron Erving had a very impressive day against Beasley, aside from two plays where he had trouble dealing with his speed rush. Well, those two plays were spectacular jumps by Beasley, and he was barely touched on his way to the quarterback either time. He flashed right past Erving and was draped on the quarterback before anyone had a chance to react. That's how he got the job done, for better or worse, and he did get it done time after time. He is the all-time leader in sacks at Clemson, and he plans to continue racking up the big numbers in the NFL.
What should worry general managers about Beasley is how little he seems concerned with doing anything else. At times he doesn't even pretend to be concerned about setting the edge. In that Florida State game specifically, he got caught trying to blast through an inside hole and completely abandoning his outside integrity on a few plays, most embarrassingly on the 12-yard touchdown run that ended the game in overtime. He was asked to drop into coverage more than these other top pass rushers, but not often enough that it would be considered a developed skill at this point.
As a pass rusher, Beasley hasn't proven he can develop secondary options, relying heavily on his speed off the edge and ability to hand fight before bending in. It looks impressive, but when a tackle is able to get hands on him, the fight more or less ends there. His spin move is lacking, and he doesn't have much of a counter to the inside for those who set up wide against him. Converting speed to power is a phrase that's becoming very trendy in NFL draft circles, and it's not one that's brought up in association with Beasley's name. The physical skills are great, and one elite pass rush move is better than relying solely on athleticism, but he will have a long way to go to exploit offensive tackles on the next level.
Ray is a different type of pass rusher than Fowler and Beasley. At Missouri, he played almost exclusively with his hand in the dirt, and originally projected as a 4-3 defensive end in the NFL, where he would have been undersized. Ray's speed is comparable to Fowler's and Beasley's, but it would be a stretch to say he's the athlete that either of them are. If we describe Beasley as dropping into coverage sparingly and Fowler as barely, then Ray was even less than that (although NFL.com writes that he was able to do so without issue when asked).
What Ray does do is rush the passer. He had 14.5 sacks in 2014, a school record. For most schools, having a player break the sack record is notable. For Missouri, who put highly regarded pass rushers Justin Smith, Aldon Smith, Sheldon Richardson, and Kony Ealy into the NFL, Ray's mark is downright superb. If either of the Smiths or Richardson was in this draft knowing what we know about them now, they would be very high picks (granted, disregarding Aldon's penchant for off-the-field trouble).
Ray was third in the nation in sacks, and also ranked third in tackles for a loss, which would create the impression that he's equally capable of playing the run. That's probably not true though, at least not now. He doesn't have the size to be strong against the run from defensive end, and even moving back to linebacker, it would take time for him to learn how to keep his outside integrity. The tackles in the backfield in college came more because he's a heat-seeking missile and ran through running backs that happened to be between him and the quarterback, not because he was particularly disciplined.
Going back to his draft profile on NFL.com, Ray is called "an alpha male packaged in an explosive frame," which is a variation of what I call an "Alley Guy," a term used by my high school football coach and subsequently by many of the people I talk to about football. An Alley Guy is the person you'd pick to walk with you through a dark alley at night, who wouldn't only make it out the other side but would ensure you'd make it out too. Ray is a violent hitter, with a relentless motor and a stop-at-nothing attitude. He might be my favorite player in this draft – and the ultimate Alley Guy of the top picks – but he isn't the best prospect of this group. That title is reserved for the player who is most likely to be the one that drops out of the top 10.
Gregory is the most complete prospect of these four pass rushers, and his collegiate film would make him a strong candidate for the (probably meaningless, but still fun) title of "Best Player in the Draft."
Gregory has been thrown in with these pass rushers as if they were all asked to do the same things in college, and in that measurement his 7.0 sacks fall short. Most of his negative evaluations as a pass rusher are about him being timid, slow off the snap, and unable to beat tackles with speed to the edge. What I saw on tape was not a player who was asked to rush the passer on every down, but instead a true edge setter on the defensive line, tasked with working from the outside in. In my eyes, being slow off the snap was less about Gregory's abilities and more about his responsibilities in the Nebraska defense.
As a run stopper, Gregory always maintained outside integrity, and always used his long arms first to keep tackles off him while he read the play, and then to eject off the block to make a tackle. He has the speed to stop the outside runs by stringing them out and cutting off the sideline, and he has the counter move to react to cutbacks while never giving up the edge. The long arms come in handy again when it's time to corral runners who think they're out of reach.
Playing at around 235 pounds as a defensive end meant that there were times Gregory was overpowered at the line of scrimmage, especially with double teams. However, I expect him to add on to his frame and drop back to a 3-4 outside linebacker, where his discipline will remain a strength and his weight won't be as significant a weakness. Even playing that light in college, he was strong enough to win most battles at the line of scrimmage anyway, and played with good enough leverage that being out-muscled occasionally wasn't a huge factor.
When Gregory was asked to rush the passer, I saw the explosion he was criticized for not having. Given his limited opportunities to forego all responsibilities to get after the quarterback, a luxury the other three players here seemingly had on 95% of their snaps, Gregory's sack number begins to look more impressive. Additionally, his 10.5 sacks as a sophomore, when he was let loose a bit more, shows he does have the ability to get after it when he needs to. That being said, if I'm a team that needs someone who can get after the quarterback right away, I can see why the other three would be ranked ahead of Gregory. But he really shines as a complete football player that is strong at every aspect of the game (pass coverage excluded — who knows if he can, but we may be asking too much).
The giant red flag for Gregory, of course, is his positive test for marijuana at the NFL combine, a time when players know they're going to be tested. Many pundits would say that NFL general managers aren't scared off by marijuana use in general — however, the inability to stay away from it when a player knows he'll be tested is a concern. Especially in an era where Josh Gordon misses more games than he actually plays, if teams are concerned that drug violations could keep Gregory off the field on Sundays, he may very well fall out of the top 10 despite his tremendous talent.
Late First/Early Second Round:
Bud Dupree, Kentucky
Eli Harold, Virginia
Owamagbe Odighizuwa, UCLA
This group is not all that far behind the top four, but the flaws are much more obvious. Dupree particularly is interesting based on the physical tools he brings. At 6'4″ and nearly 270 pounds, Dupree should not be so fast that tackles can't keep up with him and so strong that they can't bully him, but he is truly both. He is approaching the "freak athlete" category, and based on his potential he has worked himself near the top 10 picks in the minds of some draft experts.
However, it will take a lot of coaching for Dupree to live up to any first-round selection. While he's gifted physically, raw doesn't even begin to describe how he plays. I knocked Beasley for a reliance on his athleticism, but even he knows how to use his hands and shoulders to bend around blockers. Dupree just goes and hopes for the best. If he gets the edge he can be dangerous, but tackles are prepared and able to cut him off. He has no counter move back to the inside, and no ability to win a battle with his hands at the point of attack. Over and over on film he runs straight into the arms of his blocker, and gets locked up at the line of scrimmage or – if he's lucky – a few yards beyond.
Just to stay on the field in passing downs, Dupree will have to learn how to play with leverage, how to ward off blockers with his inside hand while keeping his outside arm free, and how to remain in the play while being blocked. After that, he needs to add a variety of pass rush moves and he needs to be able to use his speed and strength advantages together, as opposed to treating them as mutually exclusive skills. If a coach can do all that, he might have himself a player capable of huge numbers – even 15+ sacks in a season – but it's a lot to ask based on what Dupree has shown on film. He does come with the added bonus of some proven ability to drop into coverage and run down field, which may take some of the pressure off how much he needs to learn going towards the line of scrimmage.
Harold's biggest flaw is one that sticks out more on tape, and probably has him red-flagged as a risk, but it's also a reason he may be an undervalued commodity in this draft. Based on a brief overview of some of Harold's game film, his tackling is an obvious concern. The amount of times he had a running back squared up in the backfield and just whiffed on him is excruciating to watch. The angles he took stringing runners to the sidelines that ended in him diving at ankles and coming up with grass are embarrassing. The number of sacks he left on the table because he couldn't quite get his arms around a quarterback will probably keep him out of the first round.
Then again, a smart team could watch his tape and not see a player who only had 7.0 sacks last year, but instead find a player who got to the quarterback on a consistent basis. They might not see a guy who struggled against the run, but a player who was in the right position and wasn't able to finish the play. Watching Dupree play, I tried to guess his arm length and I shorted him by an inch, which doesn't say much for his tape, but it does say that he might not be getting the most out of his talent. Considering all the work Dupree needs just to be an adequate pass rusher, one can imagine what a comparably easy fix it could be to focus in on disciplined tackling with Harold — I think a coach would view this as a far simpler task. Now, struggling with tackling shows a lack of physicality that will only get worse at the next level, and it's not like this is a dominant player who is consistently maintaining his leverage against the run and the pass. But Harold could be a player who isn't far off from realizing his talent if he can translate his strengths to the next level.
Odighizuwa is a player that many fans were expecting to break through in college, but he was never able to stand out early on due to inexperience and injury. Therefore, despite having a large sample of game film, it's difficult to project him based on his last year at UCLA. He had six sacks, and his explosiveness could be seen on the field, but there was always the question of whether he would hit his stride.
At the combine, Odighizuwa came to impress, posting great numbers in drills across the board, per NFL.com. He was a top performer for his position in the 40-yard dash, vertical jump, broad jump, 20-yard shuttle, and 60-yard shuttle. He also has proven to be relentless with his motor, trying to get the most out of every snap, and he has versatility — the size to play 4-3 end, and the athleticism to rush as a 3-4 linebacker. He may be able to sneak into the end of round one, but he'd definitely be a high upside pick early on day two.
Day Two:
Danielle Hunter, LSU
Preston Smith, Mississippi State
Hau'oli Kikaha, Washington
Lorenzo Mauldin, Louisville
Trey Flowers, Arkansas
Henry Anderson, Stanford
Kikaha is the most notable player from this group, leading the nation with an outstanding 19 sacks in 2014. Despite those numbers, he has been knocked around through the draft process. True, he doesn't have ideal size for a pass rusher, but I question the perception that he's a specialist who doesn't provide much run support and doesn't set the edge, because it's the same criticism I have for everyone above him on this list except for Gregory.
What Kikaha does do is get after the quarterback with every step. He never gives ground, meaning every movement of his arms or drive from his legs is specifically taken to get him a little closer to the passer. There are no questions of motor here with those sack numbers. The only game in which he was held without a sack was against Arizona. His box score from the Oregon game is telling, with 10 tackles and 2.5 sacks against that up-tempo, run-oriented offense, showing he can match up well with misdirection and against numbers disadvantages, even against a mobile quarterback. Knee injuries probably contribute to his perceived ceiling as a prospect.
Where Kikaha fails to excite, Mauldin should make some team very happy in round two. He has limited scheme versatility, fitting best when he's blitzed from a linebacker spot, but that specific skill could prove very valuable for a team drafting high that misses out on a pass rusher in round one. Washington and the Jets especially could target him if they decide to fill other holes with their first-round picks.
Mauldin plays with reckless abandonment, throwing his body into the heart of the play. He does a great job shedding blocks on the move, and goes after the quarterback with aggression. One of his most impressive traits is switching from playing the pass to playing the run on the fly. He gets the edge, and turns inside well to pursue the run up the middle. He looks like he could be a menace, and if the draft breaks correctly, he has a chance to sneak into the end of the first round, or close to it.
Smith looks on tape to be the rare 4-3 defensive end who plays as a specialist against the run. Although he failed to impress with pass rushing moves off the edge, he was a very good edge setter against the run. He was able to keep containment even while rushing the quarterback, and forced runners to stay inside the hashmarks for the most part. Based on these skills, he looks like a very promising player in line for a long NFL career. He did have nine sacks in 2014, and has surprising athleticism and size, but he'll have to work to make those aspects of his game show better in order to stay on the field on third downs in passing situations.
Flowers is another player who is limited athletically, but finds a way to disrupt passing games. He has good strength and sheds blockers well, especially coming back inside with a counter move. He only had 6.0 sacks in 2014, and probably isn't an option for 3-4 teams, but he's a solid player who should be able to find a way to impact games. Anderson is a much bigger body, but plays similarly. His three-sack double-OT game against Utah buoyed his numbers, but aside from that, he was a 5.5-sack player in 2014. He works toward the quarterback, and has the size to handle the run. Anderson should be able to play end in a 3-4, and has experience working from the interior defensive line, but both he and Flowers will likely need to exhibit the ability to bump down to defensive tackle to stay on the field for high snap counts in the NFL.
Hunter is the 6'5″, long-armed pass rusher coaches put together in laboratories. Unfortunately, too often he doesn't seem to know what he's doing on the field. He seems like he's more interested in wrestling with blockers than getting past them, and doesn't even necessarily win those fights (even when the blocker is a running back in pass protection). He often finds himself on the floor after putting his head down and diving into the line, or if he sees grass and takes a stab at tackling no one. Whatever the opposite of having a nose for the football is, Hunter has that instead, which is reflected by his 1.5 sacks in 2014. Still, his size and physicality is interesting, and the more he falls, the more a coach will talk himself into being able to work with him to at least add a big body to the defensive line, even if the production as a pass rusher never comes.
Like quarterbacks, pass rushers will always draw interest from teams high in the first round of the draft, and 2015's draft will be no different. However, there's value to be had outside of those top 10 picks, and there will be players with perceived flaws that need to be coached up and developed. Every year some less-heralded prospect turns into an impact player on defense for an NFL team, and I expect someone will emerge from day two or day three and become a good starter who finds his way into a few seasons with double-digit sacks.
Photo courtesy of USA Today Sports Images.
Follow @PFRumors