With the NFL draft fast approaching, we'll be taking a closer look this month at the notable prospects for each position. We've already examined quarterbacks and running backs, so today we'll shift our focus to wide receivers (with a few top tight ends thrown in as well).
Because of the tremendous depth at receiver, and the number of prospects with first-round grades, the names in this post will be split up a little differently than the quarterbacks and running backs were. Let's start with a pair of players who are fighting to be the first receiver selected.
Top-10 Picks:
Amari Cooper, Alabama
Kevin White, West Virginia
It's no secret that the Raiders have a tremendous need at receiver. They hit on their first- and second-round picks in 2014, scoring what looks like a superstar defensive playmaker and a potential franchise quarterback. The next step in the rebuild is to surround David Carr with weapons, so he can give Khalil Mack some leads to protect.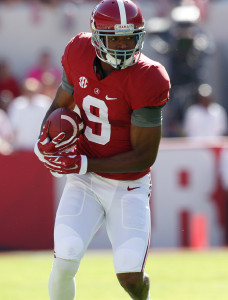 The leader for the top player at the wideout position for the entire collegiate season was Cooper. Coming into the year, he was a potential breakout candidate; by the end of it, he was a Heisman finalist. Cooper caught 124 passes for over 1,700 yards and 16 touchdowns, and for those that watched him religiously, even those numbers don't adequately convey how dominate he was.
Cooper set Alabama single-game record for receiving yards in a game with 224, doing it twice, against Tennessee and Auburn. He set school single-season records for catches, yards, and touchdowns. He is also Alabama's all-time career leader in all three categories, and his 124 receptions as a junior was also an SEC record.
Cooper's reported 40-yard dash times varied, and following the combine, scouts were underwhelmed with his number. However his 4.42 time has been disputed, with some scouts clocking him as fast as 4.31. Watching him play on Saturdays, he certainly looked to have that type of speed.
Far from a one-trick pony, Cooper was used as a deep threat often, running past cornerbacks on the outside and beating safeties with double moves in the middle of the field. The Alabama offense also got him involved with screen passes on the line, let him work the intermediate routes, and threw the ball up to him in the red zone.
While Cooper tore apart the nation in 2014, it would be interesting to see how he stacked up against last year's class of receivers. A case could be made that he would have compared favorably to Sammy Watkins, but Mike Evans' giant frame and Odell Beckham's athleticism might have given them the advantage as prospects. Cooper doesn't overwhelm with size, and while he made some impressive catches, he dropped enough throws that you wouldn't compare his hands to Larry Fitzgerald's or Antonio Brown's.
Cooper is never going to be A.J. Green, Julio Jones, or Dez Bryant. They are the rare cases of a player that can do absolutely everything on a football field. No matter how well Cooper develops, becoming a 6'4″ leaper with superior strength and speed all in one isn't in the cards. However, this draft class doesn't necessarily feature the sort of can't-miss superstars we sometimes see at the top of teams' boards, and that leaves Cooper as a pretty good bet as a top-five pick.
White wasn't necessarily in Cooper's class until late in the process, but it appears he has surpassed Cooper on many boards. A number of mock drafts have the Raiders taking White at No. 4 and leaving Cooper waiting.
White's 4.35 speed compares favorably to Cooper's, and he also has the 6'3″, 215-pound frame that reminds teams of those elite receivers who consistently jump over defenders to make unstoppable catches.
Few would argue that White is as polished as Cooper. White spent two years at junior college, and then didn't play football for a season before winding up at West Virginia. He struggled to adjust in his first season, then broke out with a huge 2014 campaign.
Cooper broke all the records, but White wasn't far behind in terms of production. When a player catches 109 balls for nearly 1,500 yards and 10 touchdowns, he isn't considered "raw." He might be moving ahead of Cooper based on potential that may never be reached, but he is a good player right now. He catches the ball well, as the drops he struggled with in 2013 didn't persist last year. White's routes are also more polished than you would expect for a player who was so raw for so long. He has the body control to take advantage of his size, making plays down the field and on the sidelines, and he has real speed.
Both Cooper and White are poised to be dangerous pros, and they lead a class that could see 10 receivers selected in the first two rounds, with a bunch more that will be off the board by the end of round three. Cooper and White should both be off the board in the top 10 picks. If they aren't, the Vikings and Browns would almost certainly pounce at No. 11 and No. 12.
I watched both receivers play a lot, and going back to the stats and the film, the two players are closer than I remember them being at the time. All that being said, I would be surprised if a team takes White first. I'm not saying it would be a mistake to do so — just that I would be surprised to see it.
First Round:
DeVante Parker, Louisville
Breshad Perriman, UCF
Dorial Green-Beckham, Missouri/Oklahoma
Jaelen Strong, Arizona State
With Cooper and White both possibly coming off the board in the top 10 picks, Parker becomes the best available player at the position. The dropoff from those top two wideouts to Parker has been overstated. He presents a similar speed and size comparison, and is strong tracking the ball in the air and catching the ball at its highest point. What Cooper and White provide that puts them over the top is a slight strength advantage, and the ability to pick up yards after the catch. Parker doesn't consistently make people miss while running with the football, and doesn't have the balance to shed tacklers.
Talent wise, Green-Beckham could actually make a case for himself as the best receiver in the draft. At 6'5″ and 237 pounds, he is the sort of imposing figure that makes quarterbacks drool. He looks like Calvin Johnson, towering over even some of the bigger college cornerbacks. Evaluators will go on and on about his vertical speed and his catch radius, but the most impressive part of his tape is how often Missouri decided to get him the ball on bubble and jailbreak screens. Green-Beckham showed excellent mobility, agility, and ingenuity running with the football, shocking for a player of his size.
Of course, DGB isn't even necessarily thought of as a first-round pick, since drug and domestic violence issues have overshadowed his talent. His great film is all from 2013, because he was dismissed from the University of Missouri at the end of that season. He transferred to Oklahoma, but declared for the draft before ever playing a down for the Sooners. Green-Beckham has on-field issues too — his route-running is a little stiff, and while it's normal for a tall receiver to struggle in and out of breaks, his overall athleticism dictates that it shouldn't be such an obvious weakness. I was also concerned by how he seemed to struggle with physical corners despite his size, and how he seemed to drop his competition level late in games when the team was down by more than a touchdown on the scoreboard.
Green-Beckham could slip down to the second round due to character concerns, but there are two other wide receivers still left for the first round. Perriman is among the fastest receivers in the draft, and standing at 6'2″, he's a monster athlete. He should be able to thrive as a deep threat from his first year in the NFL, and he got better as his final collegiate season went on. However, for all his athleticism, he struggled running routes, and failed to look smooth when asked to change directions. He is raw, and it's difficult to project him making an immediate Pro-Bowl-caliber impact.
Strong is a little more polished and – aptly – a little stronger, but he lacks the speed to create separation and get open down the field. While his 40-yard dash was adequate, he's forced to become a possession receiver on offense. Teams today need that deep threat more than ever, and although he might make a very good pick for a team in the top 25, Strong's star power isn't there to compete with Cooper and White.
Day Two:
Sammie Coates, Auburn
Devin Smith, Ohio State
Phillip Dorsett, Miami
Nelson Agholor, USC
Rashad Greene, Florida State
Tyler Lockett, Kansas State
A number of the guys in this group have gotten some first-round buzz, but I expect them all to be available on day two of the draft. Smith and Dorsett boast the blazing speed to get deep, but size concerns prevent them from locking in first-round grades from most evaluators. A number of other factors come into play there, with neither player exhibiting such strong hands or route-running skills that they will easily be able to exploit other areas of the field without serious development at the next level. Dorsett looks to have a little more burst after the catch, and was able to turn the corner on some crossing routes and split would-be tacklers with speed at times for Miami.
Agholor was thought to have that type of speed as well, which made him a borderline first-round talent early in this process. While Smith and Dorsett were able to back up their film at the Combine, Agholor's 40-yard dash time was less impressive. However on film, he is able to use his speed (and slightly bigger frame) in many more ways then the other two burners. He exploits the middle of the field and does a great job getting out of breaks, and even caught some passes on traditional running back routes out of the backfield, which provides a lot of value for offensive game plans when versatility creates mismatches. Agholor was also very good at traditional west coast routes such as slants, curls, and quick outs, catching passes in tight coverage that Miami and Ohio State wouldn't dare throw to their speedsters. He still plays fast on film despite his timed speed, and he shows flashes of potential that could compare him to Randall Cobb, another second-round pick who blossomed by being able to obliterate defenses with his skills before the catch.
Greene is a little closer to Smith and Dorsett than Lockett is, but both figure to make it to the third round or even the fourth if their skills as returners don't get them selected earlier. The speed isn't quite on full display here, and the other important skills just are not developed. Lockett especially tries to catch every pass like it's a punt, trying to trap it against his body. Rarely on film does he attempt make a true hands catch, whether wide open or in traffic, and he looks like he might end up like a Devin Hester clone on offense. As talented a returner as he might be, I doubt he matches Hester's historic value on special teams.
Coates is an interesting prospect here. He flashed some top-end speed at Auburn but it's his ability to go up and play the ball in the air that makes him intriguing. Watching him on film you would assume he's a 6'3″ leaper, but at merely 6'1″, that ability might not translate to the pros. He struggles with his routes, but his raw talent could be a big plus for a team late in the draft — if he had measured in at 6'2″ or taller, Coates may have been a borderline first-round pick.
Tight Ends:
Maxx Williams, Minnesota
Devin Funchess, Michigan
Clive Walford, Miami
Jeff Heuerman, Ohio State
These four tight ends are in the same boat as the day two receivers. It isn't a deep position group this year, so they may get bumped up a half a round by teams with need at the position. None truly warrants a first-round grade, though Williams becomes a possibility as early as perhaps the 16th overall pick. The consensus best tight end of the draft, Williams is a sturdy option. He isn't a mauler as a blocker, but he gets his hands dirty. He brings value as a receiver, mostly on intermediate routes but with some vertical threat as well, and he boasts the best functional hands of the position — there are some with better hands, but they lack route-running and blocking skills to such an extent that it becomes a chore to even put them on the field.
Funchess is thought to be a big-play option that was expected to draw interest, but he's only listed as a tight end in order to bump up the value of his pass catching abilities (and to bump down the value of his second contract). He would likely rank in the same area as a receiver, lacking the true athleticism to succeed on the outside. He does provide a big body, and the right team could use him as a tight end to have him take advantage of slower linebackers or smaller nickel corners.
However, thinking that a team is going to get away with having Funchess as an in-line blocker would be a big mistake. That job should be reserved for Heuerman, who has only reasonable experience catching passes but could turn his skill set into a nice career as a blocking tight end with the versatility to play fullback. That would provide flexibility for a team that doesn't want to carry a fullback on the roster, but could use one now and again.
Walford might be the standout of this group. He's a good – but not great – pass catcher, letting a few slip through his hands during his time at Miami. He does have the ability to make tough catches in traffic, and while he might not necessarily threaten vertically, he allows the quarterback to push the ball downfield with some deep crosses and corner routes. Most intriguingly, he picks up speed after the catch, enabling him to eat up yards while bouncing off smaller tacklers. Combined with his above-average ability as a blocker, where he may not necessarily bury people but does play with leverage and positioning to wall off and reach both defensive ends and linebackers, Walford could emerge as a very good all-around tight end.
Photo courtesy of USA Today Sports Images.
Follow @PFRumors