With the NFL draft fast approaching, we'll be taking a closer look over the next couple weeks at the notable prospects at each position, starting today with quarterbacks. Most of this piece will be dedicated to the top two passers in the draft, given how unusual it is for a starting-caliber player to come out of the later rounds at the position. However, we'll also touch on a number of intriguing day two and day three options with some potential, buzz, and name recognition.
Top Prospects:
Jameis Winston, Florida State
Marcus Mariota, Oregon
Winston and Mariota are the only two quarterbacks that should be getting first-round consideration, and neither is anything close to being a slam-dunk prospect. These two signal-callers couldn't be any different, even if we throw out the perception of character, where Mariota has been nothing but praiseworthy and Winston has a few red flags.
On the field, the two quarterbacks barely seem like they're playing the same sport, much less the same position. Winston is the presumed No. 1 guy at the moment, but I wouldn't be surprised if a handful of teams have Mariota ranked way ahead of Winston on their big boards.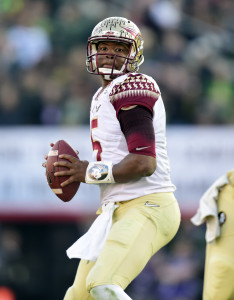 For most teams and talent evaluators, Winston's strengths and weaknesses are much more palatable. He played in an offense that relatively resembles an NFL-style offense. Many of the route combinations he used are the kind that may be seen at the next level. Particularly, Florida State dialed up reads such as smash concepts (often a corner route with a hitch or arrow to threaten the flat) and high-low reads (two crossing routes ran at different depths) that are common principles in many NFL passing attacks. Winston consistently read the defense before the snap and diagnosed where he should go with the ball.
Winston's accuracy is very impressive, and even though he does occasionally just miss a throw, that's not as worrisome as a player who struggles with ball placement play after play. He developed good timing with his receivers, and his most impressive trait is the ability to trust the play concept by throwing the ball ahead of the receivers, often before their break, and completing passes in rhythm that other quarterbacks wouldn't dare throw.
However, all this praise doesn't completely absolve his flaws. Winston threw 18 interceptions last season, an unforgivable number against ACC defenses that failed to impress. While he does a great job reading the defense, he's significantly less impressive at seeing the field during the play. Winston doesn't necessarily have tunnel vision, and he's able to manipulate defenders with his eyes, but he fails to recognize ancillary pieces of the defense. He might make a great read on a crossing route, but won't notice a linebacker dropping to a zone underneath his intended receiver to make a play on the ball.
Many times, a corner would escape Winston's vision by coming off his receiver to gamble on another route on the field. These gambles paid off, as Winston failed to recognize these small defensive quirks. He also pushed the ball into tight coverages, and relied too heavily on his tremendous arm strength to take advantage of the talent advantage Florida State employed on the outside.
On top of that, Winston has an extremely long delivery, which helps defenders break on throws and could explain why so many linebackers and corners were able to leave their zones to step in front of passes. His throwing mechanics are sloppy and although he has the arm strength to make up for it, it's a red flag that helped undermine previous first-round picks unable to correct similar problems in the pros.
Mariota presents a very different option. Obviously much can be said about the Oregon offense and the inability for quarterbacks running the read-option spread to successfully adjust to playing quarterback at the NFL level. Robert Griffin III was able to do it for a year, but hasn't been able to repeat that performance. Colin Kaepernick is a good comparison for Mariota's skill set, and he has had some success, but he was running a pistol-heavy option offense at Nevada rather than a true spread. Kaepernick also has the arm strength that allows him to get away with other shortcomings as a passer. The only QBs who have consistently performed coming from the spread are Cam Newton and Alex Smith. While both those signal-callers have played well at times, neither gives confidence that Mariota will overcome his difficulties to become a good NFL passer.
Mariota struggles with ball placement, and has not proven he can lead a receiver on a route or throw one open in tight coverage. The inflated completion percentage coming from screens and check downs is not as concerning as having open receivers and putting the ball so square to the receiver's body that he stops momentum of a player running at full speed. He has adequate arm strength, but was not asked to show it off very much in college. With a strong running game, he was rarely put in obvious passing situations, and struggled to move the chains from the pocket when the defense was able to sit in coverage. He has not been tested on tight throws, electing to move to a check down rather than squeeze a football into small windows, even when down and distance would have called for the harder throw.
What Mariota does do well is get rid of the ball. He is precise with his reads, even if they aren't necessarily the same reads he would make in a standard NFL passing attack. He makes quick decisions and – more impressively – he delivers the football efficiently. He has an excellent release and good mechanics from the pocket. He also doesn't look to run as a first option despite overwhelming physical skills, and when he does scramble he's able to keep his eyes downfield and keep his throwing mechanics as textbook as he can without losing the fluidity one would expect from an athlete of his caliber.
Maximizing Mariota's skill set early in his NFL require doesn't require Chip Kelly's involvement, but the Oregon QB is a classic square peg. Putting him in a round hole would destroy his development. Still, he does enough stuff from the pocket that I don't see him needing to run a college offense in the NFL. Good coaching will solve other problems he has, and he possesses the ability to step up in the pocket and accelerate up running lanes for first downs if needed. That being said, it is difficult for me to say with confidence that he is ever going to consistently beat defenses on third-and-long, and he won't have Oregon's offense keeping him in third-and-short situations, where the threat of the run opens up passing lanes and makes his job easier.
I wouldn't have been surprised if the Buccaneers favored either of these two passers, but I would be surprised if there's any team without a preference, given the stark differences between Winston and Mariota. If this draft class included a can't-miss offensive tackle or defensive lineman, I'd be very hesitant to leave him on the board in favor of a quarterback, but in a draft that doesn't look strong at the top, passing on a signal-caller will be difficult.
Even in a world where Mariota goes first to the Buccaneers (which seems unlikely unless Lovie Smith and Jason Licht are playing a very long con with the media), Winston would be an easy choice for the Titans assuming his off-the-field issues haven't taken him off their board completely. Mariota isn't as perfect a fit for Ken Whisenhunt, who would likely prefer an arm like Winston's and undervalue Mariota's athleticism, but Bud Adams once forced Vince Young on Jeff Fisher, and ownership figures to be involved in this decision as well. If the most recent Heisman-winning quarterback slips (and it isn't impossible to imagine, with a number of teams after the Buccaneers and Titans having varying degrees of need at the position), at some point his potential will win out, and a team will believe it has a stolen a player it didn't expect to have a shot at drafting.
Day Two:
Brett Hundley, UCLA
Bryce Petty, Baylor
Garrett Grayson, Colorado State
Sean Mannion, Oregon State
Second- and third-round quarterbacks aren't players expected to be stars. If a team believes in them enough to place those standards on them, they would have been first-round picks. For the most part, teams are content to get high-quality backup quarterbacks after round one, as the Broncos and Patriots have done recently with Brock Osweiler and Jimmy Garoppolo. Maybe these players will provide value one day when Peyton Manning and Tom Brady retire, but clubs aren't leaning on them to propel the franchise into contention. Yes, Drew Brees was a second-round pick, dropping out of the first round due to his size concerns. But for every Brees there is a Geno Smith, and for every Smith there are a dozen players who never get a chance to start despite being drafted relatively early.
Brees is the major outlier, but since he came into the league, the best-case scenario for a second- or third-round pick being developed as a starter falls somewhere in the range of Matt Schaub, Andy Dalton, and Kaepernick. All three are capable players (or in Schaub's case, was a capable player), but at this point they aren't among the league's best QBs.
Hundley provides the most pure upside of this group. He actually represents a near perfect compromise between the two top picks — he's much more athletic than Winston, with a comparable arm and better mechanics, and while he's not quite the athlete Mariota is, he offers fewer questions when it comes to familiarity with pro-style offense and is a more confident pocket passer with the ability to make the tough throws, albeit inconsistently. There were reports the Browns were trying to convince him to declare for the draft last year, and may have preferred him over Johnny Manziel in that case.
When his strengths are presented like that, Hundley seems like a very enticing option, but watching him play shows a tremendous gap between him and the top two quarterbacks. He struggles in all the aspects of the game Winston and Mariota consider strengths. Hundley's pre-snap reads leave much to be desired, and while he has the necessary size and arm talent, he struggles to find clear passing lanes and is unable to lead receivers with their momentum. He runs wildly instead of maintaining pocket integrity and doesn't keep his eyes scanning the field while scrambling. His best plays are far and few between and his bad plays are ugly.
Coaches may see in Hundley a very malleable developmental project, one that presents in theory a higher upside than either Winston or Mariota based on the overall tools he possesses. The likeliness of a coach actually getting Hundley to that point is a different story. Part of Hundley's allure came from how outrageous his talent was as a freshman at UCLA. While he had an excellent statistical career, his best passing yardage and passing touchdown totals came as a freshman. That isn't a red flag in itself, but it only strengthens the argument that Hundley really failed to improve during his career. The same questions and concerns that plagued him as a freshman are questions evaluators have been asking when trying to project him to the NFL. If he was unable to correct virtually any aspect of his game during three years as a starter in college, it's hard to overlook those flaws he will carry with him to an NFL team.
Petty is an entirely different case. Like Mariota, he is difficult to project coming out of a Baylor offense that involves a number of complicated principles, none of which are commonly used in the NFL. RGIII preceded him and had success running an offense adjusted to incorporate Baylor's concepts, but Griffin's success was limited to only one season. At the same time, Petty was impressive with his arm strength and accuracy in that offense. He wasn't asked to complete the toughest throws in tight coverage, but his ability to make quick decisions and deliver the ball accurately compares favorably to any quarterback in the draft. He was athletic enough for college, an advantage that will likely not translate to the next level, although he should be able to escape pressure and pick up yards when the play breaks down.
Petty doesn't present the ceiling that Mariota does, but he might be more versatile than he's given credit for. He has enough talent and skill that he could have the potential to break out in an interesting offense like Nick Foles did. Foles is a drastically different player, but he made the most of a forward-thinking coach and was able to mold his game to an offense that didn't necessarily suit his strengths, resulting in an MVP-caliber run in 2013. Of all the quarterbacks in this draft projected outside the first round, Petty might provide the most realistic upside, while still holding a floor where he makes a career as a capable backup with potential to keep teams competitive in a pinch. Chase Daniel and Colt McCoy are similar players, both pigeonholed as system quarterbacks who have been versatile enough to be high-end backups that don't destroy a team's chances of winning by entering the game.
Grayson and Mannion aren't guaranteed day-two picks, but each represents an intriguing option. Unlike Hundley and Petty, both provide very conventional skill sets for NFL teams. While Hundley and Petty are more likely to have a team fall in love with them, Grayson and Mannion should be able to slot in for at any team, should the front office decide it can afford to use a pick on a backup quarterback. These players wouldn't be obvious fits in Seattle or Kansas City where height and arm strength take a back seat to athleticism and decision making, but practically any team with room on its depth chart could be a possibility. Neither player jumps off the page as a star, but they are sound and have enough talent that they could be worth developing. On the right team, they could see the field early on in their careers. Pairing either of them with Ryan Fitzpatrick on the Jets could be a worthwhile gamble if the team is unable to acquire a quarterback in the first round, or uninterested in doing so.
Of course, the risk of using a draft pick on a quarterback in round two or three is the knowledge that more likely than not, that pick will end up being a player who doesn't turn into a reliable long-term starter. A number of wide receivers, cornerbacks, and offensive lineman with real expectations to make an impact will be available in those rounds, and taking a flyer on a passer takes away a chance to get a player that could actually contribute on the field early in his NFL career.
Late or Undrafted:
Brandon Bridge, South Alabama
Connor Halliday, Washington State
Cody Fajardo, Nevada
Shane Carden, East Carolina
Taylor Heinicke, Old Dominion
Bryan Bennett, Southeastern Louisiana
Hutson Mason, Georgia
Ryan Williams, Miami
Taylor Kelly, Arizona State
Jake Waters, Kansas State
Blake Sims, Alabama
Bo Wallace, Ole Miss
Expecting a high-quality starter out of this group meaning looking for the Brady and Matt Hasselbeck among a haystack full of players who never make an NFL roster or are out of the league in a year or two. Teams hit on these picks occasionally, and longtime standouts like Kurt Warner and Tony Romo went undrafted, but the vast majority of these quarterbacks, some from big-time programs and with name recognition, will be forgotten about by 2016. Arguably the biggest names on this list are Wallace and Sims, who played for SEC powers that won a lot of games in 2014. Wallace garnered early Heisman buzz, and Sims led Alabama to the college football playoff. Neither is likely to get drafted, and both would be surprises to stick on an NFL roster.
Halliday set a number or records under Mike Leach, throwing the ball time and time again in an offense that isn't quite as unique to college as those employed by Baylor and Oregon, but it isn't as if Leach has a history of producing quality pros either. Halliday does have some upside, and given his college career, has a decent chance to stick with a team with the opportunity to become a backup.
Fajardo, Carden, and Heinicke also have gotten some buzz with the draft closing in. These smaller school prospects can sometimes surprise with their talent. Unlike Wallace and Sims – or a player with name recognition like Waters – evaluating those smaller school players is difficult due to the competition they faced. While those big-conference quarterbacks may end up being better, they are largely known quantities at this point. Fajardon, Carden, and Heinicke represent an unknown, as there's a better chance scouts have just missed on them or failed to take them seriously as prospects. This makes them potentially more valuable investments than a guy like Williams who failed to make an impact against better competition in the ACC, or Mason, who did not impress at all in the SEC.
For these players, the goal is to make a team and get a backup job. It may sound reductive to assume the ceiling for this group is NFL backup, but that is the reality for a day-three draft pick at quarterback. Brady, Hasselbeck, Warner, and Romo were all backups to high-profile quarterbacks with no clear path to start (Drew Bledsoe, Brett Favre, Trent Green, and Bledsoe again, respectively). However, all four broke through eventually. These players are used to being top talents in their respective conferences, but all they have to do is make a roster, and then in the right situation, follow the Zach Mettenberger model to rise to starter early in their career. Mettenberger was a third-string quarterback behind Jake Locker and Charlie Whitehurst, but with a new coach in Tennessee who believed in him and a few injuries, he became the presumed starter heading into 2015 — as long as the Titans aren't shopping for a quarterback with their first-round pick.
Follow @PFRumors