With Michael Crabtree and Stefen Wisniewski finding new homes last week, only one free agent on PFR's Top 50 list — tackle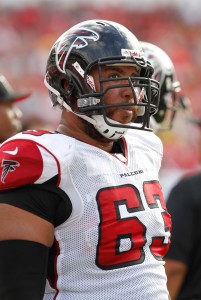 Joe Barksdale — remains unsigned. Barksdale (whom I profiled last month) might be the biggest name left on the free agent market, but there are other steady options available, including those who, like Barskdale, play along the offensive line. One such player is guard Justin Blalock, who didn't earn a spot on our Top 50 list, but did garner a honorable mention.
Blalock was released by the Falcons — his only NFL team for all eight of his pro seasons — in late February, a few weeks before the start of free agency. As PFR's Luke Adams noted at the time, the transaction was a bit of a surprise, given that Blalock had been a productive contributor during his time in Atlanta. However, he was set to count nearly $8MM against the salary cap in 2015, which would have been the third-highest figure on the club. Additionally, there were concerns that Blalock, a successful guard in a power scheme, wouldn't be a fit for new offensive coordinator Kyle Shanahan's zone-blocking concepts.
The 31-year-old Blalock has generated a fair amount of interest since his release, and given that he's been linked to teams with severe offensive line issues, it's a tad stunning that he hasn't found a new home yet. The Rams immediately displayed interest in Blalock, and were reportedly set to meet with him at some point (though it's unclear if that meeting ever took place). Blalock did take a visit with the Lions, while the Buccaneers also showed some level of intrigue.
The level of interest engendered by Blalock shouldn't come as a surprise, because he's certainly been a good player throughout his career. His rookie season notwithstanding — he had the dubious honor of being ranked as the league's worst guard in 2007 — according to Pro Football Focus (subscription required). Blalock has been remarkably reliable, topping out with a No. 12 finish in 2010 before settling in as a top-30 guard since. The former second-round pick has also been incredibly durable, as he's missed just two games during his eight-year career.
Blalock should be able to latch on with a new team soon, and it's conceivable that one of the clubs mentioned above could still sign him. St. Louis, in particular, has a gaping hole at right guard, where Barrett Jones is currently projected to start, as does Tennessee, where career backup Byron Stingily is atop the depth chart. The Patriots, Chargers, and (if they don't want to rely on Chris Williams) Bills are clubs that both have a vacancy at guard and run a man-blocking scheme.
Outside of the Rams, I think the Lions could present the best fit for Blalock. They've already shown interest in him, and they currently a hole at left guard, pending the outcome of their talks with their owner free agent guard, Rob Sims. Detroit general manager Martin Mayhew indicated last month that the team was in negotiations with Sims, but nothing has come of those discussions as of yet. Blalock was the better player in 2014 (Sims was PFF's No. 40 guard), and while Blalock earned more last year, I'd bet the two will ultimately earn similar money in 2015.
Michael Rothstein of ESPN.com pointed to Blalock as a option for the Lions earlier this month, so it could be that Detroit is waiting for either Blalock or Sims to accept an offer that's already on the table. Responding to a Twitter question today, Tim Twentyman of DetroitLions.com argued that the club's most pressing need was at left guard as opposed to right tackle — at RT, says Twetyman, the Lions at least have LaAdrian Waddle, who has some experience, while the team has no such option at left guard. An addition of Blalock would give Detroit a line of (left-to-right) Riley Reiff, Blalock, Travis Swanson, Larry Warford, and Waddle, a solid (if uninspiring) group.
Left guard isn't a highly-paid position, and Blalock won't be able top Geoff Schwartz's $4.2MM AAV from last offseason. While he plays a different position, Wisniewski recently received $2.5MM from the Jaguars, and while he's probably a better player than Blalock, he's also recovering from offseason shoulder surgery, lowering his value. I'd guess that Blalock will ultimately come in around $2-3MM, and I wouldn't be surprised if the Lions or the Rams were the club that signed the Texas alum.
Photo courtesy of USA Today Sports Images.
Follow @PFRumors